What you must check before you book…
It is with great pleasure, Sportquest Holidays can announce that we have had our ATOL licence renewed. To qualify for an ATOL licence, a company has to be stringently financially tested, and it appears that not all companies in the fishing and shooting holiday sector have been as successful. This news prompted me to put a few words of warning together for customers about the important things you should check before you book any travel arrangements.
It has been brought to our attention that not all companies in the fishing travel industry, which display the logo on their website, are ATOL protected. Many have lost their ATOL protection, so please be very careful.
One silver lining from Covid is that we are now busier than ever before. The reason is simple: more and more people realise that it is far better to book through a tour operator than directly or through a booking agent.
An annual holiday is usually the largest single purchase each household makes each year. Considering this, you would think that more people would look further into how their holiday is protected and the consequences should it all go wrong.
One of the main reasons people do not check is that it's not easy to understand what and how you are booking and what difference that makes. So, I've put together a guide below to make it as simple as possible.
When you book, it is all about how you book the holiday as the best protection you can achieve is by booking a "Packaged Holiday". The reasons are simple if you have booked a package holiday.
First, the tour operator who sold you the package has to be ATOL protected.
Second, by booking a package, you are covered under the Package Travel Arrangements Regulations 2018.
---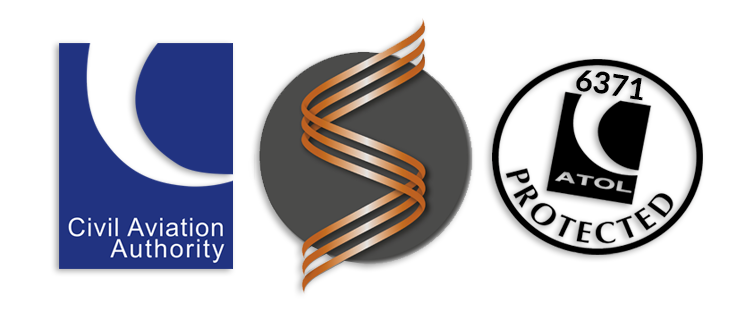 ---
So, what does this mean?
By the tour operator having an ATOL licence, it means that you have complete financial protection. Suppose, for example, if the tour operator was to go into liquidation before or during your holiday. In that case, ATOL would either make sure you can continue with your travel plans or refund you in FULL for all the money you had paid to the tour operator.
If you booked directly with a lodge or a booking agent, you wouldn't have this same level of protection. Imagine how hard it would be to get any kind of refund.
By booking a package holiday through a tour operator, you also benefit from legal protection.
Legal protection means the tour operator is responsible for ensuring you get the holiday you paid for. If something cannot be provided that will affect your holiday plans, they will need to sort this out for you – either resolving the issue, offering an alternative, or giving a full or partial refund.

For example, what if the lodge closes or something happens at the lodge that prevents them from opening, such as Covid etc.? What would happen to your flights if you had booked them directly with an airline?

Unless you had booked the most expensive seats as fully flexible fares, you would lose your flights if you could not find a suitable alternative lodge and fishing/shooting that matched the exact days of your travel.
So, how will I know I am booking a "Package Holiday"?
Firstly a "Package Holiday" is essentially when you buy two or more travel services together. A package holiday must involve overnight accommodation and is a combination of at least two different types of travel services, which are listed below:
Transport (such as a flight, coach or train but not transfers from an airport)
Accommodation (such as a hotel or lodge)
A tourist service (guided fishing or shooting services) where this is a significant part of the holiday, either because of its value or because it is an essential part of the trip.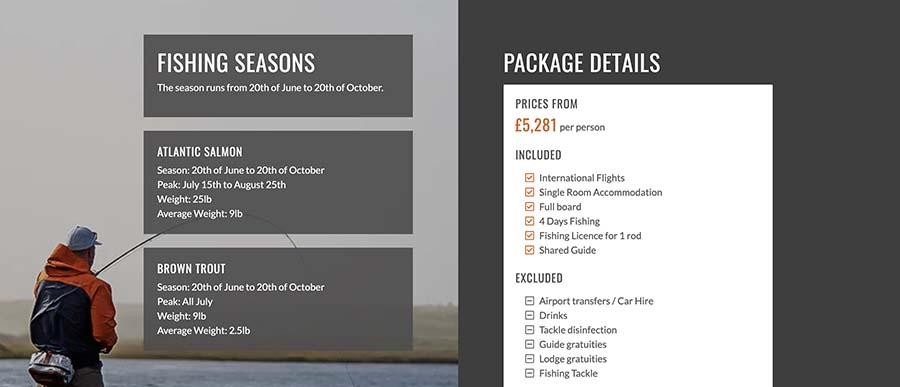 You are not booking a package holiday if you book all the services through a booking agent where you are invoiced separately for your activities (fishing & shooting) and travel arrangements like flights etc. These are deemed as "Linked Travel Arrangements."
A linked travel arrangement only has financial protection – at a lower level than if you bought a package holiday.
So, what you must check before you book in simple steps.
Ensure you are booking a package holiday. Your Tour operator should provide details confirming that you are booking a package holiday; if you are unsure, it's simple to ask for confirmation in writing.
Check that the tour operator is financially protected. It is simple to check. The ATOL website provides an online tool to search either by the company's name or their ATOL number (If a company displays the ATOL logo, inside the logo is a number unique to that company).
This online tool can quickly check that the company is ATOL registered and offers ATOL protection. It is well worth checking for your peace of mind and reassurance that your holiday of a lifetime is protected.
You can check if a company is ATOL protected here: https://siteapps.caa.co.uk/check-an-atol/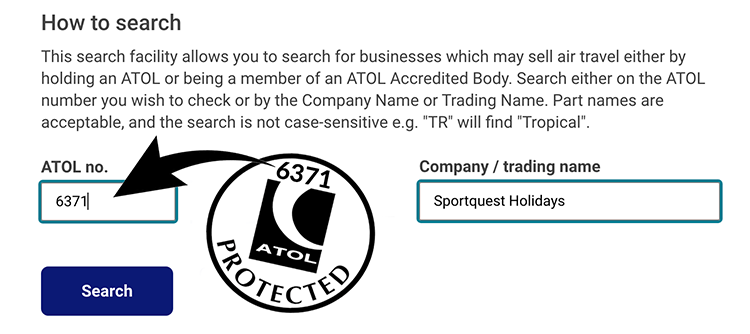 Question what other protection does the company you are booking through offer? For example, Sportquest Holidays offers a "Book With Confidence Policy" We are the only fishing and shooting travel company offering such a policy which gives you even more protection and freedom than any other company.
Therefore it is always worth asking the question, what if? We know these are often the last questions on our minds when booking exciting holiday destinations, but a little bit more time researching what and who you are booking with will always pay dividends if something goes wrong. I am sure we can all still remember the hassles of Covid.
Remember, at Sportquest Holidays, we are here to help, support, guide and protect you to the best of our abilities.
CONTACT US
If you have any questions or you are unsure about anything, call us in the office on 01603 407596, and we will happily talk you through it all, or you can email me directly at peter@sportquestholidays.com.