It seems asif Norway is being plagued with bad weather recently, with anglers only managing to nip out in small windows, they're still getting stuck into some good fish!
Bad weather strikes in Nappstraumen
Just like for our colleagues at the other camps up here in the north, we have had a really tough time with the weather, this has meant that fishing has been limited to the local area. It is one of the benefits of light pacifier trauma, that you can almost always get out on the water!
On Wednesday when our guests arrived there was only one option it was to get out on the water immediately! The weather was great, almost calm and radiant sun, and when the weather forecasts for the week looked worse, there was no question about it, we needed to fish immediately.
Once in place out on the water, the fishing was really good, SIGGE and the gang had some really nice Cod fishing with several nice fish a good bit over ten kilos, they also lost a Halibut which in all probability was much bigger, annoying but that's fishing!
Our Pågar from southern Sweden were also out on the water with a result of a lot of fine food fish, in the form of Cod and Coalfish, they also had several Halibut contacts and could after a while land a small Halibut.
Me (Daniel) and Calle have been locked in the weather apps and really tried to make sure that every little gap in the weather has been fished, and the nice thing about this time of year is that it is midnight sun which allows us to fish every hour during the day. On the night between Saturday and Sunday, there was finally a small gap to fight out on the north side of Lofoten where the fishing this year is usually really good! After talking to the guests during the day and deciding that we would run a really good night shift, we could be met by a really tagged gang down on the pier at 11 o'clock in the evening.
When we just drove out of Nappstraumen, we contacted our dear PÅGAR who with a little too much energy already fished for a couple of hours in the local area. I who drove a wonderful group from Gothenburg and asked the people of Skåne if we would wait for them and then take us out to the north side, but got a happy answer that it was not needed so that they would soon be caught up, and right as it was, it whizzed and Pågarna was the first boat out towards the fishing area, without saying any names here I can with a happy laughter tell us that Pågarna is very competition-oriented and that it is about which boat runs the fastest and not which boat gets the most fish…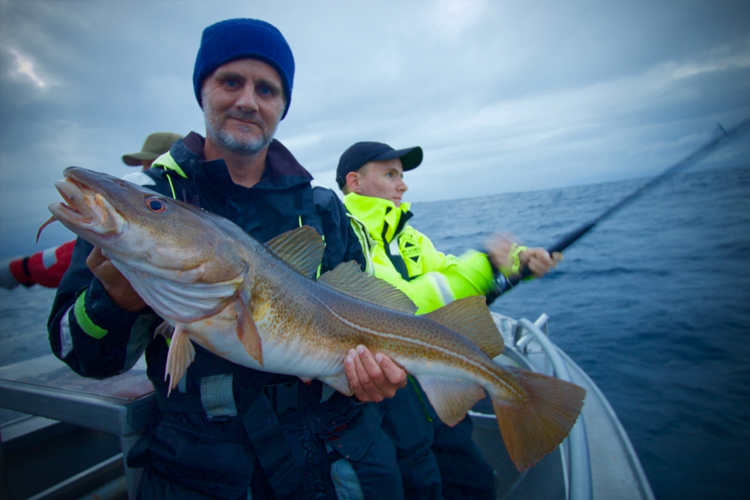 Once out on the spot, we immediately found large shoals of Cod lying on the bottom, and after wearing for a while, one of the chipping gravel could be replaced by the other, the Gothenburgers in my boat got a bunch of really nice Cod where the largest weighed about 15 kilos, even quantities of Coalfish between 5-8 kilos had to see the inside of the boat, after filling two slopes with fine carpet Cod, we decided to spend some time on Halibut, unfortunately without any further results.
For Calle, who drove Stockholmers in boat 1, the results were the same there, quantities of up to ten kilos and a whole bunch of nice fat Cod that got to see the inside of the boat. They also had contact with Halibut during the night, but unfortunately it did not want to go all the way for their boat that night.
Last Sunday we also had a group of 4 girls from Oslo who were hungry for a trip with some boating and fishing, due to the weather we could only take them out fishing in the shallow areas.
After pulling a bunch of Cod, the idea was that we would try after a little flounder, after a short while when Henriette cranks up her Sandy Andy to the boat, both me and Calle see how a flounder swims after the jig, after a little licking with the jig in front it then decides to stop the hunt and swim down into the depths again. After that, a lot of smaller cod came in on the lead again and immediately the guests stood with bent rods.
The coming week starts a little tougher with the weather but now we finally see how it starts to drop and fine weather is again on its way to Lofoten, and with fine weather you can almost promise fine fish in the next report.
Tight Lines Calle Hjelm and Daniel Freland
Contact us
We do still have the odd week available for the 2022 season at Nappstraumen in our luxury Cabins. If you would like to join us at the famous Lofoten Islands destination call us on 01603 407596 or email us info@sportquestholidays.com.
Tight lines,
Paul