What a week its been for the guests up at Soroya! Its always great to see a monkfish pop up to the surface! Its also always great when a customer hooks and lands his new PB!
Big Buts and a lucky strike!
The last couple of days has been fire here at our camp! Some Norwegian guests have got a couple 140cm and above and lost a 2m+ halibut just outside the camp! Daniel was out guiding here the other day and the weather forecast didn't look too good, but we gave it a shot! The wind picked up so we went in and waited for an opportunity! I can tell you that this was the best decision ever made!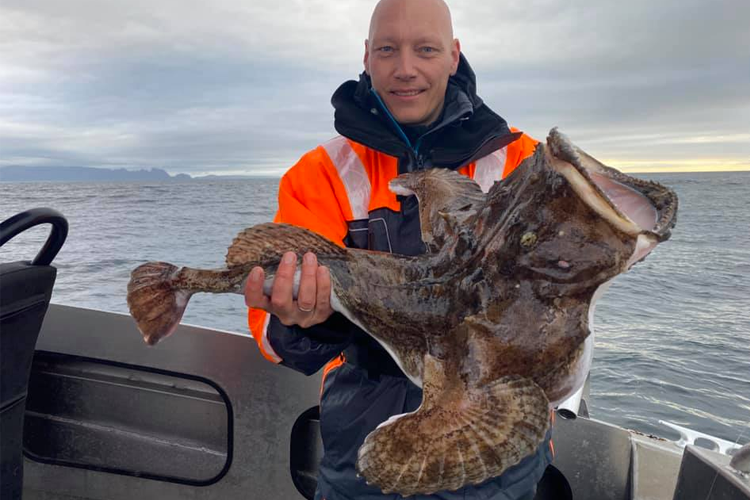 We went out again a few hours after and on his first drop he had a fish. All of a sudden I could see a monkfish surfaced! What an insane catch! Congrats Espen! We have been so lucky to get Bilal's hunting team at our camp and we had to take a trip out to see if the big halibuts wanted to play! It started of as a slow day, but Hans Kristian guided to a beautiful 159cm but that's one way to start your halibut career! Congrats to Bente!
We kept on going and Hans got another 130cm in his boat! Our boat decided to move spot so we could try to find a place where the halibuts wanted to bite. After a lot of spot changes we managed to get a bite! This was not a small fish either! After some runs and heavy head shakes we were able to secure and measure this queen! 155cm!

Yet another beautiful halibut to start the career for Vetle! Congrats! Bilal's boat hooked up with another 50+ but it got off the hook, unfortunately. The next day our agent Sten was out with Eskil and Tomas. It did not take long before Sten was up for a fight! After a good fight they secured a 160cm Halibut! Congrats with the new PB!
Stay safe and tight lines!
//Daniel, Bilal and Hans Kristian
Contact us
If you fancy getting something in place for 2021 or even 2022 over in Sørøya then let us know, we have lots of very good weeks still available so stop dreaming and start believing. Why not call us on 01603 407596 and we can completely tailor the itinerary to suit you and your group. Alternatively, you can view all the details of Sørøya by clicking HERE

Tight lines

Paul