Even in times when the main target is not playing ball, you'll be able to turn your attention to one of the other famous Norway species to keep you entertained! This week the Halibut were not too up for a bite but luckily the Coalfish were! I'll hand you over to Johan and Jorgen for their words –
Crazy Coalfish action
This week we have had a visit from Alvin and Erik who have had Halibut as their main goal during a few days fishing here on Lofoten. The weather has been changing a lot and has offered lots of snow and periodic sun and almost t-shirt weather. Alvin and Erik came all the way from Bodø with the Moskenes ferry this week and have stayed with us in Nappstraumen to try to land some nice Halibut. Halibut fishing has been difficult during the full moon as there has been an extreme amount of current from time to time. It has made it difficult to get out to several of the hotspots when the wind pushed quite hard in from the north. But we have managed to get fish anyway!
The first day there was only Alvin at the camp, and the two of us drove out to test our luck after the Halibut. It was a beautiful day ahead with sun, and elements of snow showers. Luckily the wind was on our side so we could drive a bit. We picked up the baitfish on the way out, and thus drove straight out to the queen's hunting grounds. Immediately after sending down some bait, Alvin gets the first contact on his jig. There were several fish that climbed the water collums on the echo sounder and were swarming in the water below, but no solid fish for the first hours. When the water finally gave a little more speed, the fish also started to chop. We had several contacts, and finally Alvin hooks a fish on his jig. We could immediately see that this was a Halibut. After a fairly decent fight, we were able to lift the first Halibut into the boat. It was not a giant, but the right species. The Halibut measured 76 cm, and was put back nicely.
In the same drift, just a few minutes later, Alvin slammed on again. A fish of the same caliber, and only 1 cm below the minimum size. Alvin was very happy and we put the fish back nicely after a few pictures! There were several contacts and knocks, but it didn't quite work out. We were going to pick up Erik on the ferry, so we had to leave well in advance this day… Its a new day tomorrow!
On day 2, Erik was also to join in trying out for the Halibut. We picked up the baitfish and drove to test a new area. There were few contacts at the beginning of the long drift we put in. We drifted up to a base, and when I asked Erik and Alvin to crank up, the echo sounder was full of fish. And it didn't take long before both had solid rod bends and you could hear the brakes screaming! These were big Coalfish! A very nice bonus fish to get during Halibut fishing here. And they were not small either. Alvin got his fish up first, and it weighed just over 14 kilos! Erik hit me with a fish that was only a couple of kilos below. A very nice start to the day! After enjoying a little bit of Coalfish action, we drove over to the Halibut grounds.There was lots of activity but today they were also terribly difficult to fool. We drifted for a long time over a gutter of 30-40 meters until it ran up to about 25 meters. Just as we're about to move, Alvin's reel begins to tick. The circle hook is cranked in, and the fight is on. Again, there were no monster fish, but it was Alvin's biggest Halibut ever! We measured the fish to 96 cm. After the drift, Erik landed a fish somewhere between 60-70 cm which was immediately allowed to return. It was difficult fishing, and we had many contacts which did not produce any further fish. On the other hand, we eased up the big win in the last hour and had an ever so small Coalfish race with several nice fish in the 10-kilo class!
Then it was the last fishing day for Alvin and Erik. Today's focus was again on Halibut, and we decided to go a few meters deeper than what we had done the days before. Erik is the first to drop his baitfish, and I immediately see that something rises from the bottom before he has come down at all. Erik cranked up a few meters, and felt a thump. A fish was on. Erik sat fought the fish, but there was no monster at the other end. There was however, a Halibut in excess of 70cm. Later in the same operation, Alvin also lands the second Halibut of the day, which was about the same size as Erik's. After the fish has been put back nicely, we started a new drift on the same spot that Erik had his fish on. Again it slams right away at Erik, and another fish of the same size that gets its freedom back quickly. Only one drift later, we see that a better fish enters the spot. It's on Alvin's Coalfish. It takes a lot of care, and Alvin tries to set the hook. But it would not. A little frustrated, Alvin quickly cranks up, but the fish follows again and nips at the Coalfish again! This time the Halibut is only 15 meters below the boat. It follows the Coalfish for a few minutes before turning downwards and disappearing into the depths again…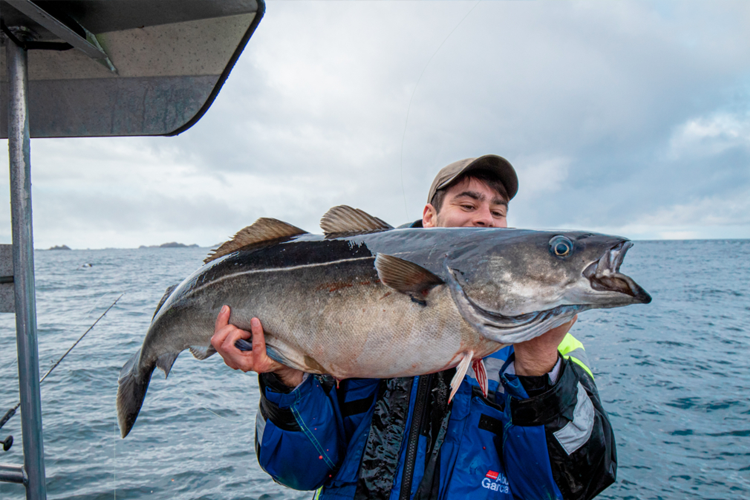 Later in the day, after several contacts, Alvin gets another Halibut of around 75 cm. But now the current had calmed down, it seemed that the activity on the Halibut did too. We decided to spend the last hour on a big win! The Coalfish were in full swing, and it did not take long before you heard 2 screaming reels. Today's recipe was speed jigging, and it gives such an incredibly brutal blow through the rod! Erik lands a giant fish of 14-15 kilos, and Alvin also gets some of the same caliber. It is important to unhook the fish underwater at the boat if you want to release these big Coalies again, as they are too fragile to be lifted into the boat. But we landed dozens of fish around of 8-14 kilos, and our arms were completely shaking after an intense session of speed jigging. A great end to the stay for Erik and Alvin…

Thank you to Erik and Alvin for some very nice days at sea! Now it is quite quiet with people at the camp until next week, but we will get some fishing here anyway. There are opportunities to book guided day trips on Lofoten, so feel free to contact us if it should be interesting! The weather next week looks very good, and we get a bunch here already on Thursday. It's going to be a lot of fun! Hope to see you on Lofoten in 2021 or 2022!
Tight Lines // Jørgen Zwilgmeyer & Johan Mikkelsen
Contact us
We do still have the odd week available for the 2022 season at Nappstraumen in our luxury Cabins. If you would like to join us at the famous Lofoten Islands destination call us on 01603 407596 or email us info@sportquestholidays.com.
Tight lines,
Paul