This place in Norway is unreal, our customers due out there soon and people that are out there now must be buzzing about the chance of catching that fish of a lifetime.
Å on the Lofoten islands in northern Norway is probably one of our most popular destinations and dates sell out so quickly, we strongly recommend you get some dates booked in if you are in search of a giant Halibut. This report has been given to us by the guides over at Å of Giant number 8.
Giant Number 8 from Å Lofoten islands
Yes, there is, to say the least, halibut hysteria here on Å! The fishing for the real giants is incredibly good, on Wednesday # 8 came over two meters this season!
Due to Corona, as you know, we have had limited guests, last week we only had 4 guests in the guide boat. The fishing this week was far from varied but the gang had a goal, a large halibut.
So we have been chasing after the big fish all week. We have consistently fished with at least one really large bait fish of 2-3 kg and then a couple around 1 kg. It has really given a good result! We have landed a bunch of fish around 120 cm and two bigger ones of 145 and 148 cm respectively.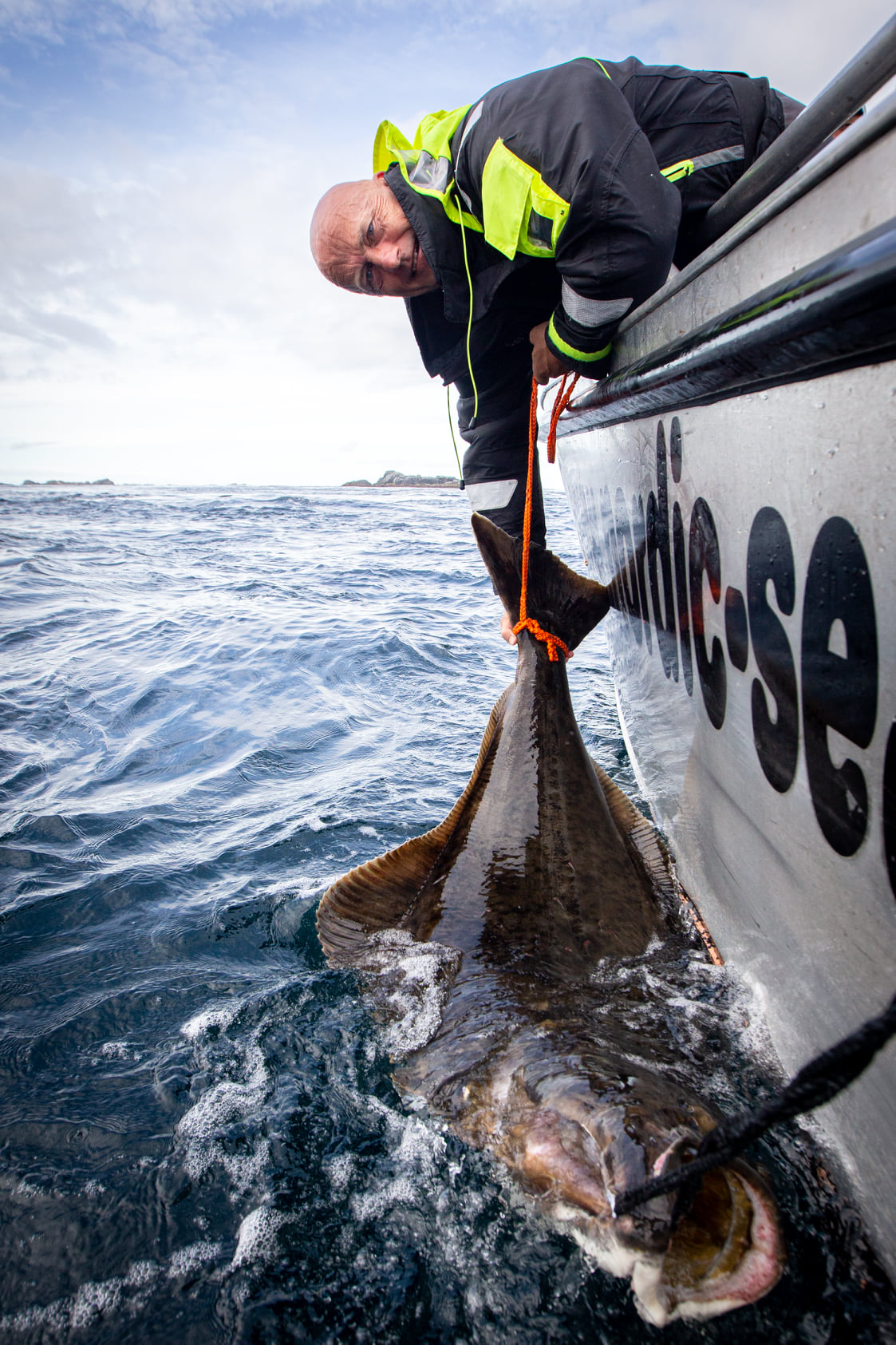 But on Wednesday during the last fishing day, just before lunch, we saw a really big echo on the sonar step up towards our baits. Seconds later, Terje's rod baited with a two-kilo baitfish twitched. After a short wait, Terje cranked the circle hook and there was rock-solid resistance at the other end. A little chaos occurs in the boat as the other lines go around Terjes line when the fish starts to rush. We solve it quickly and drive after. After just over 20 minutes we see a monster come up and we can secure it. It is 218 cm long and there is wild joy in the boat! Really well done Terje!
After a couple of nice pictures, she of course gets the freedom again.
We have in the shadows had a couple of really good sessions on the popper for Coalfish as well. So it is of course not just Halibut fishing we have to offer here on Å even if these awesome fish get a little extra attention.
Thanks for the week Terje, Geir Ove, Anders and Steinar!
Tight lines!
André, Alex & Andreas
A huge well done on a fish of a lifetime. Its always great too see huge smiles and PBs being broken on the boat!
Contact us
Looking to experience this destination for yourself? Give us a call anytime on 01603 407596 and we can discuss any open weeks at the time of you contacting. You can also have a look at all of our Sea Fishing Holidays here to get a head start.
Tight lines,
Paul