The penultimate week of the season is now written in the books here in Havöysund, many associate autumn up here with cold and slightly tougher conditions, but this week we really got to see the opposite and got to enjoy fantastic days at sea where the sun stayed on almost the whole the week and the wind has been more or less zero. The week started with a real bang start and I set off with the guys in the guide boat on a Halibut hunt accompanied by a few more boats, big Halibut was of course on the menu and after starting the fishing with a slower morning we found a tongue that held fish. Up on the structure, we catch two Halibut, both of which we lost after a few pumps right after hooking, there was no question that it was a really big fish we had lost… Isak and André had to bite together and come back, but after I had rigged a new bait for André, it only took a few seconds before his reel was torn away again and this time it sat properly! André, who had never caught a Halibut in his life before, had a good round and it was another really nice fish that we could measure to a full 163 centimeters and it got to be the first Halibut for the week in the boat.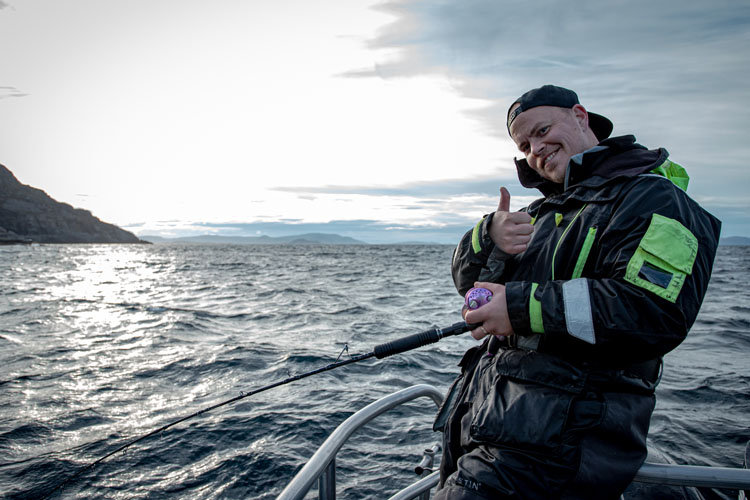 We battled on during the day and pulled a bunch of fish, including a nice spinning Halibut of 126cm. The next day there was more big Halibut hunting and the guide boat accompanied by a few more went to an area that doesn't usually let us down this time of year and not on this day either. Anton in the guide boat got to taste the bitter truth of Halibut fishing when he hooked a fat Halibut which unfortunately won the fight so the line unfortunately narrowed, but he got his revenge with a nice fish of a full 118cm a while later. One of the other boats pulled the long line with a big fish of 170 centimeters. Boat 9 ran a different area and had a great fish of 157 centimeters which they backed up the next day with another really nice fish of 152cm!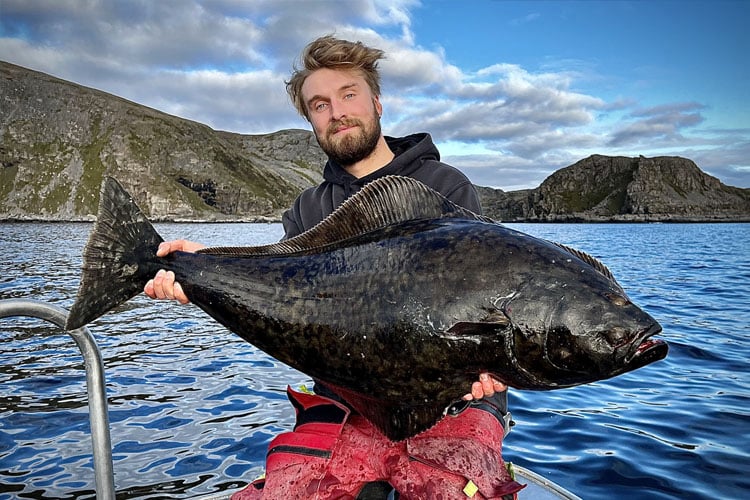 The guys in the guide boat also ran an attempt at Cod during the weekend, it was difficult as the shoal of bait fish moved all the time, but once they got the stuff down on the right shoal, big Cod were parked under the shoal and they were able to land several nice fish with a top of 15 kilo! On Monday, Andreas drove the boys in boats 9 and 12 up to a really exciting area in search of BIG Halibut. When the first spear in Andrea's boat came down to the bottom on the first, there was an incredibly large echo on the echo sounder that sucked the bait fish, it started to move and they hooked the fish but unfortunately it went under the boat and succeeded in some unclear way get off… but considering that echo, Andreas was sure that it was the fish they were after. It was good action for the boys and they had many contacts, the boat next to it landed 3 Halibut in the first drift of 120, 122 and 128 centimeters. I had a tougher morning with the guide boat in another area, but boat 5 more Truls and the gang managed to find a really great fish of a whopping 158 centimeters!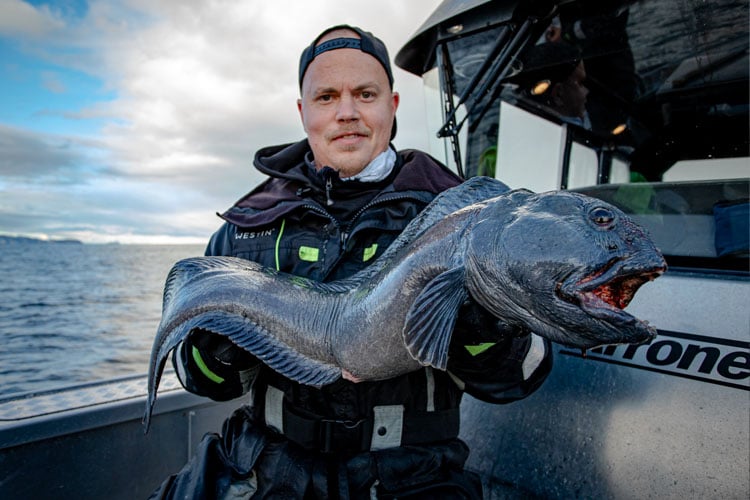 However, Lars managed to catch a spectacular fish which was a really nice Wolffish of a whopping 6 kilos which is not quite common and a really cool by-catch. I later made a move to shallower water in a bay for some action, the spin fishing delivered and Isak who was still waiting for the first Halibut of his life finally got to hook one on a spin and the joy of the just approved fish was total! We managed to catch a good bunch of fish with orders for more which was really fun after a slow morning.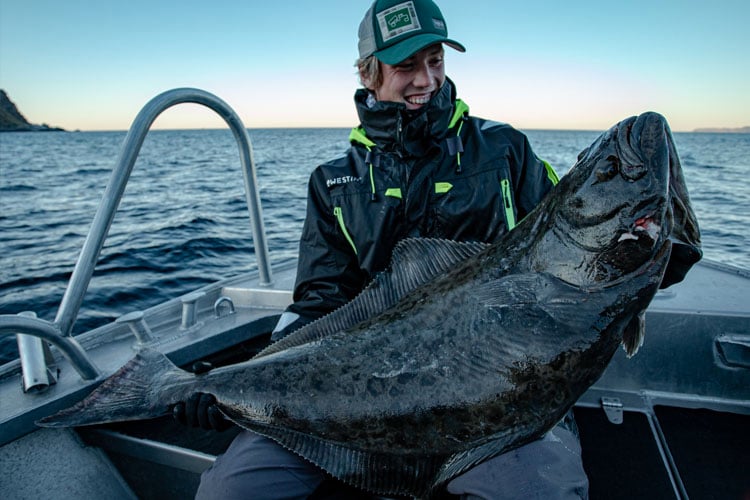 On the penultimate day, I got another chance at big Halibut and I went with the boys in the guide boat to the area they were driving during the weekend and had been ordered to fish oily fish. We started the morning on an edge where there were a lot of fish and Anton caught a good fish which he hooked, it made a real roaring rush under the boat and before we could get the situation under control, the fish got off. We had a lot of fish that took our bait fish but they were really difficult and spat, I myself managed to pick up a small food fish on a jig but we felt that we should move as there seemed to be a lot of small fish.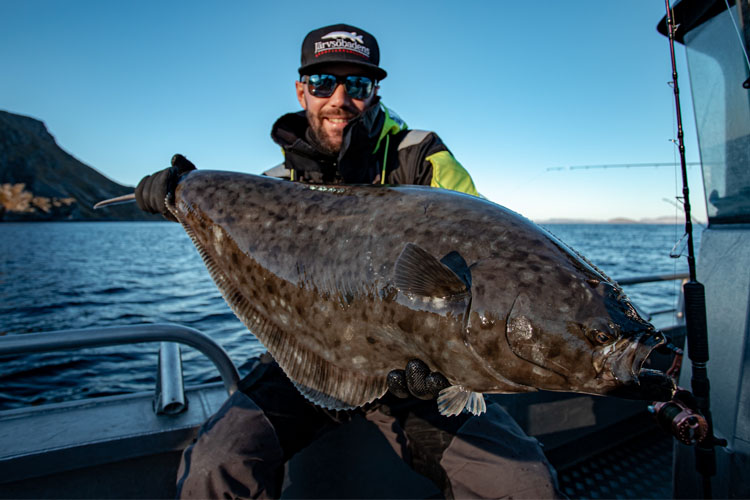 The day was slow and it was difficult to get the paths on the echo sounder right, but later in the afternoon Lars would show where the cupboard should be. Out over a nice edge to a hole, Lars's rod pulls away and he hooks a nice fish! It offered a good fight and Lars has been waiting a long time to pry into a heavy fish. The fish was landed and measured a nice 143 centimeters and that made the day successful and Lars was incredibly satisfied.
The last day offered strong winds and many at the camp were satisfied and chose not to go out. However, we in the guide boat fished in the immediate area and managed to pull in a few Halibut in nice food size. Lars caught a really spectacular fish of 85cm that clipped his jig right under the boat when he quickly cranked up the jig so it was good kalabalik when it flew around next to the boat after hooking. This had to sum up a really successful week and now we look ahead to the last week of the year up here in Havöysund.
Tight Lines// Douglas Dahlberg & Andreas Hugsén
CONTACT US
If you, like many others, have ever dreamt about fishing the prolific waters of Havoysund and would like to know more information on how you can join us, you can contact our sea fishing specialist, Paul Stevens, on 01603 407596 or email at paul@sportquestholidays.com.