Time for a summary of the half week that has passed here in Nappstraumen. Unfortunately, we also got several groups this week who unfortunately did not manage to get here due to the SAS pilot air strike. We hope they have a solution soon so no more travelers are affected.
After the information meeting on Wednesday, everyone was ready for a week of fishing here in Nappstraumen. The weather looked promising even though it was a wave height of just over 2m from Wednesday's storm. Johan and Didrik went out and guided the two Dutch groups where they went north towards the mixflake. We could quickly see sick amounts of bait fish around the base peaks as well as large shoals of Haddock at a depth of 60-65 meters. Some Cod was caught around these shoals, and Didrik reported a good amount of fishing, even though it was really great with his absence. Johan, however, tried to find the fish in a little deeper water but found only a little stray fish with the largest Cod of around 10 kg and lots of Coalfish in the 2-4 kilo class. They then decide to go in and test the Halibut in one of the shallower bays.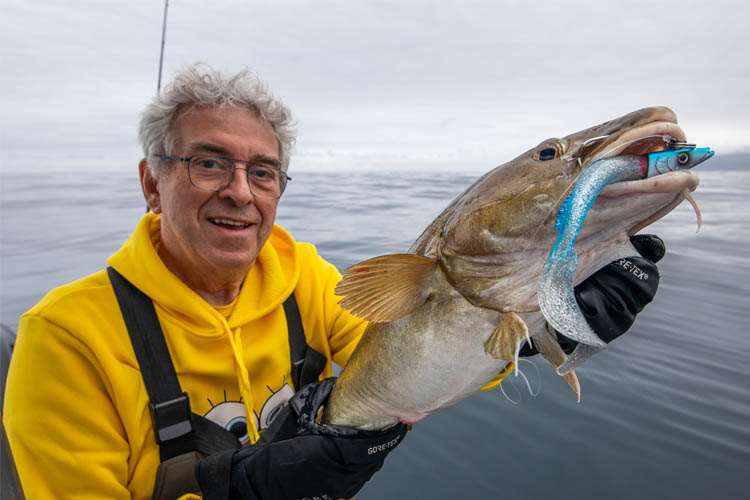 Already on the first drift, Johan sees a rise on the sonar and when the depth was only 10m, he peeked into the water to see if he could see the fish. He was shocked when he sees that it is not a Halibut that has gone up after his jig but instead is a REALLY big Plaice. How big it was, we leave unsaid, but it was so big that Johan had to persuade the guests and pick out their lighter equipment, Johan ties together a pair of Plaice rigs and cuts some strips from the Haddock they had previously caught. It turned out to be a successful venture when together they could sum up 8 fine Plaice where several of them were around a kilo with a top of 1.15 kg distributed on 47.5 cm. Johan, who has never fished for Plaice in this place before, said that they only managed to fish from a very small area, so the potential here is enormous.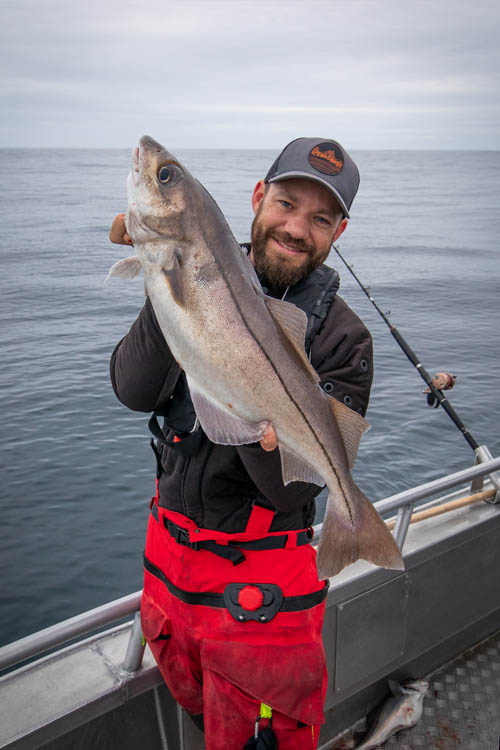 Didrik was able to sum up a really good amount of fishing this day on both Cod and some fine Coalfish. The other boats had a bit of mixed results where, among other things, boat 10 with Peter and the gang got a lot of Cod and Coalfish with a top of 10 kg. Among other things, the great Coalfish was caught on light reel equipment, which became a challenge but all the more fun!
As always, there were many guests who were reminded of seasickness who like to come sneaking during the first day before the body has got used to it. Especially with the prevailing conditions with very rough old water that rolled in.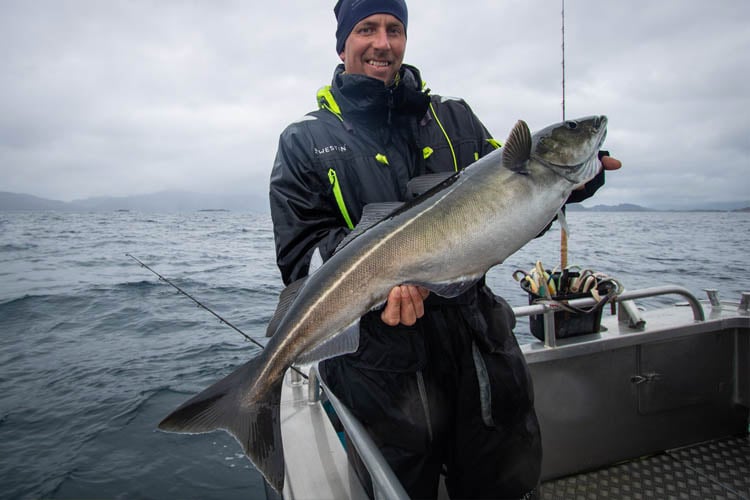 On Friday, however, there was new bad weather with strong winds from the NW and rain. Most boat teams fought out despite this but were severely limited to Nappstraumen and the south side. Johan drove a 4h guide and summed up 7 fine Cod with a peak of 7.8 kg after 1.5h fishing which became a new record for Patrik and Mattias who were with this day and who had never fished up in northern Norway before. They then chose to go for the Halibut the last time where they had 3 contacts that unfortunately did not get stuck and a couple of interesting climbs. Calle who was out guiding a family on a 6h tour told about endless amounts of themselves where they managed to catch a couple of nice ones and also this on the south side. However, it should be said that fishing was generally sluggish this day, but the south side is also worse compared to the fishing we have on the north side Lofoten. However, it is always nice to be able to go out to sea even though the weather is a bit harsh. Stefan from the Dutch boat also told about a couple of nice Plaice also this day with the largest at 46.5 cm.
Other Dutch gangs also landed an approved Halibut this day. Conny with family and friends only drove a short pass this day where the children then ended the day with some classic bridge fishing with several Redfish landed and much more exciting to see in the form of crabs, sea urchins, various flatfish etc. A nice feature for the families.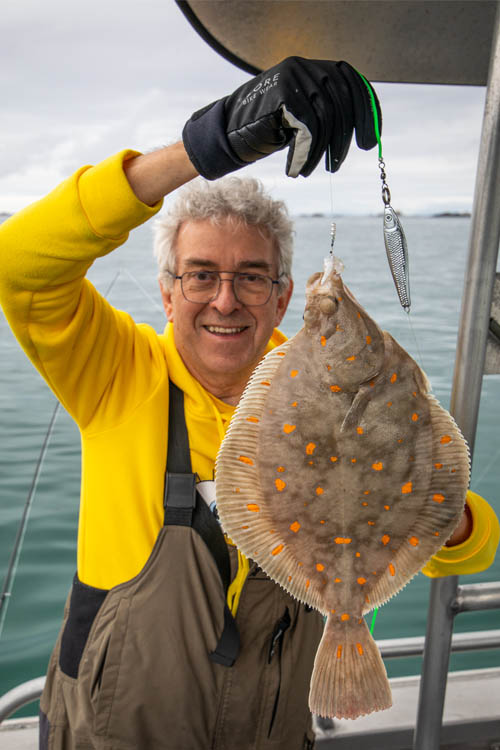 On Saturday, the weather promised really weak winds so everyone charged for a trip out on the north side again. Conny with family and friends in boat 9 had a relatively sluggish fishing, but they could still sum up Cod and Coalfish up to 7-8 kg and some other species including a Pollock of about 6-7 kg, which is huge ! But when we talked to the different boat teams, everyone seems to say that the fishing was relatively sluggish this day, even though some boats had scored correctly and got a lot of nice fish in the form of Cod and Coalfish. There was also a nice Halibut of 112 cm from the Dutch group and a Halibut of 85 cm from Peter and the gang in boat 10.
More fishing reports from us in Nappstraumen will be coming soon!
// Johan Mikkelsen, Calle Hjelm and Didrik Stavervik
CONTACT US
It looks like its been a fantastic week at Nappstraumen. If you would like to know more about this fantastic sea fishing tour to Nappstraumen on the Lofoten Islands and how you can join us, you can contact our sea fishing specialist, Paul Stevens, on 01603 407596 or email at paul@sportquestholidays.com.