Fishing in the Nappstraumen continues to deliver fine Halibut this autumn.
Last week I, Alexander, went out with Santeri, a Finnish guest who worked at Å all summer and who wanted to try Halibut fishing, after many cancellations and rebookings, it was finally time for Santeri to come out and fish.
We met up at 08:15 and left the port shortly after, the first stop of the day was to fish for bait a few minutes from the camp, but the current was so strong that we didn't have time to lower our tackles before we drifted over the shoal. We then chose to drive a few minutes out from Nappstraumen and we did the right thing. A short while later we had plenty of bait fish and we were now on our way to the first drift of the day for Halibut. Very pleasant and nice weather made it easy for me to instruct how to do it and to hold the boat at the same time. We also sent out an extra rod rigged with baitfish. After only 10 minutes of fishing we have a slight tug on the baitfish we wait for it to pull away properly before we do anything, as we both stand there staring SCREAMING a reel behind us and the line literally just flies off the spool, I quickly reach the rod and apply the brake, only having time to feel a bit of the fish before it unfortunately broke loose. A bit of bad luck there, but while I reel in all the line that went out, I check over the back of the first rod that is standing and bends deep in the rod holder. Santeri cranks the hook in and there it is! After a quick fight, Santeri lands the first Halibut of his life, but it would not be the last…
I ask if we should take a picture and measure it, approx. 80 cm, so it might be legal and he could take it home if he wanted. Before he answers the question, his rod and sole that is fishing for the moment also bends and I then throw in the fish we have landed so that it does not have to lie on the colander for too long while we fight the next fish. Another nice fish comes to the boat, which is a few cm larger, which was measured at 85 cm. Santeri saved this fish so that he could also taste his own caught Halibut.
To sum up the first 10 minutes – 3 bites and 2 landed now we send out our rods again. It doesn't take many minutes before the next fish bites and Santeri joins in and cranks the hook in and it sits this one too, a small Halibut below the measurement that quickly goes down again. 3 landed and one lost after about 20 minutes of fishing is so damn cool.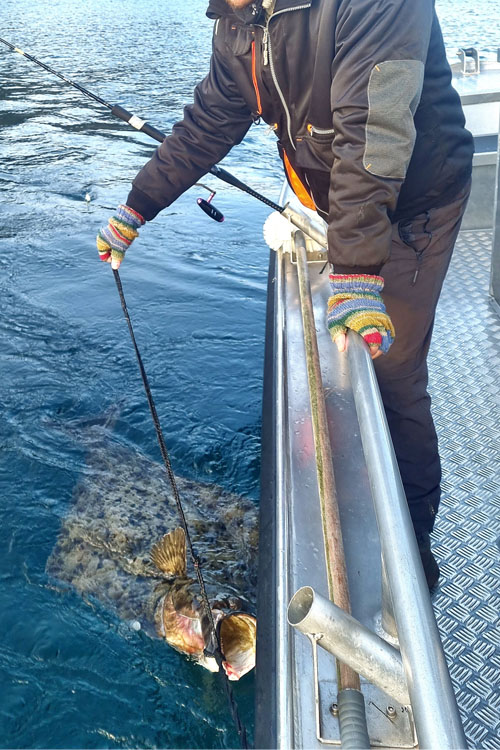 The day continues in the same spirit, not long between bites but the next fish came on the third rod that was in the rod holder, a careful bite which then started to rush away in a steady rush, I tell Santeri that this could be a better fish. Santeri takes the rod and cranks in the hook, it sits but comes along quite nicely at the beginning and walks back towards the boat at a calm pace when it starts to approach, it probably realizes that something is crazy and gives Santeri a fight he will soon forget as it rushes 20-40 meter rushes in all imaginable directions in shallow water. After a very funny fight, an awesome fish comes up and I immediately secure it. After measuring, we found that it is a great fish of 139 cm that got its freedom again after a few quick pictures. We chose to continue the operation despite a little drift with the last fish and it didn't take long before the next one sat, this time, I took the rod myself and drilled my first for the day of about 100 cm. The drift took us a little deeper down towards 15-20 m. We then chose to recast a new drift and only a minute into the drift it bites again on a rod rigged with bait fish, unfortunately, the hook does not set properly and it came loose. A little longer between the bites, but then a fish came on my rod again, despite the circle hook, it had been hooked very stupidly, which very rarely happens with this type of hook. Since the fish was 94 cm long, I chose to bring it home as it had not passed a re-release. Santeri then ends the day by catching one last Halibut which is just below measure.
So we have been out fishing from 8:30-12:45 and landed 7 Halibut and lost 2, all this only 3-5 minutes from the harbor. ABSOLUTELY crazy crazy good fishing.
On Sunday, I'm going out again this time with Jan, who went with us before both in the fall and in the spring. The goal for Janne was to catch a new personal best for Halibut which before this day was 10 kg, that would soon change.
What you can't do about fishing is decide how the fish will behave or how everything will play out. What you can often influence as a guide is, above all, how strong and fresh the knots and ropes are, that the hooks are sharp enough, that the links and spring rings are in good condition and quality. Then, of course, fish in the right place at the right time, but there is never a guarantee how the fishing for the day will go despite many years of experience. Fishing is fishing and we can only do everything we can to increase the chances of a successful fishing, but how it plays out we simply have to see.
This day was one such day where even though our equipment is in top condition and the fish chose to bite, there was something that made us have the pole out for the whole morning. We left port at 9:30, only when Jan could get off work. We were out quickly and caught good bait fish near the harbor, and the good Halibut spots were here too. Get out the rods and start fishing. After about 30 minutes in the first operation, a hook comes on the first rod and we see that a fish is chewing on our bait and Jan gets ready. The rod begins to bend at the same time as the line rushes away, Janne cranks in the hook, gets the weight in the fish, lifts the rod and boom! The fish lost… New catches, first contact felt good after only 30 minutes of fishing, new bait, out with it again and off we go. It doesn't take more than about 20 minutes before it hit the next rod that was in the rod holder. When the fish picks up speed, it's time to reel in the hook, all said and done. The fish sits and at first glance we get the feeling that it is a bigger fish, then comes a couple of strong head shakes and unfortunately the hook comes loose this time too… Unlucky, but it's just fighting to try to have better luck next time. The same thing happened again and again… If this wasn't enough bad luck this day, one of our rolls broke so we had to go into the harbor and get a new roll.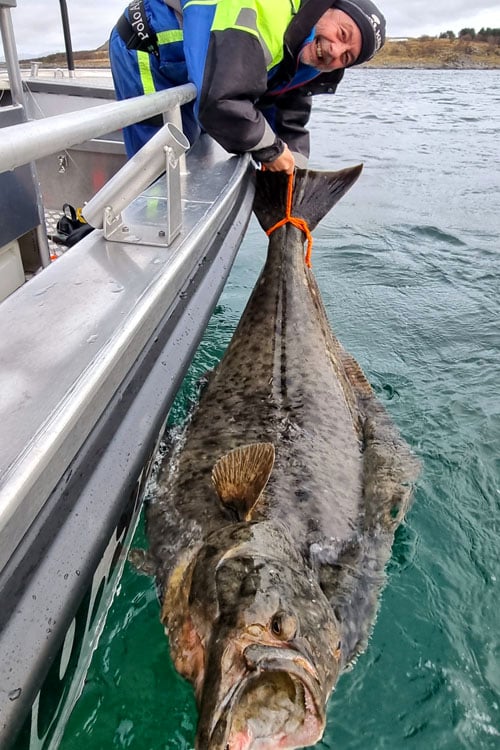 It only took 10 minutes and we were out at the fishing spot again. So nice to be able to do something like that when the fishing is so close to the harbor. We put a new drift where nothing happens until we started talking about cranking up and re-laying the drift, before this sentence comes out of the mouth one of the rods screams. Fast forward and apply the brake but the fish continues at the same pace despite hard braking, it finally stops and shakes its head with a violent force, we realize that we have hooked a MONSTER Halibut, the fish decides to swim further out towards the depth of breakneck speed before we had time to catch up, the hook loses its hold again… Now we'll never see how big this one was, but big it was. A bit discouraged now with so many lost fish and about 2 hours left to fish but we are fighting on. The current starts to die down a bit and we decide to go to bed when it turns. All said and done, we are well placed in an area where we previously had good fishing. Here we lie and wait for the current to pick up while we talk and enjoy the day at sea.
The minutes passed and the current slowly but surely began to turn and all of a sudden Janne's rod snaps, BANG, he waits coldly for it to start swimming away, the fish finally pulls and Janne tightens the brake to the max, the fish however swims straight towards the stern so Janne, who now applied the hard brake, almost flies overboard as the fish accelerates across the bottom of the boat, Janne lies halfway over the transom with the rod glued in his hands and tries to crawl back into position. After a somewhat terrifying intense fight, we can soon land a real DREAM FISH!!! So well deserved after this day with a 173cm Halibut for Janne! After a few quick pictures, this one also got its freedom again. There was only one fish landed this day, but what does that do when it is measured to a full 173 cm and a dream fish for Janne! Shame on giving up.
We still have a couple of days free here in November with the possibility of targeted Halibut fishing with a really good chance of both many and big ones, make sure you take the chance and come up to us now. If nothing else, make sure to book a place for next year's autumn fishing, it really is a great time for Halibut!
Tight lines from Nappstraumen autumn 2022
Alexander Lindgren & Johan Mikkelsen
CONTACT US
It looks like its been a fantastic week at Nappstraumen. If you would like to know more about this fantastic sea fishing tour to Nappstraumen on the Lofoten Islands and how you can join us, you can contact our sea fishing specialist, Paul Stevens, on 01603 407596 or email at paul@sportquestholidays.com.