Another lovely week is over with many nice trips out to sea. The weather has been variable during the week, but we have had a couple of magical days out on the big blue with nice catches and awesome experiences.
As in previous weeks, some days have been really difficult to fish, while other days there has been full action with both Cod and Pollock. A bunch of Cod around 10 kg have been landed and some up to 15 kg. Most taken in relatively shallow water 15-35 meters. Bigger Pollock have been caught when drifting out in deeper water with many between 3-6kg, a fantastic fun fish to hook with its strong rushes.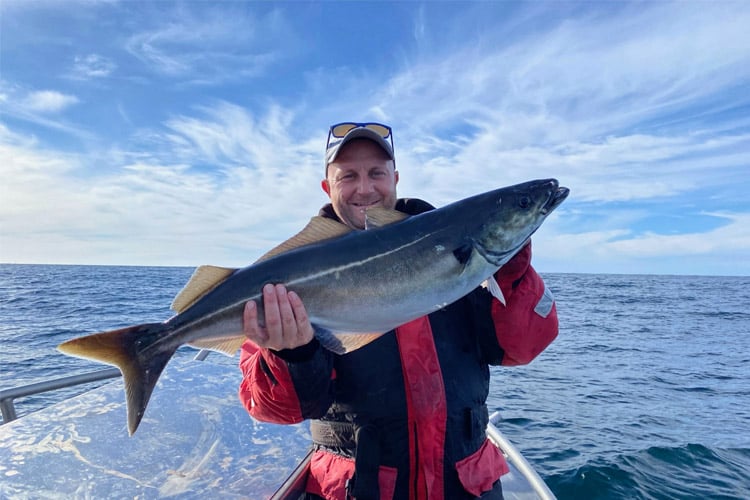 The Halibut fishing has also been a little slower this week, but one group that did well on the long trip was Boat 9 with Glenn behind the wheel with two nice Halibut, the largest of which was a meter long. These two were caught almost immediately when they came out to the intended fishing spot for the day. Kristian Hausken, who guided Mikael Lind and the gang, told us that they lost a bigger Halibut soon after but managed to land nice Cod up to 14.3 kg. Our guide Johan Mikkelsen also tells us that they had two Halibut contacts this day, one of which was of a better caliber. Sometimes it's just pole out. Another boat team that managed to get a pole on this day was boat 3 with James Ibister behind the wheel. They went for Halibut this day and fought for several hours with only nice Cod and Coalfish as bonus catches. In the end, they were the only ones left on the spot as the other boat teams filled their boxes with fine Cod and Coalfish and headed home.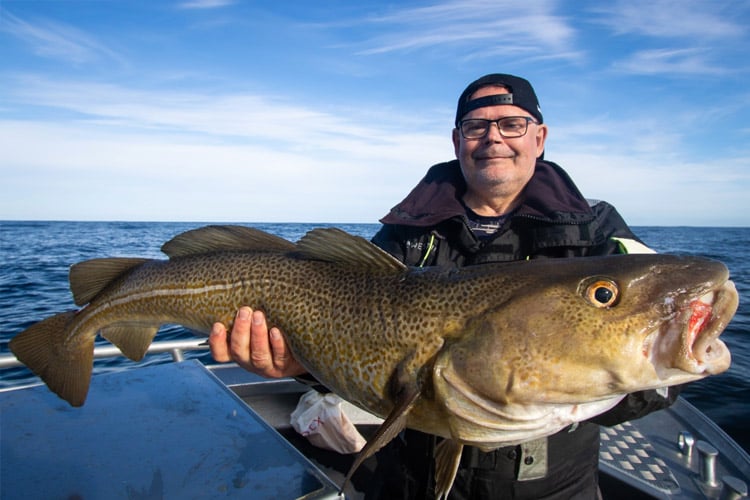 Johan contacts them via the VHF and tells them that they now have to move closer to the camp as we don't want to leave anyone behind as the phone coverage is poor at this location. In response, he received that they will come very soon, they will only bring up this Halibut that they have now fought with for 20 minutes. Not long after, they report a fantastic fish of a full 150 cm! This fish was also the biggest Halibut of the week, a really great end to the long trip. Once in port, the British group tells us that they had drilled a Cod in the 5 kilo class when the big Halibut followed right up to the edge of the boat. The whole gang went up in flames when they saw the Halibut, soon after it dives into the depths again and a second later Jim is standing with a reel that screams and a rod bend that is hot enough! A powerful experience and one of the major goals of the trip had now been fulfilled! We at NSA congratulate this fantastic fish!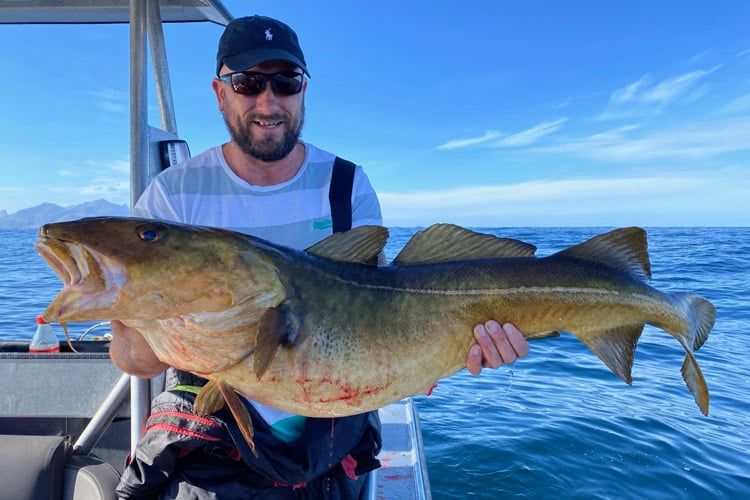 Kristian Hausken was also out guiding another day where they managed to catch the incredibly elusive Monkfish. A fish that lies almost still on the bottom and waits for baitfish to swim past its nose before it bites. This is how they really got it right when they managed to bring on board this strange but oh so good fish. A least ugly fish with a protective slime that can hardly be removed from the hands. But the culinary experience from its firm meat is one of the best you can get when it comes to fish.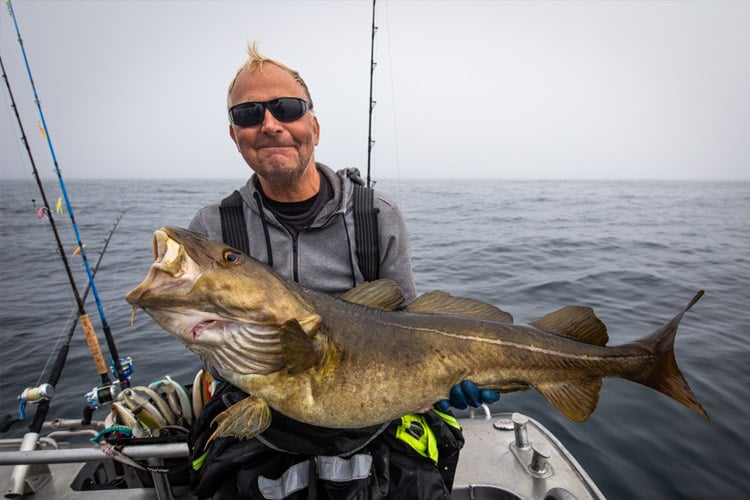 The last two days, unfortunately, the guests had to deal with bad weather and were thus very limited to the immediate area. Despite this, boat 10 with the British gang Steven and the gang managed to lure up a Halibut a few minutes from the camp. However, of a smaller size that had to swim on again. However, our guide Calle and Kristian managed to guide up a bunch of nice Plaice these days with a couple around 50 cm in top! An underrated fishery, to say the least, which is a stone's throw from the harbor here in Nappstraumen.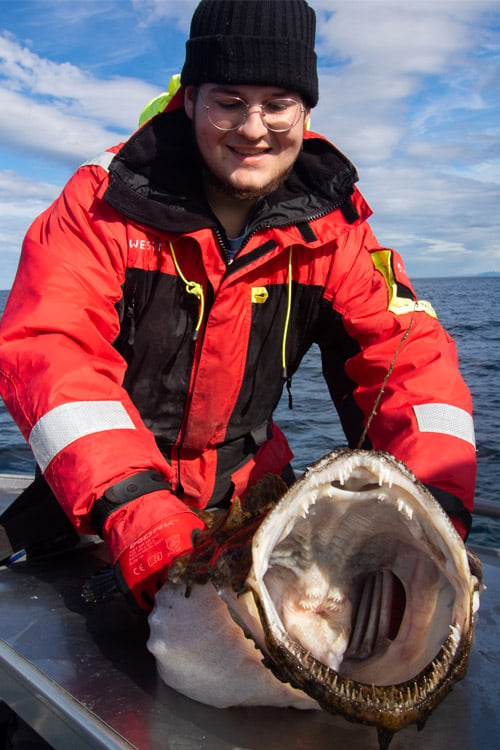 Another exciting sighting during the week is the strange "Perlesnormanet" which has been seen out at sea on several occasions. A jellyfish that can grow up to 30 meters long and is a type of colony jellyfish that creates these long clusters like a string of burning filaments. These jellyfish have a strong poison so you should not touch them.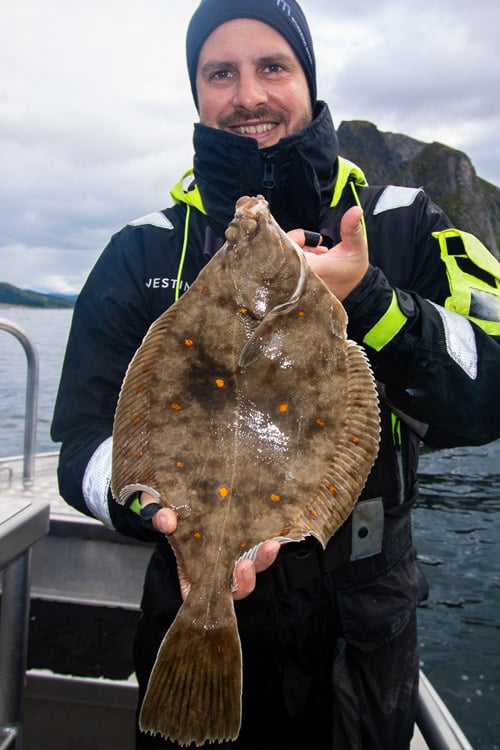 As always, out at sea anything can happen and now we are charging for another week with new tagged guests and with promising weather prospects, we hope to be able to return soon with more nice catch reports from our lovely destination Nappstraumen!
Warm welcome!
//Johan Mikkelsen, Calle Hjelm & Kristian Hausken
CONTACT US
It looks like its been a fantastic week at Nappstraumen. If you would like to know more about this fantastic sea fishing tour to Nappstraumen on the Lofoten Islands and how you can join us, you can contact our sea fishing specialist, Paul Stevens, on 01603 407596 or email at paul@sportquestholidays.com.