There have been some eventful days in Lofoten with fantastic catches to report. But before we go into the Monster Halibut, we will start at the end of last week.
With each passing day, more and more boat teams have hit the right spot on larger shoals of Skrei. This on both the south side and the north side, although there are still a lot of applicants, it seems that there are more and larger shoals of Cod along the coast now. We also had a visit from a wonderful group of Norwegians from Stavanger who managed to catch some nice Cod during the three days of fishing. Einar also hit with a Cod of 25 kg, which became the largest Cod for the week.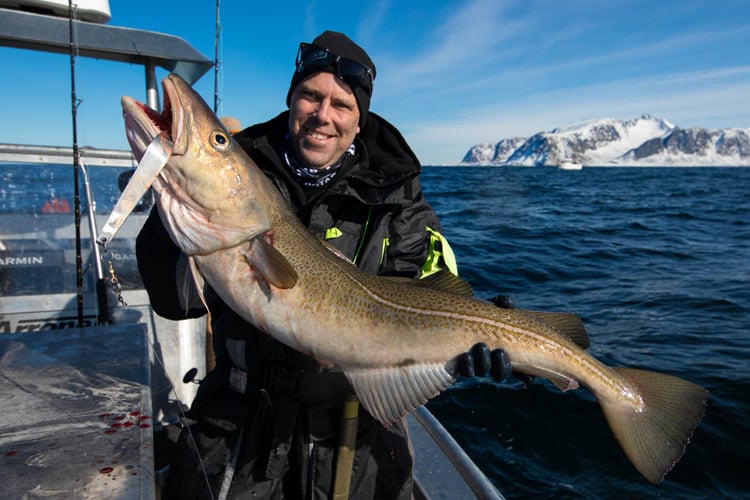 Several Cod between 15-20 kg have also been landed between the boats. Boat 3 with Captain Fritte also managed to guide a Halibut of 107cm to his father Herbert from Visby, which was also his first Halibut and a wonderful end to last week. Also boat 5 with Mia as the captain told us about a completely sick Skrei Cod session during their penultimate day with non-stop action and areas that were filled to the brim with Cod. The largest Cod was around 14kg, aswell as many pleasant caputues around the 10kg mark. Tired but with big smiles, they were able to end the week with the flag at the top.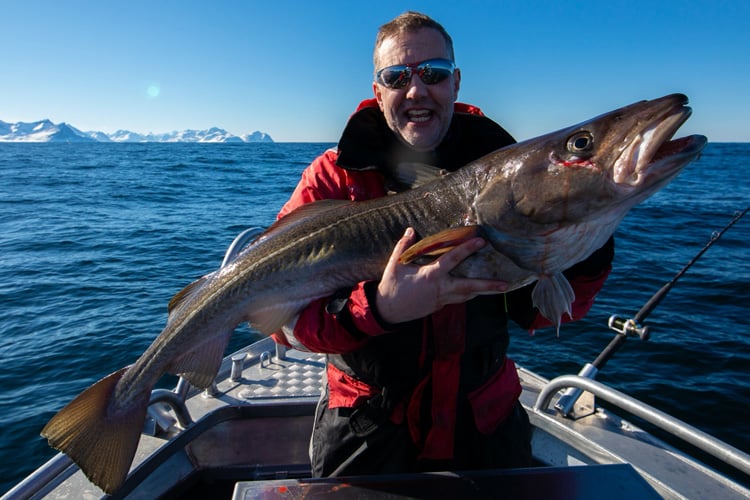 This week we have finally had really great weather and even more Skrei along the coast. Also this week, there have been reports of Cod up to 20 kg, but what perhaps stands out the most is probably Saturday, when many boats focused on Halibut. At 09:38, I get a call from a very excited Markus Örnborn who tells me that they just secured a monster next to the boat, and was barely a stone's throw from the camp. Markus says that this would never have happened without his boat mates Fredde and Danne. A teamwork like no other where Danne set the Halibut hook and secured this dream fish which after control measurement amounted to a full 230cm and is thus a new camp record here in Nappstraumen.
It hit a Crazy Daizy 400gr in the colour Robo Cod from Westin Fishing with a Curly tail. We at Nordic Sea Angling congratulate you on a fantastic fish and achievement. Wonderful to see such a nice fish swim back again. All this just minutes from our camp. Congratulations to Markus and his boat team who managed to catch this fantastic dream fish and have thus written history with us at Nordic Sea Angling.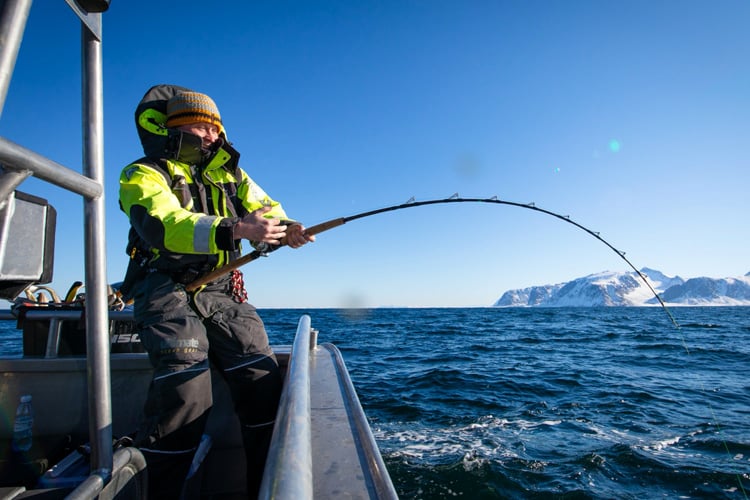 But this Saturday does not end here. A little later, Calle and his friends head south on the outside of Nappstraumen and were able to report on three fantastic Halibut with the largest at 107cm taken on spin fishing gear in really shallow water. Boat 5 with Thomas behind the wheel, also reported a nice Halibut of 135cm which was able to swim off again. I myself (Johan Mikkelsen) steered the boat towards a shallow section despite some rough sea.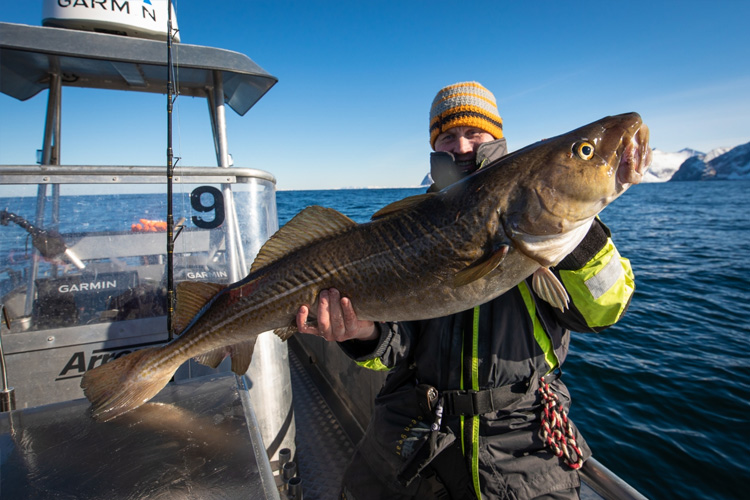 The gang in the guide boat wanted to fish for Halibut and I had a drift that I had been wanting to try again for a long time, as the last time I was there we landed a big Halibut at this spot. Once there, something happens that I have never experienced before. I stopped the boat, went to the front to show the technique to Christoffer, dropped an Anti Twist Rig rigged with herring, cranked my reel up a few meters from the bottom and explained how I fish with baitfish and what to think about when fishing with a circle hook. I barely have time to finish explaining the method until something hits my rig. Christoffer takes over and follows the instructions I gave him earlier. It's pulling away, and I'm shouting NOW! He pulls up the lever drag and starts cranking until the rod is bent in a deep arc under the boat, followed by a screaming reel…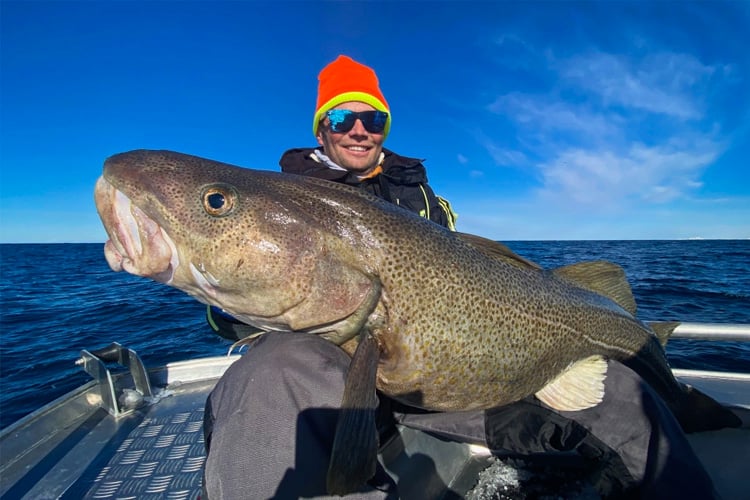 The others in the boat hardly think it's true, I scream HALIBUT! ITS BIG! The others had not even had time to let go and start laughing at the whole situation. I throw myself at the wheel to slow the brutal first run. The run does not seem to end, I start to look at how much line is actually left on the reel. It starts to run its course. I start driving after the fish at full speed while Christoffer does a fantastic job of catching up and keeping full pressure on the fish. After about 12 minutes of chaos with adrenaline pumping and arms shaking, we see that the Halibut is starting to approach. I get ready with the Halibut hook and think that I must not miss this one.
Despite the rough water, it manages to come up nicely at the boat edge and I get to secure the fish. The euphoria in the boat is indescribable. Christoffer shakes with adrenaline, joy, shock, seasickness, and everything simultaneously. Everyone is standing and yawning and saying that this is the sickest thing they have been through, and I can only agree. The Halibut was measured at 175 cm and after a few quick pictures, got the freedom again. A powerful sight and what an experience it became. It was Christoffer's first Halibut ever, and he handled it like a pro. We at Nordic Sea Angling congratulate you on another dream fish.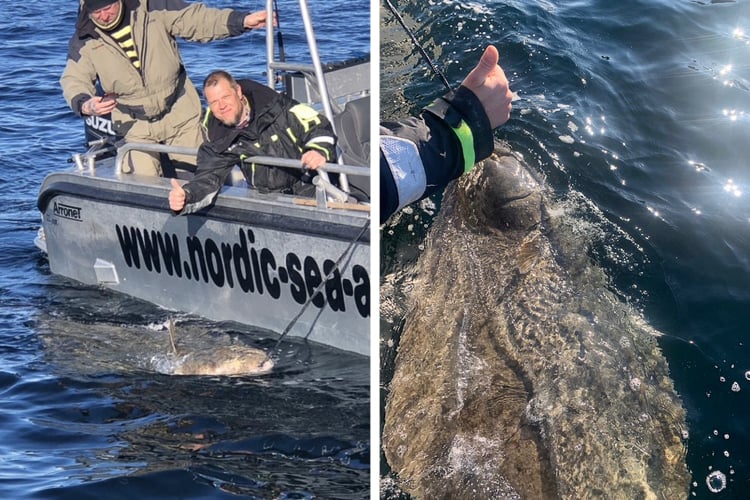 There were also more flounder this day but I think we are content with this update from our camp Nappstraumen – now with a new camp record for Halibut and some Cod fishing that has only gotten better and better!
As always, Nappstruamen really has a fantastic location, a fantastic camp, weatherproof and which proves once again that giants swim just a stone's throw from the camp. I can also add that there have been more killer whales and whales seen these days. What more could you want?
A warm welcome to our camp, Nappstraumen in Lofoten,
Best regards,
Johan and Calle
CONTACT US
If you would like to know more about this fantastic sea fishing tour to Nappstraumen on the Lofoten Islands and how you can join us, you can contact our sea fishing specialist, Paul Stevens, on 01603 407596 or email at paul@sportquestholidays.com.