Finally the dream weather we had all been waiting for, the first summer heat in Lofoten and a calm sea with all the possibilities to reach places where you rarely fish. Several really large Halibut have been landed during the week, large Cod with a peak of 22 kg and a seal hunt has been witnessed by our guests from a group of Killer Whales. Yes, anything can really happen here and we can once again sum up a fantastic week here at our camp Nappstraumen in Lofoten.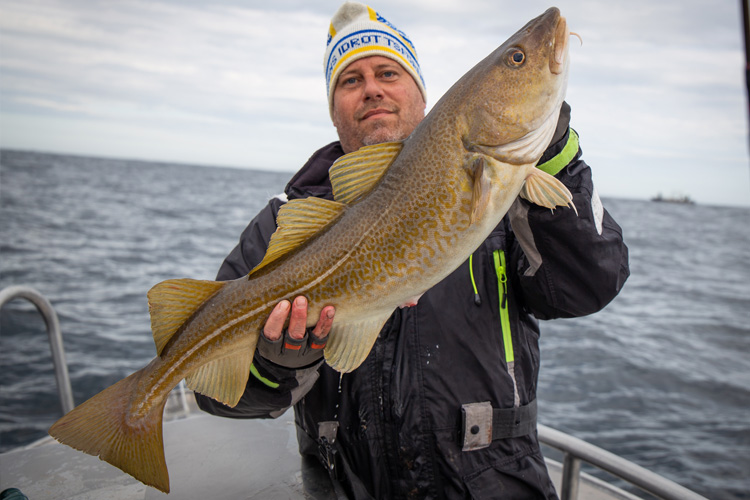 The first day was party weather and the guests fished on the west side towards Skarvskär. Fishing was sometimes quite difficult, but both Cod and Coalfish were caught sporadically during the day. But the fish mostly stood and sat along the bottom. Despite this, this week's top fish of 180 cm managed to be caught this day for our guest Magnus. A huge Halibut and an absolutely incredible start to the week. Of course, this amazing fish got the freedom again. Not only was the fish huge, it was also Magnus' first Halibut, so you can not help but take off your hat and congratulate a fantastic fish that is said to have started the Halibut fever. It does not end there, however, Niklas counters with a cruel Halibut of 175 cm from the same area and not only that, Niklas cuts the week's largest Cod of 22 kg also this day. A big achievement and of course we congratulate Niklas for his fish as well. So even on difficult fishing days anything can happen, but it was clear that the fish was there, however, it was very difficult to tease.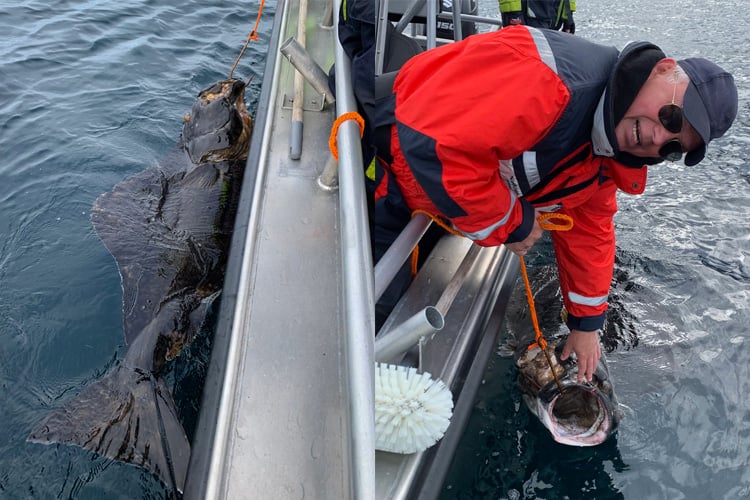 Day 2, dream weather and long trip – When the weather is so good, all you have to do is throw yourself into the sea and test places you would not otherwise be able to access. That was the plan for the day when it set its sights on an area with both a chance of big cod, Coalfish and Halibut. It turns out, however, that the fishing was just as sluggish even in this place. You could find large shoals but it was difficult to tempt even this day. However, there was some Cod and Coalfish with a peak of about 12 kg. But as always, even on sluggish days it can explode. This was also the case today when our guests from the Netherlands caught a nice Halibut of 155 cm. A big fish that became the highlight of the day!
Day 3, windy and limited to the immediate area. After two fantastic days, the third day was limited to the local area where some guests focused on fishing for Halibut in Nappstraumen and the south side for Cod and Coalfish. There were also some who tested the Plaice fishing this day with a couple of nice fish landed. This is really one of Nappstraumen's strengths, despite bad weather you can almost always go out and fish for these species.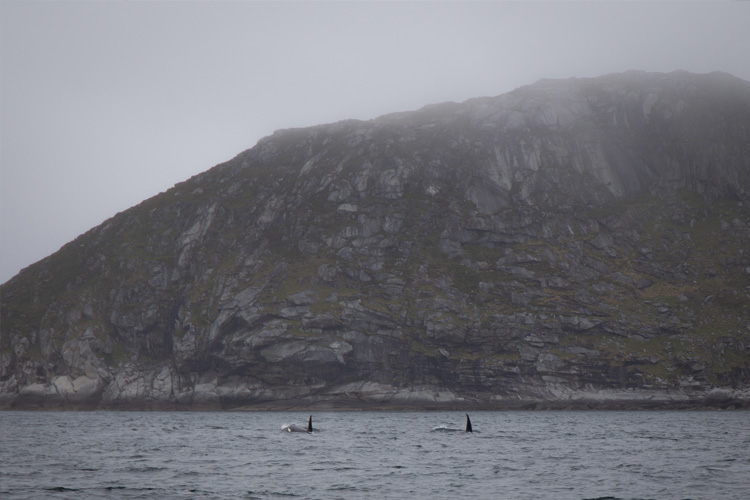 It was also on this day that one boat team tells about the amazing seal hunt a stone's throw from the camp. A group of killer whales had chased a seal that, against all odds, fled up on one of the small skerries in Nappstraumen and managed to stay away. It is not often heard of this behavior in Norway when it is heard that most killer whales are most focused on Herring. But apparently now some groups are also starting to specialize in seals as well. May be worth thinking about next time you want to jump in the water to greet the killer whales…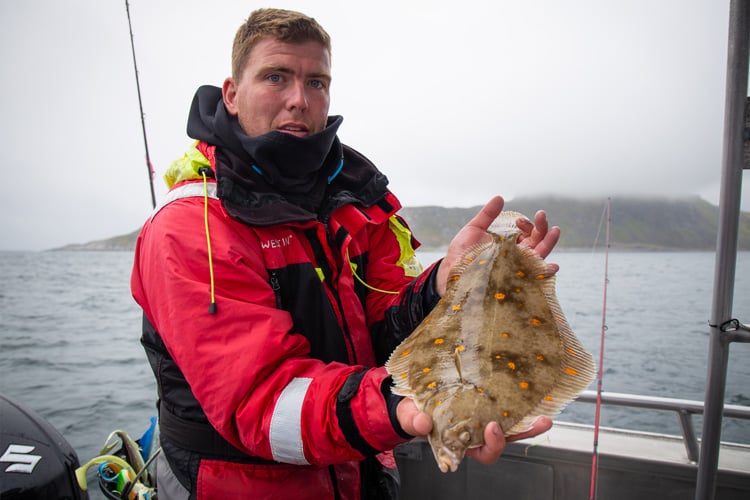 Day 4, the nice weather came back and this time the boats went north to test another fishing area. The fishing was still perceived as relatively sluggish, even though fish were landed a little now and then. A lot of Haddock were also caught at this site. And the big fisherman Niklas strikes again with another brutal Halibut of 160 cm!
What we are also starting to notice now when the water temperature starts to rise is that the Halibut go out into a little deeper water. Which can be good to know if you are going to get up soon and test your luck. Earlier this year, it was not uncommon for us to get really good with Halibut at only 5-15 meters depth.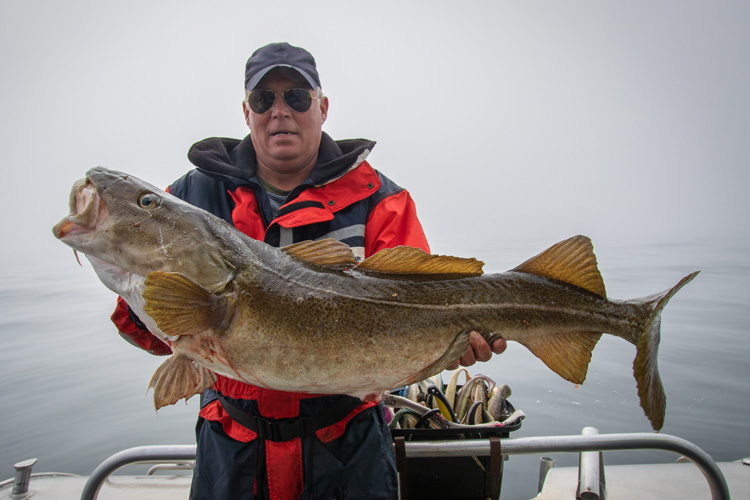 Day 5, The dream weather continues and a new long trip is planned. As always, we try to test different areas with each long trip to spread the fishing pressure, so therefore this long trip was directed to a third area that also usually delivers really well. Since we are constantly trying to take care of the fishing we have up here, we test around from area to area. This means that every time we go out to a new area, it feels unfished and the feeling just gets so much better!
Day 5 will be the day that turned the sluggish fishing. In the previous days they had soldered a lot of fish but it did not want to bite. Now it had turned, now it was Cod after Cod. A couple of nice victories were also caught. On days like this, everything just feels so simple. What you drop in, it chops. Full action and a day that they will remember even if the top fishermen did not show up. However, fine Cod up to 12 kg and lots of fine food fish were caught.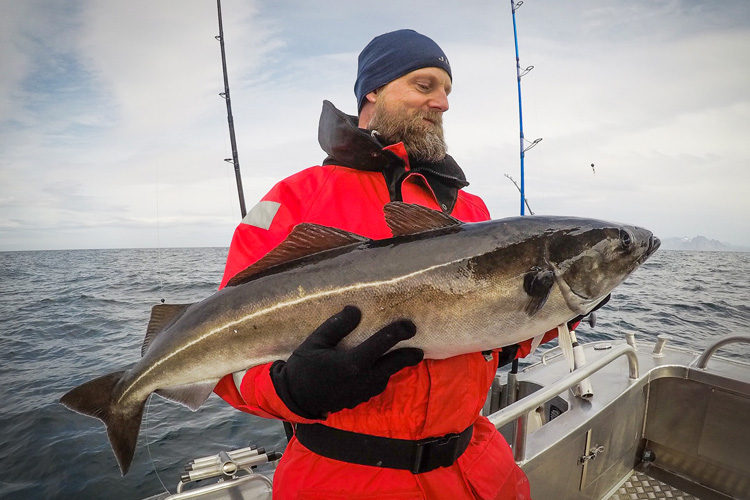 The last day, most of the boats were right after this fantastic week which has offered great weather, fantastic top fish and a day of full action. What more could you want? The boats that pulled out on the last day focused on fishing for Halibut and a couple with a size of 90 cm were landed and the other boats caught some Cod and Coalfish in the immediate area. With this we want to thank all our guests at the camp for some nice days with us and wish next week's guests a warm welcome where our guides are ready to receive you and will do their best to give you a fantastic week with us at Nordic Sea Angling.
CONTACT US
It looks like its been a fantastic week at Nappstraumen. If you would like to know more about this fantastic sea fishing tour to Nappstraumen on the Lofoten Islands and how you can join us, you can contact our sea fishing specialist, Paul Stevens, on 01603 407596 or email at paul@sportquestholidays.com.