Stop Press! This week at our shore fishing camp in Nappstraumen, Norway, our Halibut record was obliterated by a colossal fish of 195cm, smashing the previous record by a whopping 40cm.
Our shore fishing guide, Zac wrote:
"We headed north to target the Halibut, and we were not disappointed.
Over 2 hours went by without a bite, then all of a sudden, Ray hooked into a fish, and it was an absolute submarine, peeling line and, with one run, almost spooling him. He played the fish for thirty minutes before it managed to hang him up close. We were all devastated as it was clearly a massive fish.
Another two hours went by before it was Andrews's turn. He hooked into something which swam the whole way in, and as we were waiting for him to land it, we believed it was a smaller specimen – how wrong we were! Once it realised it was hooked, it took off like a freight train, similar to Ray's fish previously. After an epic battle of cat and mouse, gain a little line, lose a little line, we eventually managed to land the fish on a flat rock – all 195cm of it, which equates to 242lb on the length-to-weight chart.
As we carefully released the big girl and watched her swim back to her watery home, everyone was still in a bit of shock as to what they'd just seen… A true fish of a lifetime for Andy and a new camp record Halibut from the shore, which beat the previous best by 40cm. Finally, after all the graft and effort we've put in this season, we were rewarded with a true giant."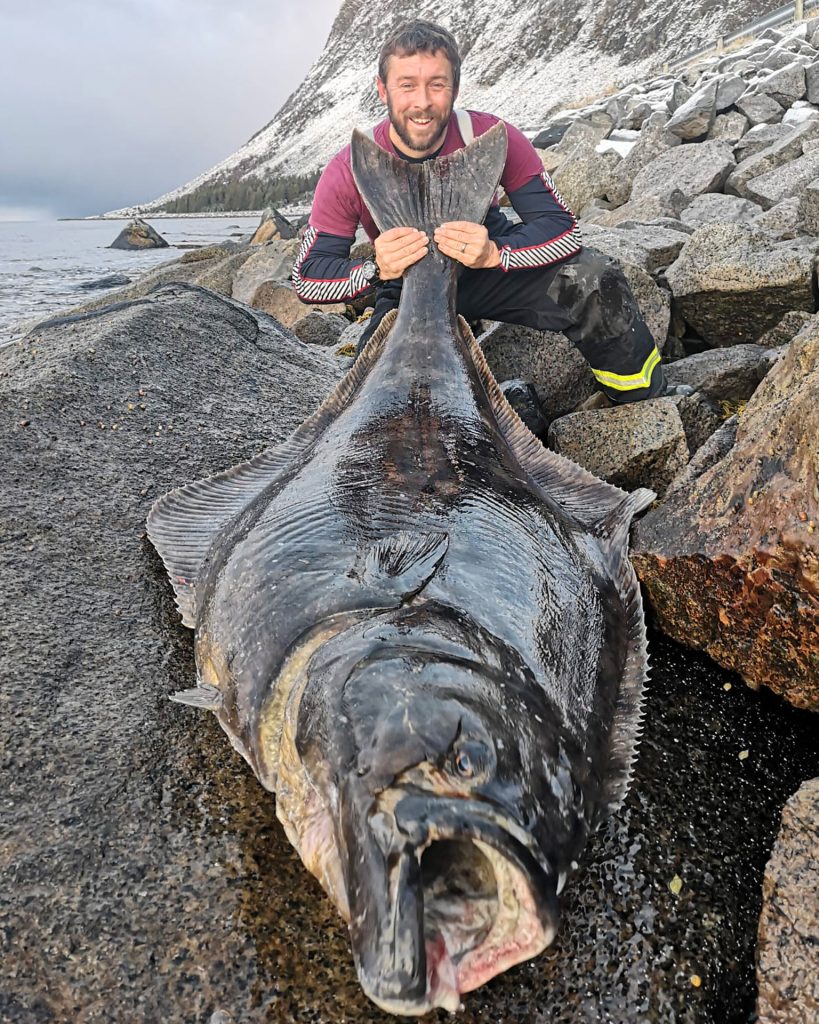 CONTACT US
If you have always dreamt of wetting a line for a fish of this size, we still have a few spaces remaining in our 2024 autumn season.
All the trips are fully guided by one of our experienced shore fishing guides and offer you the opportunity to enjoy a fantastic week of mixed fishing. All include flights, accommodation, tackle boxes and all your bait for the week. It's also possible to hire rods and reels if you wish to avoid taking your own.
If you would like to know more information about the amazing shore fishing on offer, read our full tour page for Guided Shore Fishing In Norway. Alternatively, you can contact our sea fishing expert Paul Stevens on 01603 407596 or email at paul@sportquestholidays.com.