Week 3 Day 1:
Today was my new guests' first session of the week; we headed south to try and get some shelter from the raging southwesterly winds and rain.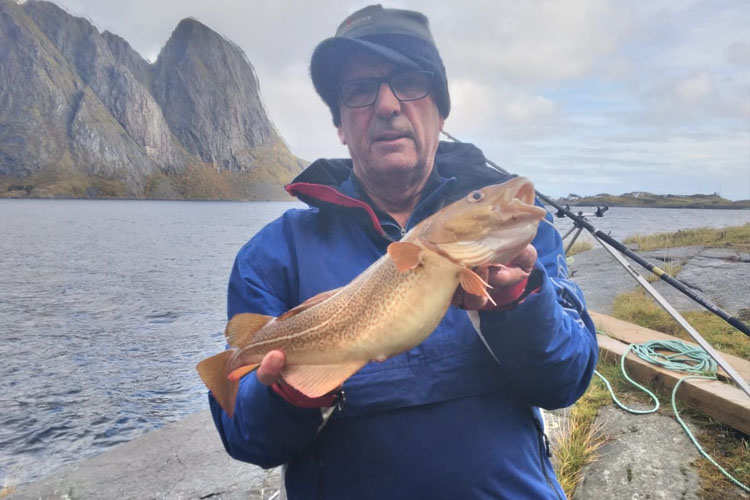 Fishing over 3 marks, we tried our best to pull something together; plenty of bites and fish today but nothing of any immediate size. We will call this one a warm-up session and fingers crossed we can pull a few of these Norway monsters out of the deep.
Today we caught a few Haddock, plenty of Codling, 2 Redfish and a lonely Dab.
One run missed also but hey, that's fishing.
Week 3 Day 2:
Today, with winds and tides favourable, we headed up to the layby again in search of some more Halibut, with the last session producing 5 fish to 140cms, hopes were high.
It all started off on the second cast for Lewis, who hooked and landed his first ever Halibut of 11lbs. A target for the week so he was very happy.
A few bits and pieces were caught over the next couple of hours in the form of Codling and Coalies.
Around 12.30 we heard an almighty crash of a rod stand hitting the deck and Steve Atkins holding onto his rod with a fish screaming in the other direction, this fish took 6 separate lung bursting runs in her bid for freedom.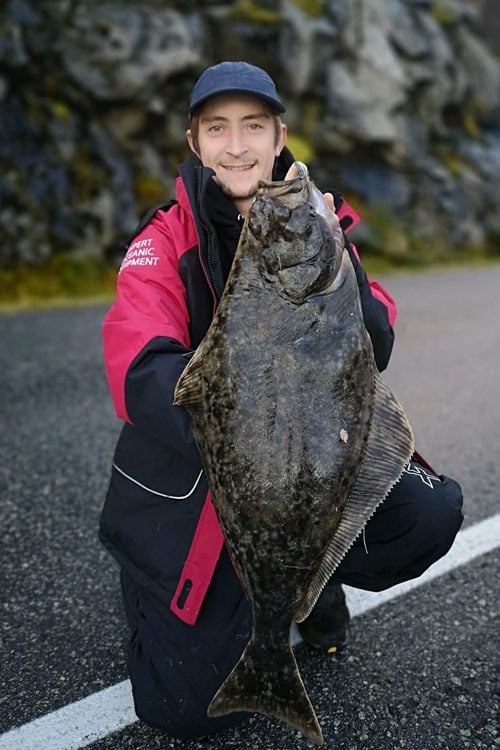 After a 15 minute battle the fish surfaced, a whopping fish of 142cms!!!
A few quick pictures and a measure, we slipped her back to the depths. A fantastic capture from the shore.
Next up was Ian Probert, with a cracking fish of 23lbs 8oz towards the end of our session.
As always, with Halibut fishing, it's a waiting game, but 3 fish today and 8 fish over two sessions there ill happily take that.
Tomorrow we go in search of more Halibut and hopefully a Plaice.
Week 3 Day 3:
With the easterly winds today we seeked some shelter over at Henningsvaer on Rays Rock.
First blood was to Ian with a target in mind of Plaice. He wasnt disappointed as he landed 3 lovely fish of 3lbs 3, 3lbs 1 and 2lbs 2.
After taking a few pictures of the Spottys, I heard a big shout from the lads fishing near the lighthouse, Dave Anderson was hooked up to a really good fish, several screaming runs, staying deep and giving him a right run around. I went down and landed it for him whilst getting an absolute soaking from a random swell.
A clonking fish of 45lbs 8oz, well deserved after a lot of effort, well done that man
.
Last to strike was Steve with a pb Plaice of 4lbs 4, which took a liking to his whole Mackerel fillet.
Other fish caught today were a few small Codling, Coalies and Dabs to keep the rod rips taping away.
Up north tomorrow.
Week 3 Day 4:
A difference in two days… After the last couple days of seeing some quality fish, today turned out to be a much harder day, one group stayed on Skarvika, and another fished 3 seperate marks looking for bites.
Skarvika being generally a big fish venue means you dont expect lots and lots of bites bit generally, when you do, it's usually a decent fish.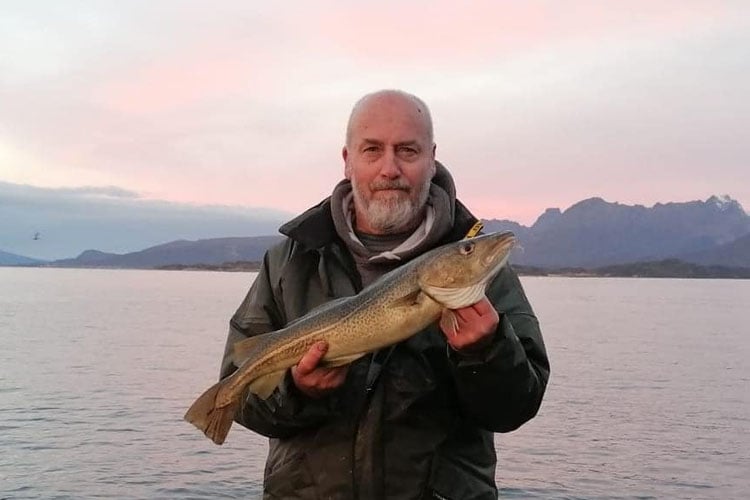 But today was different with very finicky bites, which is unusual for the venue, lots of missed fish but the group managed to pull something together with a few Cod to just under 6lbs.
The lads who fished 3 seperate marks managed Codling, Coalies and Dabs.
These days happen, part of the parcel in fishing but you never know whats around the corner.
Tomorrow we head off keener than ever to find a few fish that the beautiful Lofoten Islands is famous for.
Week 3 Day 5 & 6 :
Apologies for the delay in the report.
Yesterday we split the group up, fishing Mortsund and the Bait Station.
Mortsund through up dabs, small codling, coalies and a single Halibut just under 5lbs for Dave.
The bait station fished well for the flats with plenty of Dabs and Plaice caught, aswell as a single Halibut to Steve. A few Cod thrown in too up to 6lbs.
Today we headed south of the Camp to the Bridge and Cod Rock.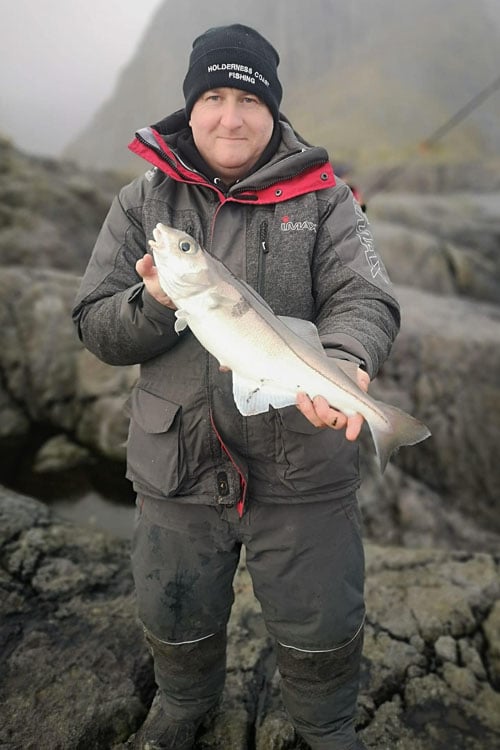 The bridge fished well for coalies, in fact they were a nuisance all day with fish to 5lbs.
But the highlight was Steve yet again hooking into a big Halibut, but this time the Halibut won the battle and decided to empty his SL30.
Cod Rock fished well most the day with Pollack, Cod, Haddock, Coalies, Dab, Wolfish, Redfish, small Halibut, Lumb and Ling caught.
Today was my last session in camp at Nappstraumen, id like to thank all the guests who have came over and fished with me, a big effort from everyone, and i hope to see you all soon.
Ive loved every minute of it and cannot wait to come back.
Now over to Ross Johnson, who's going to smash the rest of the season. I want to see some serious fish over the next few weeks.
CONTACT US
If you would like to know more information about the amazing shore fishing on offer, read our full tour page for the Guided Shore Fishing In Norway. Alternatively, you can contact our sea fishing expert Paul Stevens on 01603 407596 or email at paul@sportquestholidays.com.