Week 2 Day 1: The long-awaited first cast…
It's safe to say that this week's guests (with the exception of Richard, who flew in from Amsterdam last night) have had a bit of a nightmare start to their trip. Cancelled flights from Heathrow, staggered internal flights within Norway and then delayed luggage. Instead of arriving at 18:00 last night, they didn't get to the camp until 14:00 today. That hasn't dampened their spirits though, and as soon as we'd done the standard shop run, tour of camp and sorted tackle out, we were off to meet Zac and Richard on the bridge mark, where I'd left them after a few hours fishing this morning.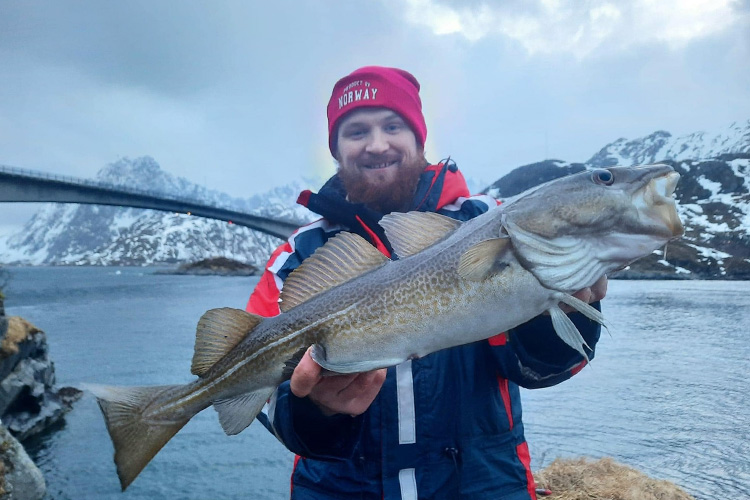 Richard has had a great start to his trip, landing Cod to just over 9lb, a couple of Haddock and a Wolfy (one of his target species for the week). In the few hours we got to fish as a group, more Cod and Haddock were landed, as well as a few Coalies. Everyone has caught fish despite the late start, which wasn't looking likely earlier today.
Tomorrow, we make up for some lost time and go hard up north of camp.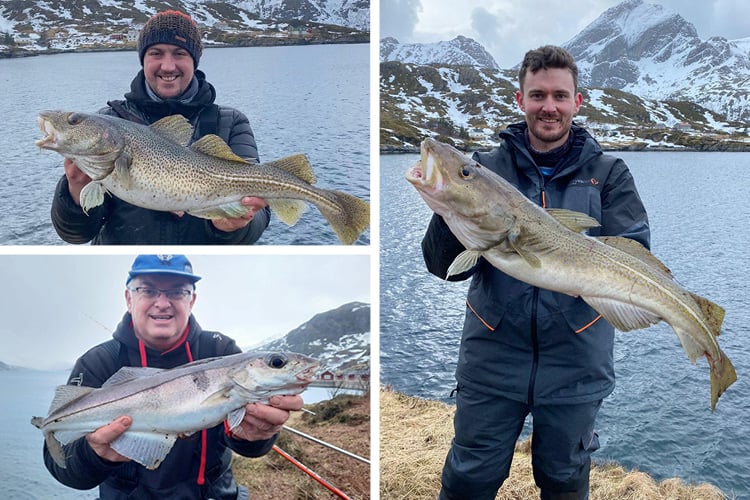 Week 2 Day 2: Scratching about…
It was a tough one for the guys today. We managed to find some decent shelter from the weather within the Svolvaer harbour again, but unlike last week, the fish just didn't turn up. A few Codlings for Marc being our only joy in the morning.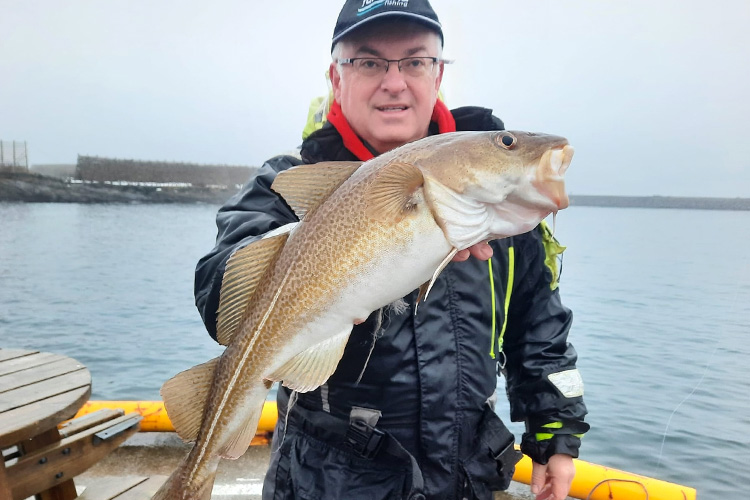 So as we have been doing fairly regularly recently, we had a move. This time to try Wannes Point within the nearby Austnesfjord. Although far from prolific, the lads did have a few bites here and there, landing more Codling, a Wolfie and a Coalie between them. The wind was far stronger than predicted though, making bite detection very hard, so we have decided to call it for today.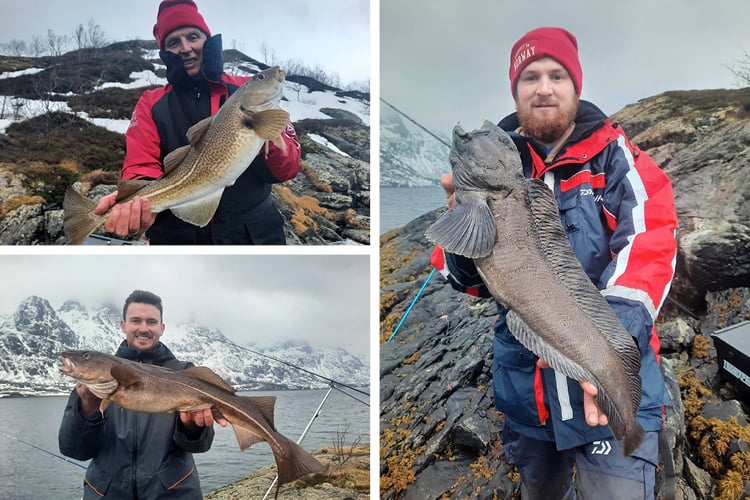 Week 2 Day 3: The flattie bash, with A light display to remember
With tonight's forecast looking unbelievable, instead of fishing until dinner time and then calling it, we're instead heading back early, getting some food and then getting back on it later.
The first part of today though was a bit of a Flattie bash at the bait station. Although we did have bigger baits out for Cod and Halibut, it was the flats that were hard on the feed. All members of the group had multiple Dabs and it was nice to see a few Plaice make an appearance today too. Anyway, no time for reports. It's food and back out.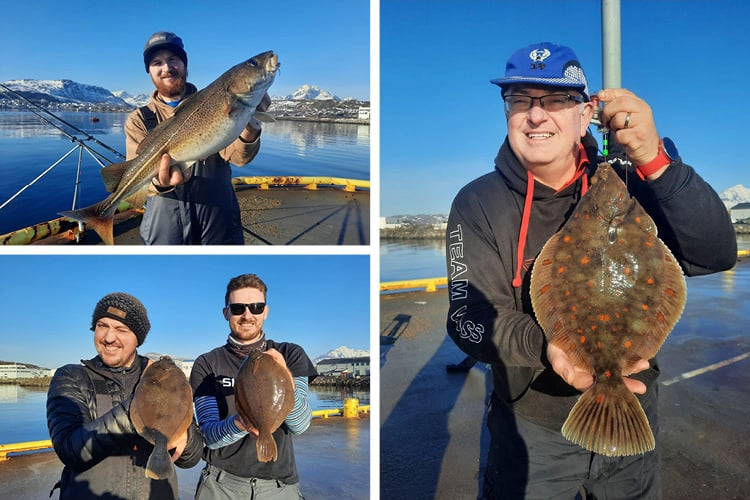 So last night we ventured out again for another little session down at Cod Rock. Now it's not the easiest venue to fish, particularly for shorter casters, with a big kelp ledge to come upon the retrieve, but there was plenty of fish about. Mainly Haddock again, but we did see a spattering of Cod, Lumb and Ling too.
The highlight of the night was the northern lights display though, which lit up the sky for well over an hour for us whilst fishing, getting more and more vivid as the night went on.
Today, we're going north again, hitting up two marks with the guys. Hopefully some bigger fish will show!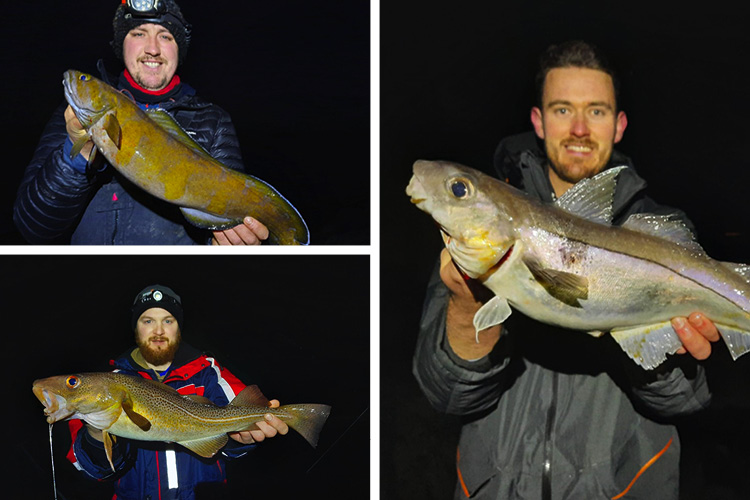 Week 2 Day 4: The long journey north!
With very little wind or swell today, it was the perfect opportunity to hit up Skarvika, a mark we found during our research period a few weeks back. The hope was that we'd find a few bigger Cod, having had some good success at the venue already.
Bites were few and far between during our 6 hour session, but when we did get hooked up, the stamp of fish was good, with just one fish being under 7lb. Marc had three fish of this size or bigger with his best going 10.10lb. Richard fished hard and missed some cracking bites, but had to settle with just the one fish. I myself put a rod out today too and got lucky once more with a lovely fish of 22.2, my 2nd 20 in two sessions at Skarvika. Meanwhile, Zac had taken Ceri and Kris to Svolvaer Jetty in the hope of a Halibut. But asides from a few Cod to 7.9, they had a very tough day.
Tomorrow we head back to the bridge mark where hopefully everybody will get stuck into a nice variety of fish. It would also be very nice to finally see a Halibut this week, as they have gone MIA so far.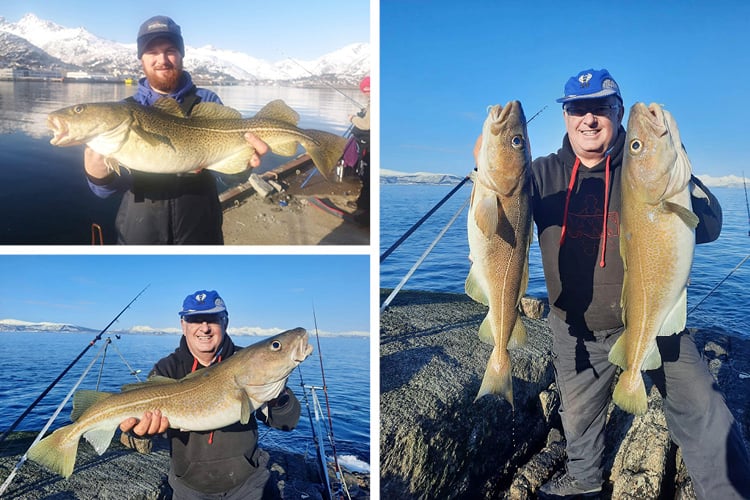 Week 2 Day 5: Back to the bridge
With only one of the lads getting to fish a full session on the bridge on day one, it was decided as a group we'd go back and give it a proper go today.
Things started perfectly with two fish in the first 20 mins and it continued from there, with bites coming fairly regularly. There were a few slow periods here and there, but a good number of fish were landed over the course of the session. Starman of today was Kristian, who had half a dozen lovely Cod as well as a few nice Coalies. He sadly missed out on his target Haddock though. That'll have to wait until tomorrow.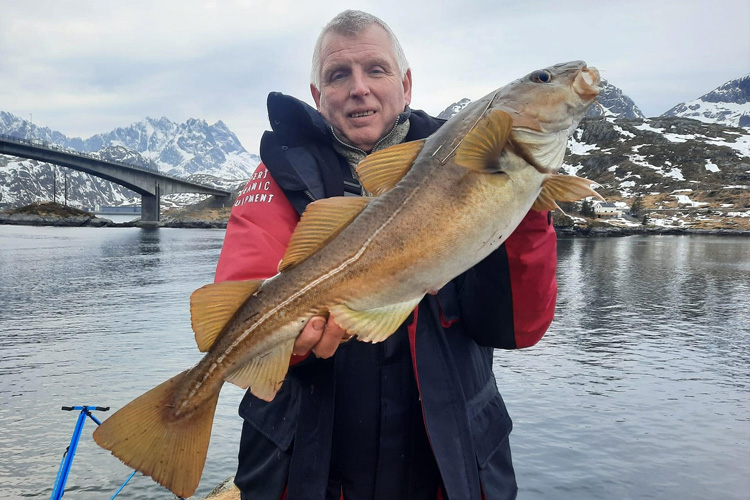 Marc managed to land himself a bottle of white wine whilst on the mark, courtesy of a trade off with two Austrian chaps. The 1lb Haddock he caught being the bargaining chip in a rather good EU trade deal.
We also saw our first Halibut of this week today. Sadly not on one of our anglers lines, but instead, it followed a 3.5lb Cod up to the surface before losing interest. I think it would have been a bit big for it to swallow anyhow, looking around the 20lb mark.
The last day is tomorrow and a new venue if the wind is as predicted. Hopefully, we will see a Halibut landed as well as plenty of Cod, Haddock and other flats.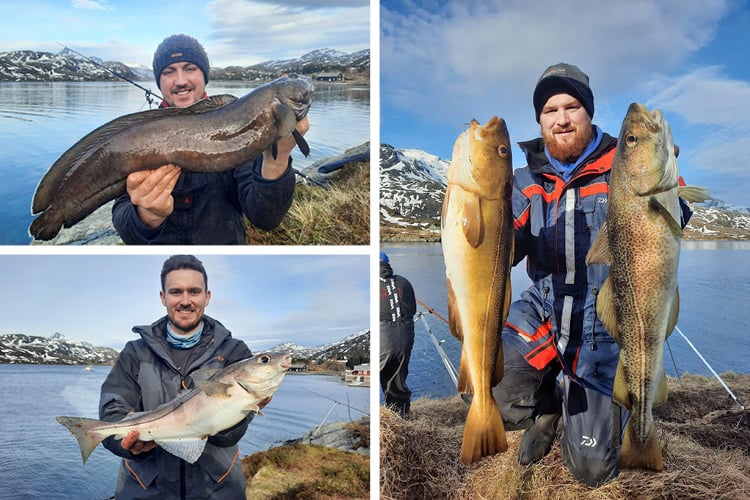 Week 2 Day 6: When it all comes good…
Today was just a brilliant day of fishing. No huge fish by Norway standards, but none stop action from the first cast to the last.
During the morning high water period, the lads had a dozen or so really nice Cod, with each angler landing fish of 8-9lb and Richard landing the best of the bunch at 11.3, his first double-figure Cod of the trip. Amongst the Cod, were hoards of Whiting and Haddock too, with rods going over here there and everywhere for a good 3 hours.
In the afternoon, the Cod and whiting disappeared, leaving the Flatties to takeover. What a session we had on them though. Marc had the best catch in terms of numbers of fish, with 7 Plaice and probably twice as many Dabs. Richard again got the best of the bunch though, with a belter of a Plaice at 58cm. We also saw a new species landed today in the form of a Flounder. As its the first we've landed in Lofoten, it is therefore a new camp record. Well done Zac!
As time was called on the last cast of the day, I think it's fair to say the lads smashed it. I think they'll all sleep well tonight.
The new group is arriving tomorrow, so we go again for week 3. Let's hope the Halibut show up again after a very quiet week on that front.
CONTACT US
If you would like to see more of our fantastic shore fishing tour to northern Norway, you can visit the full tour page here. Alternatively, if you would like to discuss this trip with one of our dedicated sea fishing professionals, you can contact Paul stevens on 01603 407596 or by emailing him directly at paul@sportquestholidays.com.