Week 3 Day 1: A storm is brewing…
The airline sagas continue this week as SAS somehow lost four rod-tubes and two suitcases. Luckily all the rod tubes turned up on the 7 am flight this morning, but two suitcases still remain missing. That was no good for two of our new guests, as they had no fresh clothing or fishing tackle for today. We did offer to lend them our stuff temporarily, but with no studded boots or underlayers, they decided to take the day off whilst waiting for their own gear to arrive.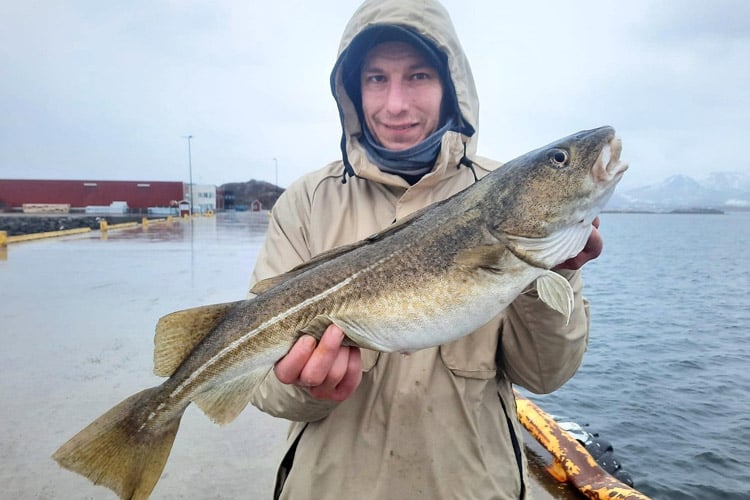 For the remaining 3 anglers, it was a split day, with a morning at Twitchy Rich's Rock and an afternoon at the bait station. Nothing big showed for us unfortunately, but the guys were kept on their toes by an army of Dabs and Whiting, with a couple of Cod, two Haddock and a Plaice thrown in the mix. The weather today was not too bad, but with constant rain and a mild breeze, the guys became a bit cold towards 5pm and decided enough was enough.
The next few days promise to be very interesting indeed and will certainly be a challenge, with winds gusting to as high as 80km an hour and rain coming with it. We'll be out there giving it a go, and I'm sure plenty of fish will still be caught.
Week 3 Day 2: A tough day at the bridge…
The storm has arrived here in Lofoten, which made the mark choice a bit limited today. Luckily we have the bridge mark to fall back on at times like these.
Today though, it was a very tough. Aside from a flurry of Cod around high water and another run of Coalies a few hours after, it was extremely quiet. Lots of small bites that led to nothing and a few good bites missed here and there, but dead compared to this time last week. Amazing how quickly things change out here.
Tomorrow, the winds are even stronger, so we're going to try our luck way up to the north. There's been a few nice fish come out there recently, so here's hoping our luck is in again.
Week 3 Day 3: Making the most of a bad day…
Today was one of those days you could quite happily just look outside and think naaaahhh. But of course, we don't have that attitude here in Nappstraumen. We were up and out by 07:30 and on our way north to try and find shelter from the 50mph winds and non-stop rain. As it happens we, couldn't escape the rain, but we did find some sheltered marks and a few fish for good measure.
Although it wasn't a busy day numbers-wise, we had a few Cod to just under 9lb, Dabs to 1.5, a Plaice of 2ish and our first Halibut of the week at just over 12lb, which fell to Steve H (His first butt in three trips to Norway). Well done buddy.
All in all, it was a good result considering we could quite easily have ended up staying indoors. Tomorrow, we go again and I'm sure we'll find a few more fish. Onwards and upwards!
Week 3 Day 4: Mixed Fortunes…
Today was a very good day for some and a nightmare for others. For Ben, it was a cracker, with a great mix of fish including Dabs, Plaice to 3.8lbs, a Cod and a few Lumb, one of which was a new camp record at 14.10. Well done buddy.
For Frank and Steve H, it was very hit and miss, with a couple of nice fish between them, including Cod to 8ish and a lovely Wolfy.
For Pat and Steve A though, it was a long old day, with very few fish and a fair bit of lost gear. Hopefully, they will have a better one tomorrow, although Steve A is coming back out with us for round two tonight.
Week 3 Day 5: A pleasant day at the baitstation…
I'd hoped that today, we may finally get to fish one of the open coast marks, but with the swell still up around 2m after the storms of the last few days, safety had to come first. As a result, we ended up close to home for a nice relaxing day at the baitcentre and for a change the sun was out.
As for the fishing, bites were steady throughout the morning, with the Dabs in particular, finding our baits quickest again. On occasion, you could barely bait a second rod before a Dab was ravaging the bait. But we did find a few Cod in between them, with most being between 6-9lb. Everyone in the group had a least one of these.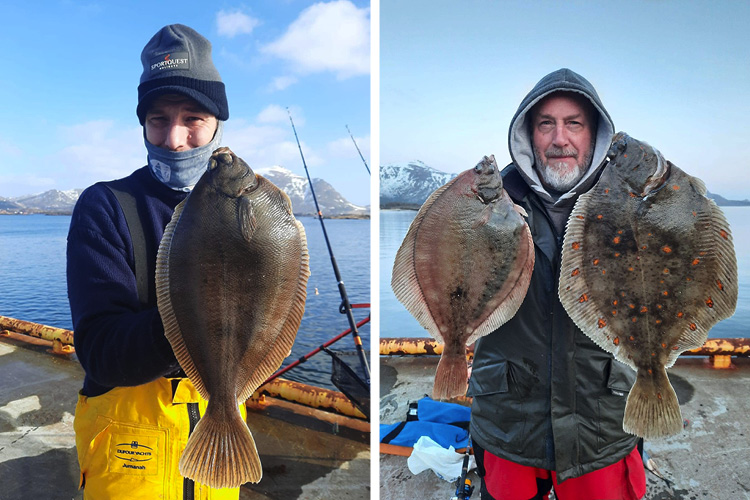 The highlight of today was a double shot of a Plaice and a Dab for Steve A. The Plaice was just over 3lb and the Dab 1.12lbs. Nice fishing buddy.
Its the last day tomorrow, and finally, we have a chance to hit up Skarvika, our go-to big Cod mark this season. The lads deserve a few bigguns to finish off their trip, so I hope it comes good for them.
Week 3 Day 5: Go big before you go home…
Today was the last day for the guys to get stuck into a big Cod or Butt, so we had to head north again and hope that our luck was finally in. The group split into two today, with Zac taking Frank and Steve H to Fiskebol, whilst I would take Steve A, Ben and Pat to Skarvika.
It couldn't really have gotten off to a better start for my group, with Steve A landing a cracking Butt of 31lb on the first cast of the day. It wasn't straight forward though, with Steves reel working its way loose from his coasters during the fight. How we landed that fish, I'll never know.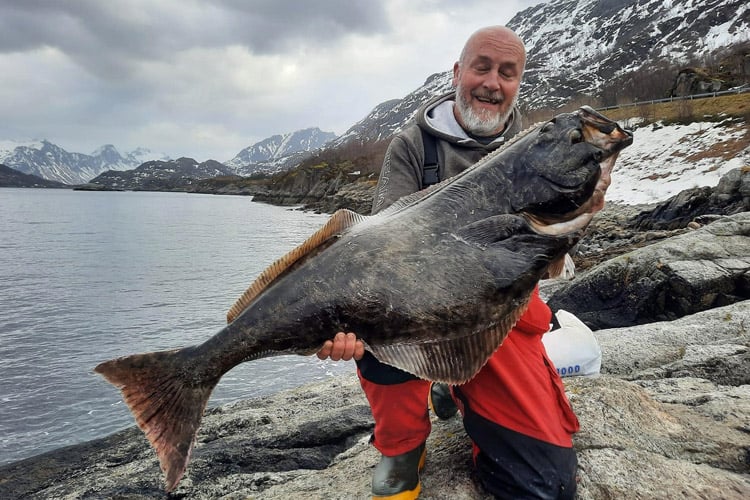 From then on, we had a good few bites from the Cod, but they were being very finicky. The rod would start pulling over nicely, only for the fish to let go and then never come back. The guys did land a few, but the bigger ones eluded us today.
For Zac and Co, it was a slow start at the inner harbour, so a move was made to the slab. Here they would have two beautifully marked Plaice, a few Codling and a little Butt. They also had a good take on a Mackerel head, but Zac's line parted on the strike. Not sure exactly how it happened, but bad luck for sure. I guess it's just been one if those weeks.
Next week, the wind finally goes north again and gives us access to the open coast marks to the south.
I have a feeling we're gonna see a lot of Cod and Haddock being caught next week. Hopefully, a few Butts threw in for good measure too!
CONTACT US
If you would like to see more of our fantastic shore fishing tour to northern Norway, you can visit the full tour page here. Alternatively, if you would like to discuss this trip with one of our dedicated sea fishing professionals, you can contact Paul stevens on 01603 407596 or by emailing him directly at paul@sportquestholidays.com.