Another week is over here in Vesterålen, and the fishing has really shown its best side. Although the Halibut has been somewhat more difficult to come into contact with, it has not mattered so much when the other species have been "on fire!". The week has offered severe weather at times, although the week ended with a couple of very windy days. Fortunately, we have been able to go on a long trip twice! And it has really lived up to expectations.
Last week's tough finish made the conditions tough on the west side, even though the weather promised 3-4 second metres. I steered boat 6, and took the Gothenburg gang in the boat out to look for some Cod. With the English in tow behind us, we fought our way out into the old sea to reach the best places. Although it was a bit tough to go out in the big waves, we fought on and found some nice fishing in the end. It didn't take long before we caught the first fish of the day, and it started just as easily with a 13 kilo Cod for Marcus, who took a whole Mackerel. There were some good Cod up to 10 kilos shortly after as well, but the sea made it both difficult to lie still and present our baits well. We gave up after a few hours, and headed back into the fjord slightly leeward of the big swells in an attempt to catch some Redfish. And we did. The Eidsfjord is well-stocked with Refish, and it was quite simply a cracking ending to a tougher day.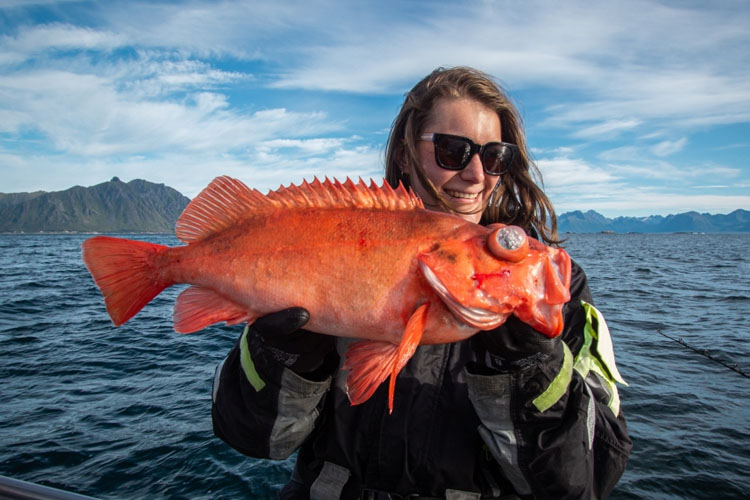 On Friday, the weather finally allowed to go out on a long trip again. After last week's fierce experiences with both Herring Shark, large Cod and large Redfish fresh in the memory, all boats went out early on Friday. Alexander drove the Guideboat with the gang from Skåne who made their first sea fishing trip to Northern Norway. The long journey out was of the more pleasant kind, when the wind had completely died down, and the sun peeked out. The swells had calmed down and it was almost like slalom skiing all the way out. The fishing started rather slowly, as only a few simple Cod were landed in the first few minutes. But when the Tide came in, luck turned. All boats stood with rod buoys on the long edge, and it wasn't exactly small fish that were landed. Christopher in the Guideboat just as easily left with a completely grotesque 30-kilo summer Ling after only a few minutes of fishing! I'm sure it's not bad the first time you're in Northern Norway! The fishing continued, and in the meantime large Cod were landed, as is always done on V-berget. But the Englishman Jed nailed it with another Ling of 30 kilos, which meant that another giant Ling was landed. A lot of fish came up, and it's a bit difficult to keep track of who caught this day, but it was a great day for everyone anyway. Once ashore, people already started checking the weather forecast for the next few days so we could get back out there… And we should.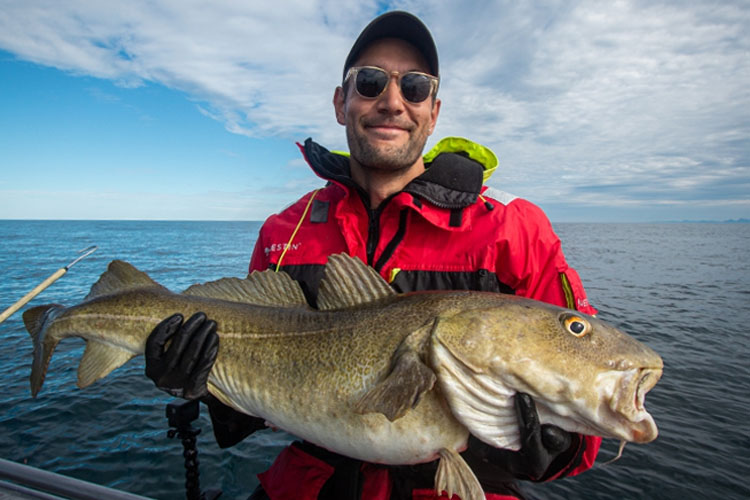 During Saturday it was supposed to blow a bit more, but not too much that we wouldn't be able to get out. I went with Nils and co in boat 5 to an area that has produced excellent Cod fishing. Boat 6 hung on to us, and we started the day well with a fantastic Cod of 14 kilos. There were several nice Cod, and the wind eventually died down completely. We moved a little further away to a large shallow area to see if there was any speed in the Cod in shallow water, and there was. Although the average was not the highest, we had a great time on the grounds! A few nautical miles away from us, Alexander lay with the gang in the Guideboat and tried his hand at the queen of the sea. Fishing for the big flats has been difficult, but after a few drifts it should really hit. On a sand shelf at a depth of 60 metres, something swallowed the large Mackerel that Christopher was feeding on. The fish started a completely wild rush and sped down towards the depths. Alexander just had to turn his nose towards and drive after. When the fish chose to stop at a depth of 140 metres, the unthinkable happened… The line came off, and there was a heavy feeling in the Guide boat. That's the way of fishing, and they fought on without any more queens being fooled this day…
But! On Sunday, the weather was going to be terrible again, and the whole camp was super excited about another trip to the legendary V mountain. On Friday, we also had a visit from Patrik and co who were going fishing over the weekend, and they were, to put it mildly, eager to hang out on the long trip. So we gathered the fleet and drove out to this wonderful place at 6 in the morning. I steered boat 2 with the English, as they wanted to target the Halibut out there. Halfway out on the long trip, we stopped on a flat peak and picked some Mackerel as bait fish for this trip. Something that would turn out to be a good idea… Once in place, it didn't take more than one per minute before Patrik in boat 1 could report a giant Cod of 27.5 kilos!!! New annual best for Cod in Vesterålen, and only after a few minutes of fishing. We aimed for the flat giant, and adapted the baits accordingly. It was fished with 3 kilo wins throughout the day, but it also proved to be deadly effective on the larger Cod. Aron, who was also on his first trip to Norway, just as easily caught a Cod weighing just over 22 kilos after a few minutes. And the fishing didn't stop either.. We caught several coarse Cod in this class which were put back nicely. Because that was not what we were looking for. But during this chaos, several boats caught Cod that broke the 20 kilo limit, and Nils in boat 5 went just as easily with a rough Cod of 27 kilos a few moments later.
Over the course of the day, there was a small dead period with power outages. But just as the current started to pick up again, Kevin hooked something gigantic in my boat. He had been fishinga 4 kilo whiting all day, and finally came to bite at a depth of 60 metres. Kevin Sveiver with the circle hook, and it is followed by a boom stop and a brutal headshake. It slowly slid down towards the bottom, and when Kevin was about to crank one more time towards it, it was slaughtered. The fish was suddenly gone… I am still convinced that this was one of the many giants that lie beneath the endless amounts of Pollock and Cod. It was frustrating, and you could clearly see bite marks all over the fight after the fight.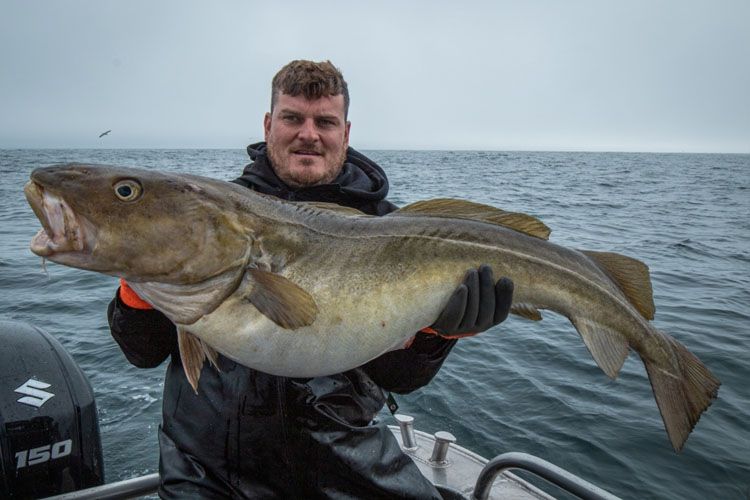 Well well, new roofs! We drifted down towards the 90 meter mark, and here again the Cod began to be dominant. Although Kevin probably lost a big Halibut, then he got a fantastic consolation fish in the form of a long one weighing 25 kilos! Several of the boats were able to report catches of coarse specimens of both Ling and Cod. We ended the fishing quite early, because it started to rain like crazy in the middle of the day. Regardless of the rain, most felt satisfied with the day's fishing anyway. It was simply a wonderful day at sea for everyone, and the atmosphere was good when we got ashore and told each other about what we had experienced that day.
The weather was actually supposed to be really tough for the next 2 days. Yr reported 15 ms on average, and 22 in the throws. Fortunately, we are well sheltered in the Jørnfjorden, and we were able to take a few short trips out on the fjord to pick some Mackerel for dinner in between the worst casts. But the vast majority chose to stay on land these days, and rather enjoy good food and drink in our nice living rooms in the beautiful Jørnfjorden. Although the week ended with stormy weather, these 2 long trips are probably the most memorable for all our guests this week. And with that, both Alexander and I would like to thank you for an incredibly pleasant week, and we hope to see you all again!
Tight Lines // Jørgen Zwilgmeyer and Alexander Brøther
CONTACT US
If you, like many others, have ever dreamt about fishing the prolific waters of Vesterålen and would like to know more information on how you can join us, you can contact our sea fishing specialist, Paul Stevens, on 01603 407596 or email at paul@sportquestholidays.com.