Overview
Category: Hosted Fishing, Sea Fishing, Hosted Sea Fishing


Every year our hosted Lofoten Island sea fishing trips sell out very quickly. This is due to them being cheaper than travelling as a single angler, the expert advice and experience of our hosts and the destination being exclusive to Sportquest Holidays. On top of this, the fishing on Lofoten Islands has built a very big name for itself within the sea fishing world due to the huge species it offers.
Location
This destination is located in a village called Å, in English this translates to 'Stream'. The reason for this is because of the well-known Moskenesströmmen that is located nearby which is one of the strongest maelstroms (where two tides collide) in the world. Here the difference between high and low tides vary by almost four meters and the water can move at up to 6 knots. One moment you can be fishing in flat calm waters then when the two tides start to collide you are surrounded by boiling water. This is when the Coalfish start to feed hard because all of the baitfish get spun around and disorientated meaning the Coalfish can take full advantage of this.
Fishing
The reason why so many anglers head to the Lofoten Islands in search of the huge species is because the fishing grounds are mostly right on your doorstep. The 'Stream' is located a short 15-minute boat ride from the marina so no time is lost in getting to the peak area of this location. On the way to the stream, you will also pass some amazing spots for Plaice fishing. Little coves and beaches frequent the shoreline and some of these have never seen an angler so they are always worth stopping off at as you never know what you will catch.
The main draw to this destination is the Halibut and Coalfish. Last year there were more Halibut caught over the magical 2m mark than all the other destinations we offer in Norway. The Coalfish fishing is also a very big draw for many sports fishermen. Fish averaging 20lb plus are now classed as small, a 40lb Coalfish is now a reality rather than a dream with fishing techniques such as popper and lure fishing being the chosen way to attract the larger Coalfish. There is nothing better than seeing a huge black Coalfish leap out of the water with your lure hanging out of its mouth, it's a pure adrenalin rush.
Boats
At Å we have 10 of the best fully equipped fishing boats from a Swedish company called Arronet. These boats have been carefully designed to be fast, stable at sea even in the roughest of conditions and of course for their reliability. They all come fitted with Suzuki 150hp 4 stroke engines which again have been carefully picked for the reliability, how fuel efficient they are and also how good the service is from Suzuki. All boats come with the most up to date Garmin fish finders, chart plotters and VHF radios. Each boat has the AIS system fitted meaning that our guides at the cabins can constantly monitor where each boat is at any time during the fishing days.
Guides
As this is a fully hosted holiday there is no need to drive the boats, our guides will organise each day what people would like to target. They will also sit down with you each day and go through all your fishing equipment ensuring that all knots, lures, hooks and other pieces are already for your next day's fishing. Most of our guides have been fishing in and around North Norway for many years and you will soon realise that you are in good hands.
Other Activities
Lofoten islands is a major attraction for many tourists as the scenery is like nothing else in Norway. The local Norwegians have nicknamed this part of Norway as 'The Jewel of Norway' and once you have spent a short time there you will see why for yourself. At the destination, there are a few other activities on offer such as the comprehensive fishing village museum displaying 150-year fishing artefacts. There is a small bakery on site that is many years old and still produces bread and cakes as they used to all of those years ago. There are also many different trails and walks you can follow and these will take you to some of the most stunning views looking across the open ocean, mountain lakes and spectacular waterfalls.
If you have any questions about our sea fishing trips contact our expert team who will be happy to answer any queries you have. Alternatively, you can request a free brochure.
Accommodation
The "Rorbu" (fisher or oarsman cabin) was formerly used by the Lofoten fishermen as a working and sleeping place. These accommodations have been renovated in the last years and adapted to the tourist requirements.
All accommodations are located next to or on the harbour. From most of the windows, you have a good view of the mountains or the sea. Nearly all cabins have a veranda outside. The buildings are listed buildings and are preserved in their original state to a large extent. Even though the cabins are rustic they are the perfect base for a weeks fishing.
These cabins are basic but very clean and very well maintained. Each cabin has a well-stocked kitchen with cooker and cooking rings, an extractor fan, a good sized fridge and cutlery. There is no microwave and some of the cabins do not have a freezer so you will have to use the main walk-in freezer. The bathroom comes with a powerful shower, toilet and sinks with a wall heater. The bedrooms have single and/or bunk beds. Bed linen and towels are included.
Board: Self catering
Rooms: 2 x twin rooms
Internet: Free WiFi
Power: 230 Volts
Meals: Onsite restaurant (not included)
Alcohol: Available to purchase
Equipment Hire: Chargeable
Shop: Tackle shop
Cards Accepted: Debit / Credit Cards
Cash Accepted: Norwegian Kroner
Freezer Room: Walk in freezer
Filleting Area: Dedicated filleting area
Species Information
Coalfish
Season: May to September
Peak: June to September
Weight: 5lb to 40lb
Average Weight: 20lb

Halibut
Season: May to September
Peak: June to September
Weight: 20lb to 350lb
Average Weight: 50lb

Cod
Season: April to September
Peak: April to June
Weight: 10lb to 80lb
Average Weight: 25lb

Plaice
Season: May to September
Peak: July to September
Weight: 1lb to 8lb
Average Weight: 4lb

Suggested Itinerary
Although the fishing has set weeks, we have daily flights departing from the UK, therefore should you wish to either extend your stay with additional days at the beginning or end in Norway, the itinerary below can be tailored to suit
DAY 1:
Depart UK (alternative routes available)
Arrive Oslo
Depart Oslo
Arrive Bodo
Once you have picked up your luggage and cleared customs, make your way outside of the terminal where there will be a Sportquest representative waiting to transfer you to the ferry terminal (5 Minutes)
Once you have arrived at the ferry terminal you will have to make your way to the booking office to purchase your ferry crossing ticket (Ticket not included) (Ferry crossing approx. 3hrs)
On arrival at Moskenes you will be met and transferred to the fishing camp. (Approx 5 mins)
Overnight Accommodation: Norwegian Cabins (Twin rooms) S/C
DAYS 2 TO 4: Fishing Days.
As this is a group trip, the group will decide the hours of fishing and people will be assigned boats to fit within their fishing hours.
Our host will drive one boat and our Norwegian guide will drive the other, leaving you to simply worry about landing some of the hardest fighting fish that swim the waters of Norway.
Overnight Accommodation: Norwegian Cabins (Twin rooms) S/C
DAYS 5 TO 7: Fishing Days.
The boats we use are purpose built boats and are ideal for a day at sea. They are the most stable boats you will drive in Norway and fit 4 anglers very comfortably.
They all come fitted with the very best in marine electronics and once you have been on one of these boats, you will never want to use another boat.
Overnight Accommodation: Norwegian Cabins (Twin rooms) S/C
DAY 8:
In the morning you will check out of your cabin and then be transferred back to Moskenes ferry terminal for your crossing back to Bodo. Once you arrive at Bodo you will be met and transferred to the airport
Depart Bodo
Arrive Oslo
Depart Oslo
Arrive UK
Dates & Prices
Remember that Sportquest Holidays' services are completely FREE! When you book a trip with Sportquest Holidays, you never pay more than when you book directly with the lodge and flights independently. Plus what's more if you book with Sportquest Holidays your holiday is protect by our ATOL and the Travel Package Regulations Act. To see more details CLICK HERE.
Dates & prices are best viewed in landscape.
You can scroll the table left and right to view prices and availability.
Start Date
End Date
Days
Nights
Fishing
Angler
Non-Angler
Availability
17/07/2019
24/07/2019
8
7
6

£

1,855
On Request
Sold Out
11/09/2019
18/09/2019
8
7
6

£

1,705
On Request
Sold Out
18/09/2019
25/09/2019
8
7
6

£

1,705
On Request
Sold Out
25/09/2019
02/10/2019
8
7
6

£

1,705
On Request
Sold Out
02/07/2020
09/07/2020
8
7
6

£

1,800
On Request

Hosted

03/09/2020
10/09/2020
8
7
6

£

2,473
On Request
Sold Out
10/09/2020
17/09/2020
8
7
6

£

1,800
On Request

Hosted

17/09/2020
24/09/2020
8
7
6

£

1,800
On Request

Hosted

08/07/2021
15/07/2021
8
7
6

£

1,800
On Request

Hosted

26/08/2021
02/09/2021
8
7
6

£

1,800
On Request

Hosted

02/09/2021
09/09/2021
8
7
6

£

1,800
On Request

Hosted

09/09/2021
16/09/2021
8
7
6

£

1,800
On Request

Hosted
Price Match Promise
We are so confident that our packaged prices are the best available and offer great value for money.
If, however, you find an identical holiday available with any other fully bonded Tour Operator at a lower price, we will match that price.
Price Notes
Prices are based on four adults sharing transfers, fishing and accommodation (unless otherwise stated) and are correct at the time of going to press. Subject to time of year or date and currency fluctuations, these prices may fluctuate slightly due to flight price increases or fuel surcharge.
ATOL
Holidays or flights booked with Sportquest Holidays Limited are protected by the Civil Aviation Authority by our ATOL bond (Number 6371). ATOL protects you from losing your money or being stranded abroad. It does this by carrying out financial checks on the firms it licenses and requiring a guarantee, called a bond.
Price Supplements
As this is a Hosted trip there are NO single angler supplements.
Still need some inspiration
Why not enjoy browsing our destinations in the comfort of your own home.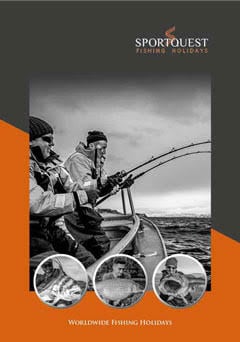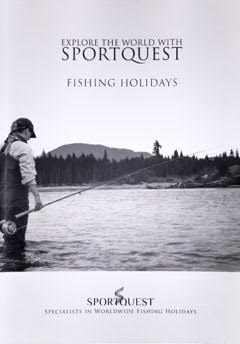 Request a free brochure
What's Included & Excluded
Included
All international flights (Based on London departure)
Transfers from Bodo airport to Ferry terminal return
Transfers from Moskenes to Å
All accommodation as per itinerary
6 days fishing via self drive boat
Fishing Boat with Sonar, chart plotter (GPS), VHF & radar
Freezer storage for your fish
Access to professional guide for guidance
Bed linen, towels and final cabin cleaning
Excluded
Ferry ticket
Fuel for boat
Fishing tackle
Personal holiday insurance
Meals
Tips for the guide
Final boat cleaning
Options
Other UK departure airports are possible (additional cost) Please call a member of the Sportquest team for further information.
There is an alternative flight route which can land at Leknes via Bodo cutting out the ferry crossing. If you are interested in this option please call for an up to date price and availability.
Fishing equipment (rod, reel, line) £50 pr week
Survival suits £40 pr week
Tour Notes
Visa
A machine-readable passport with at least 6 months before expiry. No visa for UK citizens required.
Medical Requirements
No vaccinations currently required
Please Note
All details of visa and medical requirements are correct at time of press however please check these requirements for changes.
Departure tax
There is no additional airport departure tax when leaving Norway
Flight Route & Flight Time
UK – Oslo (approx 2 hrs)
Oslo to Bodo (approx 1hr)
Baggage Allowance
Your actual allowance is based on both which airline you are flying with and also what class of seat you are travelling in. Normally in economy it is 1 checked bag, Premium Economy / Business 2 checked bags, First 3 checked bags. In addition to your checked bags you are also allowed 1 cabin bag and either 1-laptop bag or ladies handbag. The actual size and weight limit for bags is dependent on the airline. We therefore recommend that once your flights are booked you check on the airlines website for the up to date allowances.
If your itinerary includes private light aircraft or helicopter flights, we will advise you on your baggage and weight allowance.
Transfer Time
Bodo airport to Bodo ferry terminal (approx. 5mins)
Ferry crossing Bodo to Moskenes (approx. 3hrs)
Moskenes ferry terminal to Å (approx. 5mins)
Questions & Answers
Where is the destination?
Å is located at the very bottom of the Lofoten islands in North Norway with its location only being a short boat ride to the open ocean, it is the perfect spot to reach some of the best grounds in the whole of Norway. On one side of the Lofoten islands you have sheltered fjords and on the other side is the open ocean, which is where all the best fishing grounds can be found.
Where will I fish?
There is a large area 20 minutes from the cabins called the Moskenesströmmen. It's an area where two currents collide which creates huge boils as the tide clash making for some excellent fishing. When the two tides meet all the baitfish in the area get sucked into this and then thrown around and in turn, the Coalfish go crazy by smashing all the bait as it is disorientated. This incredible spectacle lasts for around an hour and you can experience some of the best fishing you will ever get. The main Halibut grounds are located on the edges of the stream as the Halibut hunt for any leftover baitfish being thrown from the currents meet.
How long does it take to reach the fishing grounds?
If you planning on fishing the mainstream then it will take approx. 20 – 40 minutes depending on where in the stream you want to fish. If you want to target the Cod you will have to go around the bottom of the island and then head up the Northside. This journey will take longer to reach and can be anything from 50 – 80 minutes to reach the main Cod grounds where big shoals can be found.
What fish will I catch?
The main species will be the Halibut and Coalfish, both can be caught in the same area and with a constant run of bait, the Coalfish are always obliging to feed. There are some very good Plaice grounds in the many bays that cut into the Island. The Cod grounds are on the north side of the island and they hold some big Cod and of course, you never know when you are going to get a bite from the Wolfish.
How many fish will I catch?
When you are Halibut fishing you should set yourself a target of a Halibut a day. It is very similar to big game hunting and Halibut do not swim in shoals so one very large Halibut would normally be on its own and have its own little area. However, on the perfect days, you could catch any amount of Halibut and double-figure amounts of Halibut have been caught in one day.
If you chose to fish the Coalfish then the answer would be, how many can you cope with catching? There are lots of big Coalfish there and normally you will only get a rest when you put the rod down as your back is aching. This is the same with the Cod, the shoals are very large and when they are feeding you should be catching regularly.
How will I fish?
When the day is spent Halibut fishing there are several main methods, the first is fishing with bait attached to a piece of terminal tackle called a Halibut Anti Twist lead. This along with the bait of your choice is then lowered to the bottom and then reeled up a couple of metres from the bottom. It is important to keep in touch with the bottom either by watching the fish finder or lowering it to the bottom every 5 minutes then wind up a couple of metres.
The same technique is applied to shad fishing but without the need for the Halibut anti-twist lead. You need to be a little more active with the shad and give the shad some life by sweeping your rod backwards and forwards (not up and down). The bite can be very subtle so concentration is needed for this style
Do the guides speak English?
The guides speak perfect English along with lots of other languages.
Who is best suited to this destination?
This destination is a little more demanding than most of the other destinations in Norway as most of the fishing is taking place in and around the stream and boat handling whilst fishing is sometimes difficult. It does normally only take a couple of days getting used to it but make sure that you concentrate at all times as it very easy to get the boat in a spin and everyone onboard will get into a tangle. There are lots of other areas to fish around Å on the Lofoten Islands so if this area is too much for you then drop out of the stream and fish different marks.
What skill level is required?
The fishing is just like anywhere else in Norway and as long as you have a little bit of sea fishing knowledge then the rest will come naturally. If you find yourself struggling we do have guides on hand to help in any way you need them. We do also try to ensure you get at least one days worth of free guiding during your stay and the other days you are more than welcome to follow our guide
How physically demanding is this trip?
This depends on where you are fishing, if you choose to spend the majority of your time fishing the stream then it is fairly demanding on your leg muscles as the water is very choppy and keeping your balance is very necessary. All the other marks are fairly straightforward and as long as you can stand in a boat you will be fine.
When is the best time to go?
The season at Å is from April to October with the early season dates being better for the Cod and then once June comes the stream tends to start to fill with lots of big Coalfish. Once June turns to July and the Mackerel turn up the Halibut are not far behind them. Once the Mackerel turn up the Halibut and Coalfish go crazy and the mainstream fishes very well. We recommend looking at weeks where the moon is half so the tides are too big.
How will I get there?
Depending on whereabouts you are travelling from in the UK, we would normally fly people to Oslo with SAS then from Oslo to Bodo. We will have a transfer vehicle waiting to take you to the ferry terminal where you will board the fast ferry to Moskenese which is around about 5 minutes from the destination. Once you have enjoyed your mini cruise and docked there will be yet another vehicle waiting to transfer you and your luggage to your cabin.
What is the accommodation like?
The cabins at Å are kept in a traditional Norwegian way. These cabins have been standing there for many years and use to be used by Norwegian fishermen who use to fish the waters from rowing boats. There is evidence of this in the stylish décor in all the cabins. In the cabins there is a fully working modern oven with 2 hot plates, a large fridge and the entire normal cutlery range is available in each cabin.
What is the food like?
At Å there is a very nice restaurant available 7 days a week during the summer months. Also attached to the restaurant is a nice lively bar serving lovely wine and beer. The food at the restaurant is very modern and you will find something that meets everyone's taste.
Does the hotel provide fishing tackle?
You can hire all your rods and reels and they are top of the range equipment. Most rods are Westin boat coupled with Shimano Talica reels. These need to be pre-booked to ensure that they are reserved. You can also hire top quality flotation suits but again we would recommend hiring these in advance. At most of our destinations in Norway, there is an onsite tackle shop selling everything you will need at very good prices.
Is internet and phone signal available?
In most of the cabins, you will get free Wi-Fi and is very fast, but if you are in the outer cabins then it may be a little slower. If you need the Wi-Fi just walk down to the bar area where it is very quick. Phone signal around the whole of Norway is excellent and there are not many areas where you will not full bars and also 3G or 4G
Are there other activities available?
Yes, there is a local museum only a few minutes walk from the cabins. This museum shows local artefacts from the olden fishing days and local fish factories. You can also organise a couple of hours on the rib boat that will take you out on the stream at high speeds. The area you are staying in is stunning and the guides will advise you on some walking nature trails and of course, there is the restaurant that serves lovely food.
How much does it cost?
We offer the complete package including all flights and transfers. To view all available weeks and prices click the 'Dates & Prices' tab on our tour page.
Tour Reviews
Sportquest Holidays is proud to be different, and one way we stand out from the crowd is our tried and trusted information we provide our customers. This information is not just provided on our own personal experiences but also REAL CUSTOMER reviews.
We are the only fishing & shooting tour operator to operate our own review system whereby customers can review both the packaged holiday and also how we performed on each destination.
How This Destination Performed
How We Performed On This Destination
How Our Customer Feedback Works
See how our customer feedback works and our latest customer reveiws.
Read More
Write a Review
Have you ever visited this destination? Why not write a review and let everyone know how you rated their services?
Write a Review
Michael says:
Overall Rating:
3rd trip to Å in Norway. Guides very helpful weather was good. Boats and fishing gear are of excellent quality. Prices seem to go up on everything but thats just life. A discount for regular customers would be nice
Paul (Sportquest Holidays) says:

Hello Michael, really glad to hear you loved your trip again. Unfortunately things do go up in price and its something that we can not control. Maybe next time you book something we can do you a deal.......

All the best

Paul
Michael says:
Overall Rating:
Great fishing as always. Take a mug for a brew cups are small in accommodation.
The mattress are flat so not the best seep but if you fish all day you dont feel the pain.
Only 2 pans in accommodation need more as 4 people in there.
Paul (Sportquest Holidays) says:

Hi Michael, thanks for the feedback and glad you guys enjoyed it again. The fishing is on fire at the moment. Great little tip about the cups. I always have a mug with me when i go there as the cups, like you say, are tiny and you end up having to make lots to just get a good cups worth.

I will mention to them about the pots and pans as I have noticed it before.

All the best

Paul
Mark says:
Overall Rating:
A truly spectacular destination with amazing fishing. There is the very real chance to catch the fish of a lifetime here in either a giant halibut or huge coalfish...or both...on the same day! For more adventurous anglers I'd recommend taking some lighter spinning gear and/or a fly fishing set up, as there are actually many inshore fishing options for smaller fish which are still GREAT fun, particularly when the weather stops the boats from going to the main spots further offshore. If you have a particular preference on the method for targeting the big halibut and coalfish (e.g. jigging as opposed to baitfishing) try and match up the time in the season when this is most likely to be successful. Thanks for a great trip Sportquest!
Paul (Sportquest Holidays) says:

Hi Mark, thank you so much for taking the time to fill out your feedback. It truly is an amazing destination in Norway and we may even be looking at a specialised fly fishing only hosted trip there one day. Thanks for the amazing pictures and hopefully we can look after you again in the future.

All the best

Paul
Matthew says:
Overall Rating:
Coal fishing was the best ive had anywhere in the world but the halibut fishing was a lot slower than expected but having not fished for them before this sounds like the norm. Overall a great holiday Thank you
Paul (Sportquest Holidays) says:

Hi Matthew, glad you liked the hosted trip and yes I agree the Coalfishing is awesome and it is the best in Norway. Thats the only problem with Halibut fishing, its a little bit like big game fishing as the Halibut are not a shoal fish and when you are fishing for specimen fish then it is unfortunately a waiting game.

Tight lines Paul
Thomas says:
Overall Rating:
Weather windy every day / lost 3.5 days fishing. But despite that we had a wonderful week. Met three fantastic blokes/ Enjoyed every minute / pity about the weather.
Matt (Sportquest Holidays) says:

Hi Thomas

Thank you for the feedback it sounds like despite the weather gods trying their hardest to put a dampener on your week you had a good time.

That is what our hosted trips are about, fishing with like minded anglers all in it for the same thing and it is always nice when you return home having made new friends.

Tight lines
Philip says:
Overall Rating:
Although our week was marred by the weather, the fact is that we still got some decent Halibut and some excellent coalfish fishing all within a short distange of the camp. Can only imagine what might have been.
(Sportquest Holidays) says:

Hi Philip, thanks for taking the time to fill out your feedback form. Yes the weather was against us the whole week and made it hard to reach the best spots but we tried to make the best of a tricky situation. Glad you liked the place and it is awesome when the weather lets you fish where you want

All the best Paul
Paul says:
Overall Rating:
Nice Area,. Great resort. Shame about the weather otherwise it could have been a really good trip. No mackarel holds back the fish. Would like to have hit the big Coalies more often but conditions weren't great. Hopefully better next July. Strong Spinning Rod required.
(Sportquest Holidays) says:

Hi Paul, thanks for your feedback. It was really a tough week with regards to the weather and where we could fish. and completely typical that the mackerel turned up a week after our trip!!! Like you say, better luck next year

All the best Paul
John says:
Overall Rating:
Best part - Minke Whale circled the boat twice at no more than 20 feet. Fishing was hard but good. Thank you.
(Sportquest Holidays) says:

Hi John, that was an amazing experience shame about the fishing but a lot of that was due to the tough weather conditions.

All the best Paul
john says:
Overall Rating:
Went in June and had a good time,For where it is the flights and ferry transfers were good (two flights and a ferry)The lodge we stayed in was more than adequate with one shower and toilet.Only gripe was no microwave and if you wanted to use the oven you had to prop a chair up against the door as it did not shut properly (minor issues)
There was a small bakery on site and a small but well stocked shop 5 mins away but BEWARE they do not sell alcohol after 8pm in Norway apart from bars.
They have a small tackle shop on site which although not massive has all you need for your trip and prices are roughly the same as the UK .I hired a rod and reel which was good and had no issues with it at all,The flotation suits though were not up to the job, two of us hired them and they did not keep us dry on any of our trips which was a bit annoying as you all know its not much fun once you are wet through and cold,Paul (the host) did however arrange two more but they still leaked so it was just grin and bare it.
The boats were good maybe 9 1/2 meter sport-fisher type with all the electric gadgets needed and OK for the 4 of us without getting tangled up to many times .The fishing itself was hard but i dont mind that at all i think between the two boats we only landed 5 halibut although one was 149cm which was a nice fish oh we did lose a day and a half though through bad weather but when you are that far up in the arctic circle you must expect some adverse weather conditions and after all that can happen anywhere.At the end of each day we went coalfishing for the last hour or so with plenty caught to about 25lb or so no blank days.
I went in June as i said and the fishing was hard and the local guides said that it would get much better once the shoals of herring or mackerel i cannot remember which but were due to move in any day so have booked a later trip next year.
So overall i had a great time but did not catch my halibut this time but any true fisherman will know nothings guaranteed and i have already booked a return trip so it cant of been that bad a trip
Thanks to Paul Stevens who made sure the trip ran well and also to the other 7 anglers who were all nice guys and helped each other along the way .
TOP TIPS Take waterproof boots and your own flotation suit if you can as hired suits are used regularly by clients and are maybe getting a bit long in the tooth and not looked after the same as you would look after your own
Thanks again and tight lines John
Paul (Sportquest Holidays) says:

Hi John, thank you so much for your very detailed feedback. I will let your very detailed report do the talking

Tight lines Paul
David says:
Overall Rating:
Overall a fishing trip of a lifetime. Plenty of fish including Halibut which was the reason for going. On the down side I thought the kitchen was under equipped for self catering, with no Grill pan, Toaster or Microwave; sparse on pots and pans.
Didn't spoil our overall enjoyment though.
Paul (Sportquest Holidays) says:

Hi David
Thanks for the feedback, it sounds like you had some excellent fishing and its great to hear you caught some halibut too. Yes the kitchen is a little basic but the owners are trying to upgrade yearly but as you can imagine with the amount of camps out there this takes a little time.

Tight Lines
Michael says:
Overall Rating:
Yet another great holiday
Paul (Sportquest Holidays) says:

Hi Mike, so glad Å lived up to your expectations and you managed some nice Halibut. It was good to see you again

Tight lines

Paul
Ken says:
Overall Rating:
Great fishing. Weather turned on us a bit, but hey-ho. The fishing we did get was quite awesome!
Paul (Sportquest Holidays) says:

Hi Ken, thanks for your feedback. The weather was not great for our week but glad you liked the fishing, it truly is an incredible place

Hopefully see you soon

All the best

Paul
Edward says:
Overall Rating:
The best part was catching a halibut!
Paul (Sportquest Holidays) says:

Hi Edward, so glad you achieved catching a Halibut. Many people have been a few times before they catch one so well done. Hopefully we will see you again next year


All the best

Paul
Ben says:
Overall Rating:
Excellent location, mixed bag of weather, halibut fishing was hard but plenty of coalfish and cod about as well as the odd haddock and occasional wolfish and plaice.
Cabins are basic but comfortable. Kitchen has only the most basic of utensils and permits only two cooking at one time. Best thing about the cabin was the shower, very powerful and hot.
Guides very accommodating and personable, excellent communal filleting area and very large walk in freezer facility. All fishing gear you will require is available on site so no need to purchase anything in the UK, prices for lures etc., same as UK. The local Coop is a bus ride away and visits will impact on the group fishing time as Paul drives the bus. Make sure you plan your meals for the week and bring your food in your cool box - being dis-organised will impact the group as a whole. There is a very small convenience store on site open 7 days a week as well as an excellent bakery serving coffee - I recommend the cinnamon rolls - amazing!
I hired a flotation suit for the week but was very disappointed with it's quality. They will keep you warm but are not waterproof, I was wet through to the skin on a number of occasions, not much fun when you're out fishing for 7hrs or so. Mine was not an isolated case as others experienced similar problems.
Would have liked the offer for the group to get together more in the evenings in say Paul's cabin to socialise and better get to know individuals.
Once cabins had been allocated we ended up sticking in small groups with our allocated guide and boat and had little interaction with fellow anglers until the final evening when we met for a meal at the restaurant.
Peter (Sportquest Holidays) says:

Ben

Thank you for taking the time to talk to me today as I really appreciate it.

I have noted about the suits and a few people on this trip have mentioned the same, so i will bring this issue up with our suppler in Norway.

Also thank you for the comments about mixing up the groups on fishing days and also getting people more together in the evenings as this is something I have been considering for a while now.

When you are ready to look at some other types of fishing with lots of species to catch feel free to call me personally

Again thank you for your feedback

Regards Peter

Andrei says:
Overall Rating:
This is my third trip to Norway and with each trip the fishing seems to get worse with less and less bites and activity.
There are no memorable moments.
Paul (Sportquest Holidays) says:

Andrei

Thank you for your feedback, as you know it was an unlucky trip with the weather and the weather in Norway always controls the fishing. It is fair to say that after your first trip with us when you managed Cod to 70LB since then the last two trips you have been on have been effected by bad weather.

We understand that this is very annoying when this happens as we all look forward to our planned holidays.

I am sure on the next trip the tables will turn.....

Regards Paul.

Ian says:
Overall Rating:
No Comments
Peter (Sportquest Holidays) says:

Ian

Thank you for sending in your feedback scores on the trip, looks like you had a good time.

You can comment if you so wish on the trip.

We look forward in dealing with you again in the near future.

Regards Peter
Colin says:
Overall Rating:
No Bar / Restaurant open till mid May, so self-catering was only option for whole week!
We had a guide for our first day (Eric) who was brilliant. Meant we could fish the rest of the week knowing how and where to fish. We got afloat every day and caught lots of Cod to 19.5 kg and had 10 Halibut to 100 cm.
Catching Halibut is particularly good sport, they are very powerful fish.
All guides were very knowledgable, friendly and helpful.
Use of van was helpful.
Boats excellent and reliable.
We all thoroughly enjoyed the trip and all had P.B. fish.
Paul (Sportquest Holidays) says:

Hello Colin, thank you for taking the time to send us your feedback. It is very helpful to future anglers.

Sorry we forgot to mention about the restaurant not opening until middle of May, hopefully you all managed to eat well. I was keeping track with our guides making sure you were catching and they all said you were having a good time.

Well done on the big Cod and especially the Halibut and yes they are great sport and absolutely pull your arms off.

Will be good to have a catch up soon.

All the best

Paul
Graham says:
Overall Rating:
For us worst part was getting to Heathrow airport.
Shame we couldn't fly from Norwich or Stansted.
Flights as expected and accommodation basic, but all that was needed for the holiday.
Fishing great!
Plastic bags (small) to bring fish back would be good to mention.
Peter (Sportquest Holidays) says:

Graham

Thanks for your feedback and also comments and tips for future customers. We can always look at alternative flights but it has such a huge impact on the cost and also duration / travel time of the holiday it is normally more effective to just travel to Gatwick.

I look forward in having you all again on another Sportquest Holidays sea fishing adventure.....

Tight Lines Peter
Steve says:
Overall Rating:
First day was spoilt as all of our luggage did not arrive until the next afternoon.
The kitchen was poorly equipped compared with last year.
Pictures already sent by Wayne and are on your website.
Paul (Sportquest Holidays) says:

Hi Steve, its a real disappointment when bags are delayed in getting to you. I have had it happen to me and there is nothing worse, but really glad the fishing made up for this and you guys soon found yourselves some good Halibut and Plaice fishing.

Thanks for the pictures and I hope to make a report out of it soon

All the best

Paul
Michael says:
Overall Rating:
Great fishing!
Your bags can now go to your destination, no need to pick them up in Oslo.
This is the second time I have been to Å in Norway and each time I have caught bigger Cod! 32 lb this time!
When you land at Leknes, go to supermarket and get enough bread + milk for your stay, as it is cheaper than local supermarkets!
Peter (Sportquest Holidays) says:

Michael

Thanks for your feedback it is always a pleasure to have you guys.

Until next time keep fishing

Regards Peter
clinton says:
Overall Rating:
Another great trip by Sportquest Holidays
Peter (Sportquest Holidays) says:

Clinton

As normal thanks for your feedback and we look forward in seeing you with us in 2018

Tight Lines Peter
Leo says:
Overall Rating:
Boats Cabins and fishing was excellent. had the best time and look forward to my next trip in August to Havoysund
Peter (Sportquest Holidays) says:

Hello Leo thanks for taking the time to send us your feedback form. Paul is still away in Norway and will let him know you filled your form in. Sounds like the whole group had very good fishing and I am sure you will love Havoysund

All the best, Peter
Barry says:
Overall Rating:
Hi Sportquest Holidays. Both myself and John had a good time a little problem with our bags going missing at the airport but paul soon had things sorted (Thanks Paul) Then the transfer something we were not looking forward to but let me tell you it soon went as the scenery on the Lofoten Islands is great. Fishing was spot on and everyday we found ourselves having to take a break as the action was intense. John said he would fire over some pictures in the next couple of days
Hopefully we will get to join you again one year
Paul (Sportquest Holidays) says:

Barry, it was a pleasure to guide you and John I love fishing and guiding in Norway it really is my type of fishing. With regards to the bag problem you just have to know how to speak to the customer care people!! At least it all got sorted.

I did notice you guys having a rest now and again and to me its good to see as I know you must be catching plenty. For next year we dont have very much room on any of the trips. I will call you over the next couple of days to get something sorted with you

Speak soon
Simon says:
Overall Rating:
Hi Paul thanks for guiding us on our latest trip to Norway. We loved the Lofoten islands and a place we will be coming back to. That Halibut you were playing for ages looked really big, would of loved to have seen it..... i could see the sadness in your face when the hooks pulled. Next time
Hopefully we will catch up soon
Mel (Sportquest Holidays) says:

Hello Simon, Mel hear. Paul is away at the moment but I will pass this on to him when he returns. We did hear all about the fish Paul lost many times.

We will get him to call you when he gets back

Kind Regards Mel
Gary says:
Overall Rating:
Hi Mel, just a quick note about our latest trip. The boats and the accommodation were exactly as you described the fishing was a little slow but we still managed two very big Halibut and loads of Cod and Coalfish. What have you got available for both of us for next year? Look forward to hearing from you
Gary and Trevor
Mel (Sportquest Holidays) says:

Hello Gary and Trevor. Glad you liked our destination on the Lofoten Island and we did hear the fishing was a little slow for Norway standards. I will get Paul to give you a call to speak to you about next year as I know we dont have to many spaces for next year.

Kind Regards

Mel
Roger says:
Overall Rating:
Hi Paul thanks for all your effort for my brother and I we both had a great time and your company was excellent. All the lures you suggested worked well. Can you also send our thanks to Johan he put us on so many fish and made the trip special.
I will send you some pictures over in the next couple of days
Thanks, Roger and crew
Paul (Sportquest Holidays) says:

Hello Roger my friend, hope you got home ok after the little delay???? Its very kind of you to give me such good feedback it means a lot and makes me know that I am doing my job correctly. I shall also pass on your kind comments to Johan.

Look forward to see your pictures especially of the big Cod you had. Speak soon
Colin says:
Overall Rating:
Thanks Paul and SPortquest, yet another great holiday. Everything went smoothly and looking forward to the new flight route next year to cut out that huge transfer.
Mel (Sportquest Holidays) says:

Thank you Colin for travelling with us once again. Yes we should be getting news any day now of the new flight route, fingers crossed. Not long now until your next trip
Andrew says:
Overall Rating:
What an amazing place the Lofoten Islands are. The coach journey was very long but with scenery like that going past it so went. The camp we stayed at was huge, the biggest I have ever stayed at. Cabins everywhere. The restaurant served very good meals but was expensive but like our guide said "What isnt in Norway"
Our cabin was located right next to the harbour and was very nice to watch all the other boats coming and going. Fishing was really good we all had huge Coalfish and Halibut and would of especially like to have seen what our guide Paul hooked...... Paul will know what I mean
All in all it was a great trip and perfect for me as I was on my own and such a great bunch of guys made the holiday even more special. Thanks Sportquest and please reserve me a space for next year
Paul has got most of my pictures
Mel (Sportquest Holidays) says:

Hello Andrew, thank you so much for taking the time to fill out your feedback form in such detail. These forms help future anglers actually see what a place is like, good or bad. We try every which way to make peoples dreams come true and we fully understand that every ones wants are different so with these forms it gives us a good idea on what people want.

Paul has not stopped talking about the one that got away.... was it actually as big as he said?

Thank you for travelling with us

Kind regards

Mel
Jeff says:
Overall Rating:
Excellent holiday. Big fish, not knowing what you are going to catch next. Cabins OK, Fishing excellent, No problems with flights and transfers.
Paul (Sportquest Holidays) says:

Thanks it was a pleasure to host you and hope you enjoyed it all and what a way to start and end your holiday with a Halibut.

I promise next time not to bring any tomatoes......

All the best

Paul
Michael says:
Overall Rating:
The last part of the trip, a 3 hour coach ride was through magnificent scenery on the way to Lofoton. We were blessed with six days of flat calm seas which must be something of a record for up there. My first fish was a Halibut, followed by a cod of just under 50lbs This took a shad and was caught on the same line as one of about 16lbs which took a muppet on a dropper higher up. The 50lb one proved to be the biggest cod of the the trip. About half of the fish I caught were on the muppet.I have one word of warning. My fish box weighed in at the airport 2.5 kilo over weight and my suitcase 4 kilo over. This cost about £65. Tip - weigh your cool box empty before you start so that you know just how much fish you can put into it to keep under the 20K limit. Always take less clothing than you think you will need.
Paul (Sportquest Holidays) says:

Thank you for filling out the feed back form. I know the transfer seems like a long journey but you do see some fantastic scenery on the drive and with a stop it soon breaks it up. By the sound of your fish tally it looks like you had a great trip and what a Cod for the summer time and also to have another cod attached to the same line it looked like you had your hands full. i have got some good footage of you playing this fish that i will show you in August when i see you again

It is a pain when the flight companies charge you so much for extra luggage when the flights are not full, but thanks for the tip

Look forward to seeing you next month in Havoysund

Until then, all the best

Paul
thomas says:
Overall Rating:
Thoroughly enjoyed every part of my hosted trip to norway
Paul (Sportquest Holidays) says:

Thanks Tom for the feed back. Glad you liked the trip and something different for you and if you would like to join me again soon then let m know. I will get Peter to look in to some trout fishing for you

All the best

Paul