The list of Giant Trevally lures and poppers you can take on a fishing holiday seems endless and very expensive so we have tried to make it a little easier with this bite-size blog on what we recommend you take with you on your next lure fishing holiday.
There are many different factors you need to consider when chosen your lures, such as depth of water, species you are targeting and what rods you have to use. Some of our popper and jig fishing destinations like Madagascar, Costa Rica and the Andaman Islands all offer fishing tackle packages to hire and also have a great selection of lures to buy so if in doubt wait until you get there and let the guides inform you of the lures that are currently working at the time.
Giant Trevally lures advice
During a fishing trip, there is nothing is more frustrating than realizing that you're missing out on the action because you haven't got the best lure for the moment. We are still very surprised to see fishermen arriving with a dozen poppers – different brands and different colours but all with a similar action. The golden rule of Giant Trevally lures is to have a decoy range that allows you to fish in all scenarios. Make sure you have swimming poppers, floating & sinking stick baits & pencil poppers in your pouch to make sure you have something for all conditions & every fishy palate.
Our top Giant Trevally lures
This is a non-exhaustive list of the lures we recommend you have with you for a GT trip:
Poppers like Hammer Head E or G Cup, Craft Bait GT3 or Heru Cubera 150 & 180
Use these poppers in choppy seas or to fish deeper water spots with a slow retrieve and make the biggest pop while you work the lure to tease the fish. This is done by tightening the line and using the rod tip in a fast jerk motion to create the pop. Poppers with a large mouth are best due to the large surface area. These lures also boast a fantastic casting distance so that you get the most out of your retrieve.
1 SWIMMING POPPER LIKE HAMMER HEAD SHAKURE OR NATIVE WORKS NAPALM
When the sea is really choppy or rough with big waves. Swimming poppers are the ultimate weapons to fish properly in these conditions and make sure the GT bite.
2 PENCIL POPPERS LIKE HAMMER HEAD TOBI, HERU SKIPJACK 150 OR FISHERMAN PARO PARO
Certainly, the most exciting GT lures to use – GT bites on pencil popper are just insane and they are particularly good in flat conditions, when you fish large plateau coral reefs and around bait schools.
3 Floating Stickbaits like Hammer Head Cherry Boy, Carpenter Gamma or Heru Ulua 150
These are the most fashionable Giant Trevally lures to use currently and it's simply because they are very effective!!! However, they require a specific rod to use them properly. You'll need a rod with a soft tip that will get you the famous « S » swim the fish love. They are perfect to use in flat conditions or sea conditions with a slight chop.
2 SINKING STICKBAIT LIKE CARPENTER ZEUS, FCL LABO CSP EXT 230S OR SIREN LURES DEEP SEDUCTRESS 225
"FCL Labo CSP EXT 230S : 230 mm for 207 g. A fast sinking stick bait for big GT's!"
When Geets are not keen to take Topwater surface lures, Sinking Stickbaits are your last chance to have a bite. It's also a great lure when you fish deep water spots (30 to 50 m depth) especially when you have a nice structure like a big drop off and you see baits being busted by GT in 30 m range on the sonar screen.
Another very key point to keep in mind when you are out using poppers and stickbaits to target Giant Trevally is to make sure that your single and treble hooks are very high quality as the last thing you want is to lose a fantastic fish to a bad quality hook.
Where to use Giant Trevally lures
There are some really great places around the world that this style of fishing is effective, below is a list of Sportquests recommended locations ideal for popper & jig fishing in hopes of catching Giant Trevally: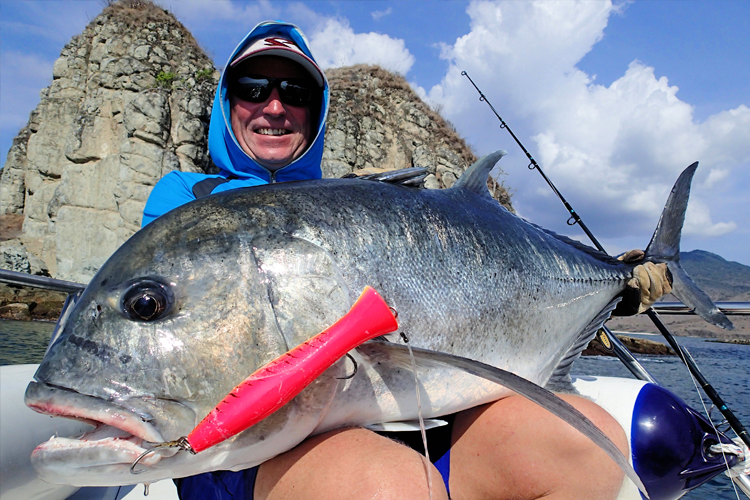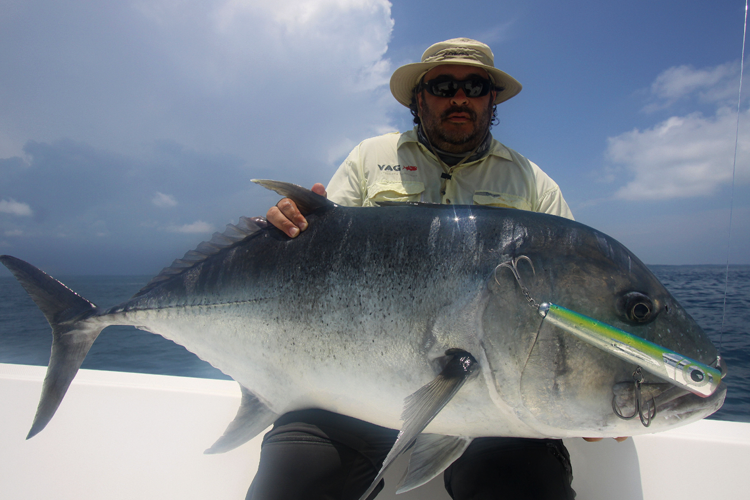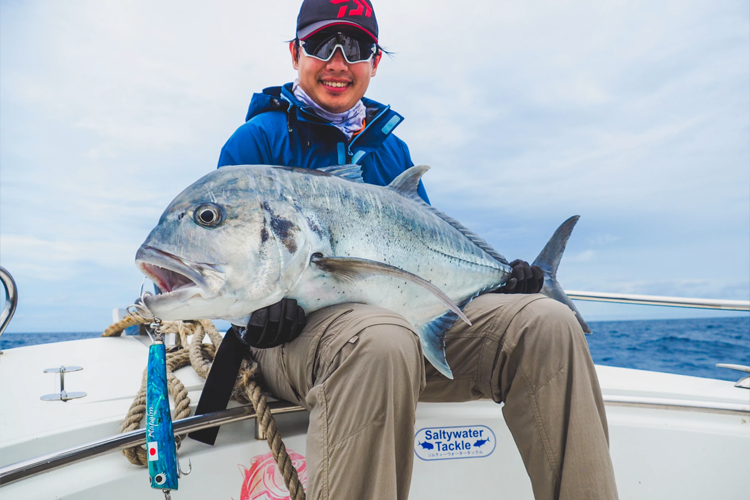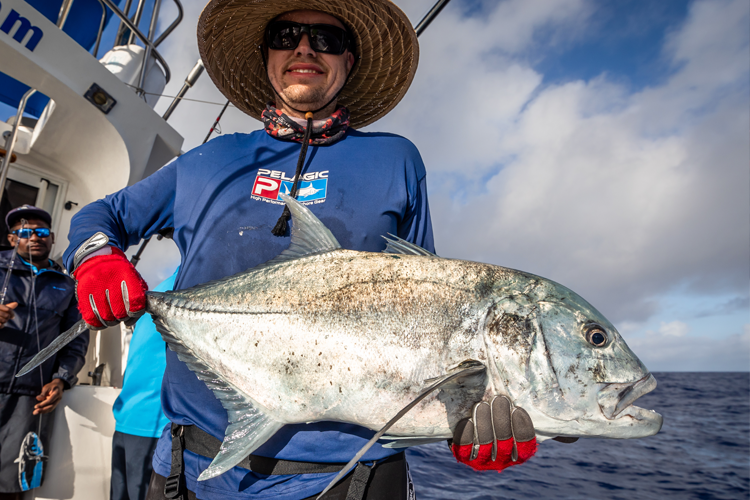 Tight lines,
Paul Stevens
Contact us
We hope the above information is of some help to you and if you have any questions about this type of fishing, please feel free to call our big game fishing team on 01603 407596 or by email at info@sportquestholidays.com. Still, need some inspiration? Then head over to our Popper and Jig YouTube playlist where we regularly add amazing content from all over the world. Alternatively, you can also visit our full popper and jig tour list here.