With the Spring season in Nappstraumen drawing ever closer, it's time to take a look at some of the more popular species we've caught over the past few years and set some targets for the coming season. I feel it's going to be a cracker.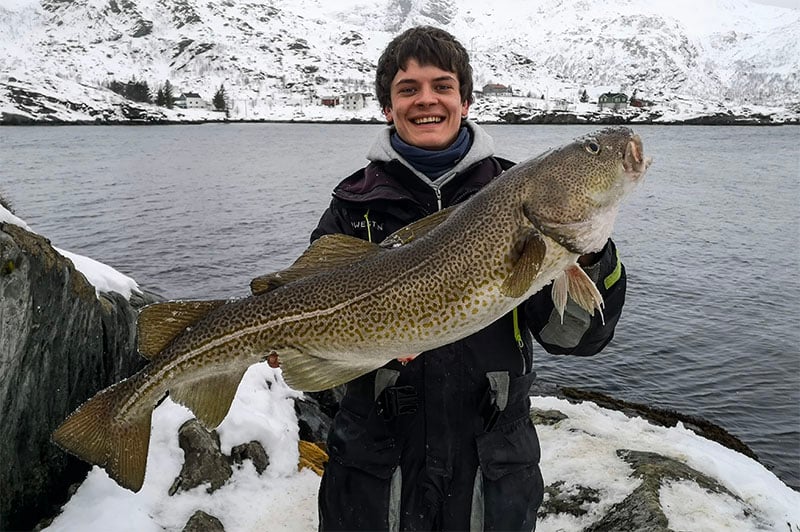 COD
I personally think that this will be the year of a big spring cod, especially seeing as we've only managed to fish the area for two weeks in the last two years due to the COVID pandemic.
There's no doubt in my mind that should the conditions allow, the current camp record of just 23lb 9oz should be obliterated this Spring. Don't be surprised to see a number of fish over 30lb caught, with a 40lb fish a very realistic target.
I'm also very much looking forward to fishing the end of March period for the very first time in Nappstraumen, as this according to some locals I've spoken to, is the prime time to target the monster Skrei cod that migrate down from the Arctic.
Current Camp Record: 23lb 9oz Spring Target: 40lb+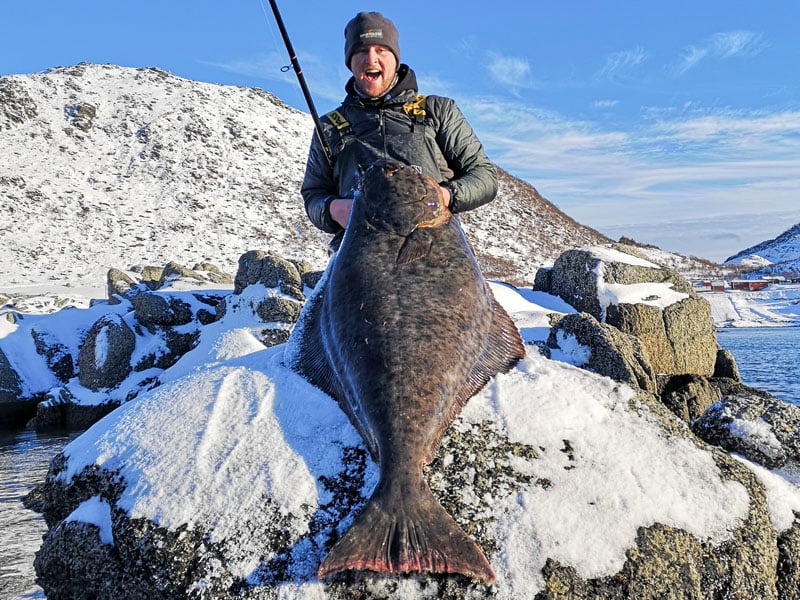 HALIBUT
Everyone's favourite quarry in Norway, the halibut grow to monster sizes around Lofoten. Although March is probably not the best time to target numbers of this species, our current camp record of 83lb (143cm) came out during the Spring season a few years back, so don't be surprised if a monster does show itself this season. Realistically though, we'd be very happy to see a good number of 20-30lb fish caught, with a 50lb+ fish being a great target to go for.
Current Camp Record: 83lb Spring Target: 50lb+

HADDOCK
Spring is a great time of year to target big haddock in Lofoten which are not only great sport, but also fantastic eating. We've consistently had good sport with these fish since setting up the camp here in 2020 and I've lost count of the number of 5lb fish we've seen over the years, with the current best topping out at 7lb 13oz. I've no doubt that this will be pushed up a bit this year though, with the potential for much bigger to be caught.
Current Camp Record: 7lb 13oz Spring Target: 9lb+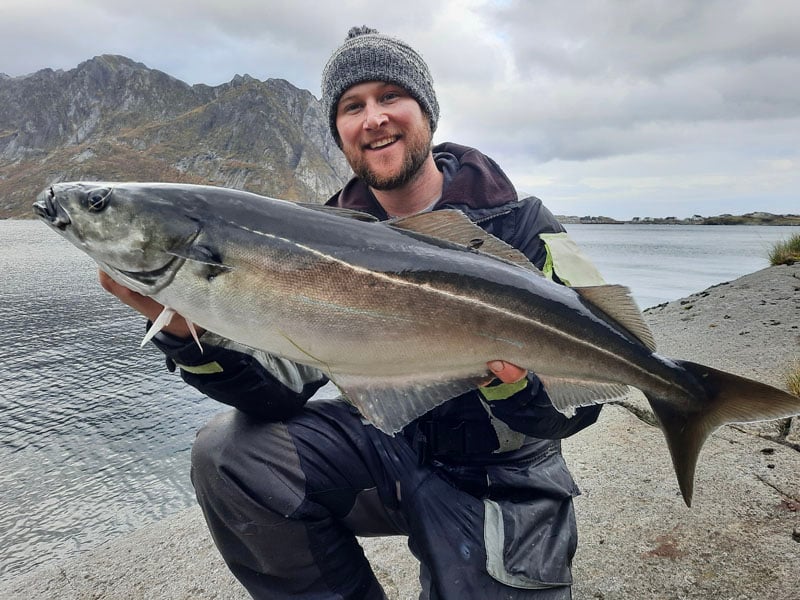 COALFISH
Another of the regular species we catch throughout the year, I thoroughly believe that our current record is due for a huge upgrade this season. With big fish often in excess of 30lb getting caught close to shore by the boats, there's no reason we shouldn't see a few this size, though the best eating size for this species is between 4-10lb from personal experience. One of the great things about the coalies, is that they provide some great sport on the spinning gear too, which can nicely break up a week of watching the rod tips sat in a tripod.

Current Camp Record: 16lb 10oz Spring Target: 20lb+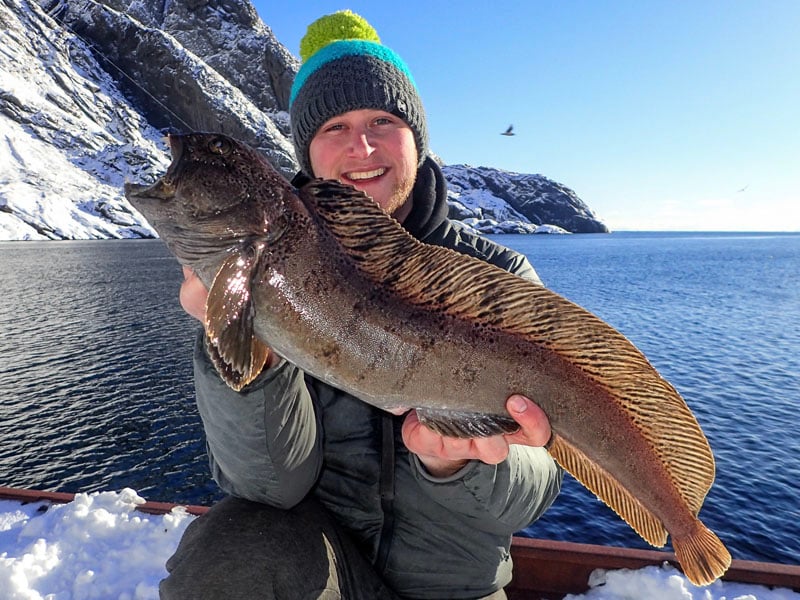 WOLFFISH
Not the best fighting fish in the area, but still one of my favourite fish to catch in Lofoten. There's no better time to catch one than Spring either, with the colder water temps kicking them in to gear and on the feed. They seem particularly keen on prawn during March too! It would be really nice to see a monster caught this year.
Current Camp Record: 8lb 4oz Spring Target: 10lb+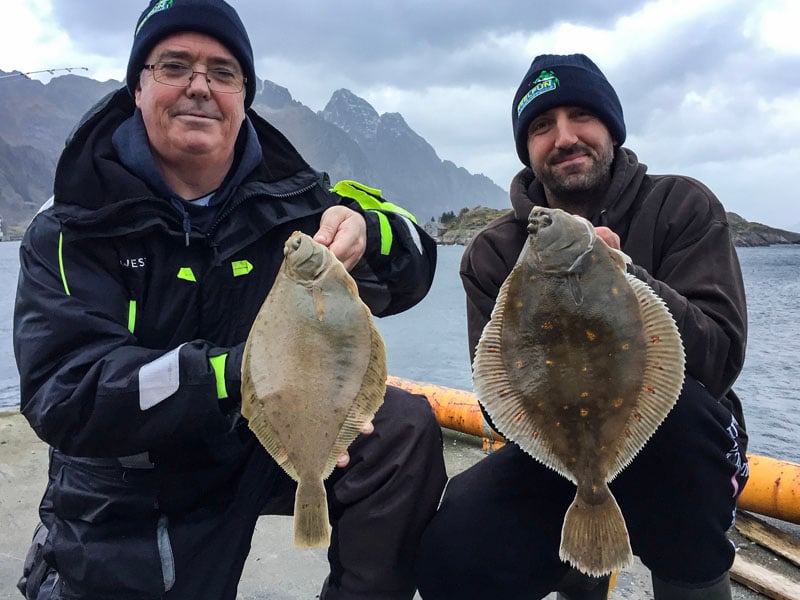 PLAICE & DABS
Plaice and Dabs: With the Plaice record getting smashed last Autumn, I feel as though this Spring could see some really nice sized fish getting caught. It's not a target species that many of my Spring guests have spent time targeting either, so a surprise could well be on the cards. The same goes for the dabs, which do seem to be bigger in Spring than in our Autumn season. I'd be very surprised if our current camp record was not equalled or better this March.
Current Camp Record Plaice: 5lb 13oz Spring Target: 4lb+
Current Camp Record Dab: 2lb 2oz Spring Target: 2lb 8oz+

For anyone joining myself and Zac this season, we very much look forward to welcoming you in to the camp at Nappstraumen. I'm sure each and every one of you will have a great experience whilst with us and we are sure you will all hook into some really nice fish during your stay.
If somebody does manage to hit one of the above targets whilst with us, I will personally buy you a nice hot dog from the garage and sort you with a few rigs and bits as a small prize. A little extra incentive shall we say. That's all for now…
Tight Lines and see you all soon,
Ross Johnson
If you're travelling to shore fish in Norway with Ross, he has a selection of rigs and small terminal tackle items available to purchase when you arrive. All payments will need to be made to him. 
Rigs
Up and Over Halibut Rig – £2.50
Single Hook Pulley (4/0) – £1.80
Single Hook Pulley (6/0) – £1.90
Pulley Pennel Rig (4/0) – £1.90
Pulley Pennel Rig (6/0) – £2.00
2-Hook Loop Rig for Plaice/Dabs – £2.20
3-Hook Clip Down – £2.50
Heavy Duty Loop Rig for Cod/Haddock – £2.50
Extras
5oz or 6oz Grip Lead – 70p
7oz Grip Lead – £1
4-6oz Plain Leads (Coated) – £1
Bait Elastic – £1
Tip Lights for night fishing – £1
Various Lure for Pollack/Coalfish – Prices available on site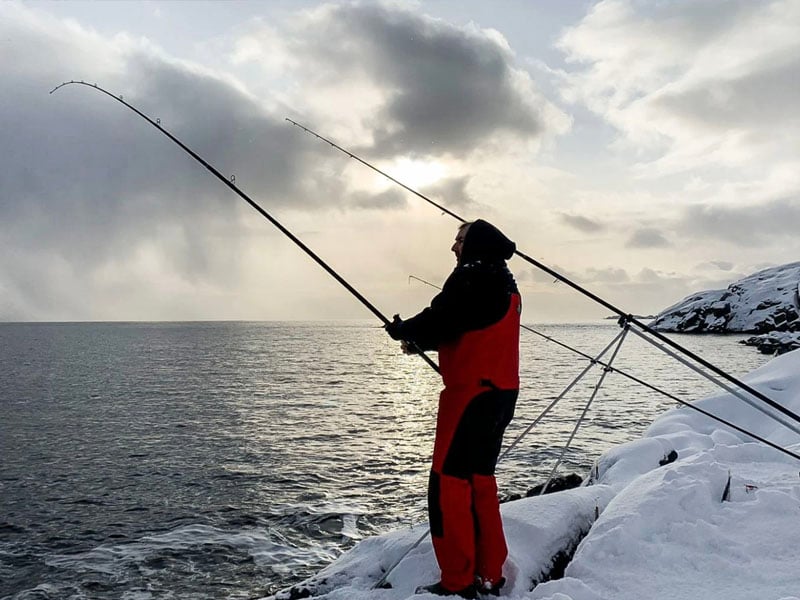 CONTACT US
If you'd like to learn more information about our Guided Norway Shore Fishing Trips you can contact our experienced team who will help you to plan and book the perfect fishing holiday. We have many years of sea fishing experience and can easily recommend certain destinations based upon your requirements or target list!