After our hugely successful Hosted trip to Soroya, Northern Norway, we have been very busy spreading the word about exactly how good the Cod fishing is at this destination and boy we have been blown away with the interest from national papers and also fishing magazines. Take a look below at just a couple of articles that have gone to print.
You will see that the Cod are massive in Soroya and its not just the size its the amount you catch. All these huge Cod are released and taken great care of so they can carry on with their lives. Caught from only around 30 – 40mtrs down they are fighting fit when returned to carry on with eating.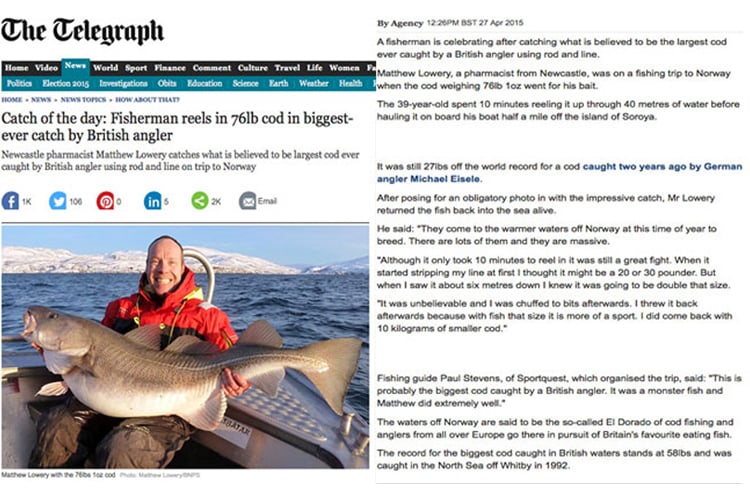 As you can imagine the places have filled fast and we only have a couple of places for 2016 and are already taking bookings for 2017. If you are interested in getting in on this action then simply call us and we can organise a space for you on this dream-hosted trip.
You may be thinking that the fish pictured are a one off, how wrong could you be we had 3 x 30 + Kilo Cod that day. The one pictured above, 34.5kilo a 33.5 kilo Cod and a 32Kilo Cod and that's just one day in one boat……. It truly is the home to the true Norwegian Cod
Contact us
If you would like to learn more about this destination and how you can join in on one of our yearly hosted trips to Norway, you can contact our sea fishing expert, Paul Stevens, on 01603 407596 or email paul@sportquestholidays.com.
Alternatively, you can find both the hosted and non hosted Soroya tours on our website.
Until next time, tight lines,
Paul