So you have now found yourself in a position to book the fishing holiday that you have been dreaming of and you're ready to start planning a fishing trip, the next thought should be what type of holiday would suit you? What sort of requirements would you need to have for the kind of holiday you are interested in? Is it a physically demanding trip? Do you need to spend more money on the correct tackle? What species of fish do you want to catch? Do you prefer bait fishing or lure fishing? All of these questions ultimately affect your fishing experience and the fishing gear you'll be needing.
Questions like these are widespread and are questions that we regularly get asked. So we thought we should all put our heads together and try to answer as many of these questions as possible to hopefully help you in making that all-important decision of the type of holiday that would suit your requirements. We will start with our Sea Fishing Destinations and try to answer questions that we commonly get asked.
Remember, we have a dedicated Facebook Sea Fishing Group filled with friendly, like-minded anglers that are always happy to offer their advice and impart wisdom, tips and tricks that they've picked up over the years.
Planning a fishing trip – Sea Fishing
Do I need to be an experienced angler before planning a fishing trip?
The simple answer is, as long as you are used to being on a boat, then no experience is needed. At most of our destinations, we have fishing guides who are there to help in all manner of situations. From boat handling, reading the charts, making sure you have the correct rigs and tackle set up. More importantly, advising on safety at sea.
We strongly suggest, if this is your first-ever visit Norway and fishing in this manner, then you should consider joining one of our Hosted Sea Fishing Trips. The benefits of the hosted trips are that one of our English hosts will travel from the UK with the group making sure you get full assistance through the airport and more importantly they will be with you every day making sure that your holiday is the best it can be. In contrast, you benefit from the years of experience your host has got and hopefully catch more fish!
Do I need to purchase all the tackle required for sea fishing in Norway?
We work very closely with all our destinations in Norway, ensuring they have all the appropriate hire equipment to make your holiday the most comfortable as it can be. For as little as £50 for the week, you can hire quality fishing rods and reels that are designed for this type of fishing. All the hire equipment is regularly serviced and braid replaced as we are fully aware that the tackle you hire should be up to scratch.
Secondly, all our destinations in Norway have fully stocked tackle shops onsite stocking equipment that works and works well. Most of the terminal tackle is the same price to buy as you would find it in this country, they are not there to overcharge and make lots of money, they are there to make sure you are fishing with what works. It is in their interest that you catch so you go home with lovely pictures of big fish to show your friends who will then hopefully one day book a trip themselves.
You can turn up at these destinations with no terminal tackle or tackle box whatsoever and can purchase everything you will need for a successful fishing holiday.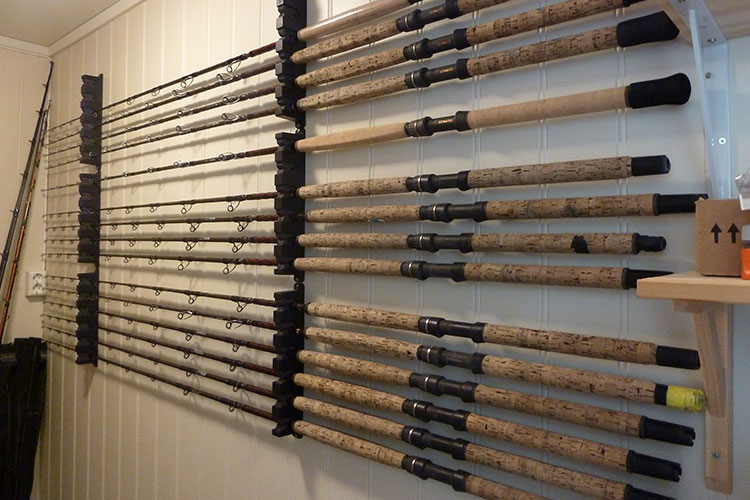 Top-quality tackle hire available at all destinations in Norway
If I take my tackle and rods and reels, how do I get it over there?
As you will be aware, Sportquest Holidays offer the complete package which includes your international flights. Once booked, they will be scheduled with standard hold luggage. The luggage weight can range from 20 kg to 23 kgs. Hand luggage is different, ranging from 8 kgs to 10 kgs. The company you fly with dictates your allowed luggage weights. You are then permitted to book additional hold luggage, (20 or 23kg) giving you two pieces of luggage. You can also book a Rod tube.
These are extra charges and a member of the Sportquest Holiday team can advise you on the additional costs. 99% of anglers will take at least one extra bag as it is tough to get all your clothes, tackle (if taking it) and other bits and pieces into just one bag. The rod tube should be either a designed travel rod case or some anglers will use heavy-duty drain pipes with caps on end. It needs to be bomb-proof as you will be carrying expensive rods in there and require them to be in one piece when you arrive.
Things to avoid in your hand luggage while planning a fishing trip
Avoid these things in your hand luggage: reels are okay in your hand luggage as long as they do not hold any line, try not to put any items of terminal tackle in your hand luggage, indeed no knives and no pliers or unhooking tools. I always tend to put clothes, boots and other things that take up room in your case. The more room you have in your case, the more tackle you can take. (Sizes for your cases and hand luggage depend on flight companies, please contact us for further information)
I have never fished on the open ocean before, will I get seasick?
This question I get asked many times and it is hard to answer. All we can do is give you advice on things that help to keep seasickness at bay. Along with things to do in preparation of going out to sea. There are many different tablets on the market to help prevent seasickness. One that has worked for me in the past is Stugeron. Two to be taken two hours before heading out should help.
Other precautions include making sure you have a good breakfast before heading out. Try not to drink anything fizzy before or even during out on the boat. Some people even say to stay away from any caffeine as this will speed your heart rate. Drink lots of water while out fishing and try to eat. This will normally settle your stomach.
Feeling seasick on a fishing boat
If you do start feeling a little sick while out on the boat make sure you are always looking at the horizon. never look down at the ground and try to get as much fresh air as possible for example do not go and sit inside.
Want to see what it's really like fishing for Giant Skrei Cod?
Another remedy known to help is ginger, things like ginger nut biscuits, raw candied ginger is excellent, take these out with you on the boat and as soon as you start to feel a little sick eat some. It works for some people and not others but always a good idea to try it.
If you are unwell on the boat, it is crucial to get back out there the following day as it will get easier once you find your sea legs and the best piece of advice is to try your hardest to not even think about it.
Is it always cold in Norway?
There is no definite answer to this. Over the years the seasons seem to change pretty much as they do back home. We will try and break it down into season and give you a rough idea on what to expect from each season.
February to April: These months are generally for shore anglers and anglers in search of the Skrei Cod from the boats. It can be freezing over these months ranging anything from -15 to 2 degrees. Yes, that does sound cold but trust us, it is a different climate in Norway. With it being very dry, not like the UK's damp atmosphere, temperatures sound cold but are nowhere near as cold as the UK.
Once you have your survival suits on and you are playing big angry Cod in the great outdoors, you will soon warm up. Couple this with the correct clothing and you will be lovely and warm. Like an old guide said to me years ago; 'There isn't such a thing as bad weather, its bad clothing that makes you cold'. We have written in the past a handy blog on travelling smart to Norway.
Planning a fishing trip in the summer months
May & June: As the cold winter days start to disperse and longer and brighter days breakthrough the temperatures begin to rise and over these couple of months see's a significant change in the day and night time temperatures. Over these months the temperature will be up and down but on average will be around 6 to 10 degrees. Unfortunately, May & June are known in Norway for being some of the wettest of months. Regardless, the fishing can be excellent due to the water temperatures rising, making the fish a lot more active. Go prepared, and the rain will not spoil your holiday
July to September: These months tend to be the most stable months of the year. With fewer strong winds, less rain and higher temperatures, it will be light 24hrs of the day. The daily averages range from 15 – mid 20's pretty much the same as back in the UK. This is a much more pleasant time of the year if you are after a warmer holiday experience.
Long dark nights
October & November: Over these couple of months, Autumn starts to kick in with daily light levels dropping to around 8 to 10 hours and temperatures dropping back down to about 0 to 5 degrees. This time of the year is very promising in Norway. The fish do go on the hunt ready for the massive lack of baitfish during the winter months.
How physically demanding is a fishing holiday in Norway?
Nearly all our destinations in Norway are built around the marina, meaning a short walk down to the boats before you depart for your fishing spots. However, cabins are built on wooden pillars above the sea. So a short walk down steps to reach the boats is required. At low water, these steps can become fairly steep; however, the opposite is the case when it is high water.
Once down at the water's edge, there will be a small step into the boats. You can be helped by your friends if you find it difficult. The fishing part of the holiday is as demanding as you want it to be. If you find reeling big fish is tiring, then sit back and take a break for 5 minutes. An excellent way to get a feel for what a Norway Sea Fishing trip is like, we've created a Sea Fishing YouTube Playlist showcasing what to expect when you're out there fishing.
A handy piece of equipment is a butt pad or rod harness. They will take the pressure away from the bottom of your back and arms, spreading it around your body. Making it a lot easier to handle large fish.
Apart from that, the rest of the holiday is not demanding. The transfer people will be waiting right outside the airports to take you to your cabins. They will sometimes even help you unload your suitcases and assist with bringing them into your cabins.
An average gantry down to the boats
I have noticed that all Norway holidays are self-catering, I can't cook, is there anywhere to eat?
We do try our hardest to look for accommodation that has restaurants on site. Sometimes we have no choice when fishing in certain areas is very good and can only find accommodation. We do, however, have three destinations in Norway that have restaurants and bars on-site. So if you find it challenging to cook, then there are full board options available which is always good to keep in mind when planning a fishing trip.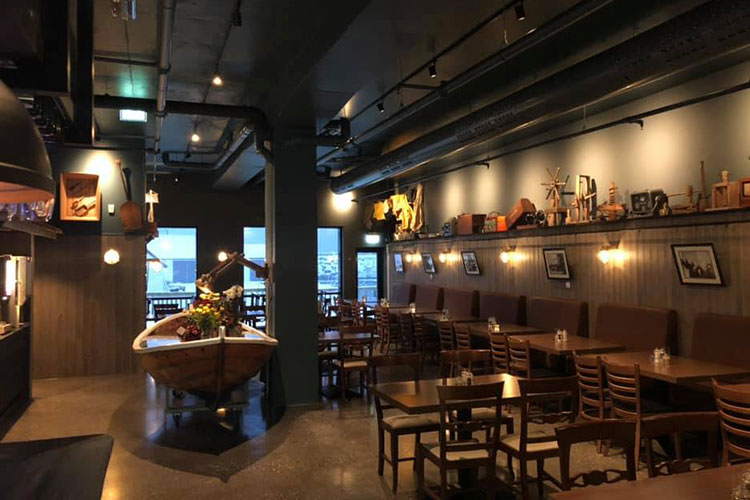 A typical restaurant at one of our destinations in Norway
I have heard that alcohol is expensive in Norway.
The simple answer is yes, it is expensive compared to UK prices. Norway, for many years, had a problem with alcohol and people excessively drinking. Their solution was to make alcohol expensive and ban shops and supermarkets from selling liquor stronger than 5% proof.
If you want anything stronger like wine or spirits, then you have to go to specific retailers. These are very few and far between. If you like to drink in the evenings then purchase alcohol from UK airports before leaving the country.
You can, of course, buy cans of beer from the local supermarkets and these range from £3 – £8 per can. Be warned that bars near the cabins sell all types of alcohol but are expensive.
Do I need to take any currency with me?
The currency in Norway is the Norwegian Kroner and can be purchased from all currency exchange shops in the UK. However, like most countries in and around Europe, cash is becoming old hat. With debit/credit cards and mobile phone payments now taking over.
At all our destinations, they would prefer payments on a card with some of them refusing to take cash. We would still recommend taking around £100 worth of Norwegian Kroner. Short trips to the supermarket and of course if you wish to tip your local guides.
Contact us for all your questions regarding planning a fishing trip
Hopefully, we have answered some essential questions that you may find yourself asking when it comes to planning a fishing trip. Please remember, we're still at the end of the phone, happy to help. You can also request a free brochure to explore all our Sea Fishing trips and holidays further.
The staff at Sportquest Holidays have over 14 years' experience in travelling and fishing in Norway. After this amount of travel, we have gained some precious knowledge. If we do not know the answer, then we know someone who does.
If you would like to speak to a member of our Sea Fishing Team, then call us on 01603 407596 or email paul@sportquestholidays.com, we can always recommend a particular destination or holiday that would suit you and your group.
For more insights, articles and expert travel advice for all things Sea Fishing, make sure to visit our Ultimate Guide To Sea Fishing.
Until next time, tight lines
Sportquest Holidays