For many years now we have been approached by single anglers or even small groups who have always wished to travel to Norway on a big sea fishing adventure targeting the fish they have seen so many times on social media and in the magazines, only to be told that if they travel as a smaller group than 4 then they will incur supplements that sometimes cost upwards of £600 per person.
This led us to really sit down and think about these problems. Well, that was over 14 years ago and now we are offering fully hosted sea fishing holidays to most of our top destinations in the very north of Norway. We run on average 16 hosted holidays each year to some of the best destinations at the peak times to places such as the famous Å on the Lofoten Islands for monster Coalfish and huge Halibut to Skrei Cod fishing in places like Sørøya and Mefjord.
We started this idea back in 2007 where Paul Stevens our head Norway Guide ran holidays to Norway once a year and we soon found that this holiday would sell out immediately. With this proving to be a very popular concept, we soon found ourselves looking at other destinations in northern Norway and increasing our hosted sea fishing.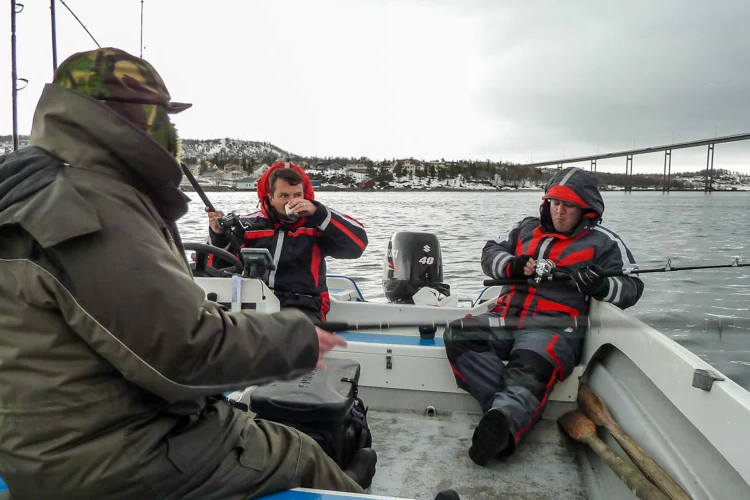 One of Paul's first hosted holidays in Norway
Each year the hosted holidays grew bigger and bigger, in fact to the point where Paul could not cope with the number of trips being run, so we had to look for other guides to help out. After the careful screening, we soon had 3 other guides on board who could help out and take some of the load off Paul. As of 2021 we currently have 8 sea fishing hosts running different trips throughout the year
So now we found ourselves with 15-16 weeks a year that could take 8 people per week, this was a big commitment but we were all sure that these would fill as we booked the weeks normally well over a year in advance. We needn't of worried as these weeks filled fast as we had already built a very good reputation for producing great catches on the hosted holidays.
So why should you book on to one of our hosted holidays?
The benefits to you as an angler in joining one of our hosted sea fishing holidays are as follows:
There are no supplements to pay, so you can either travel alone or as a small group
You will be guided through the airports
You will meet like-minded anglers who are also travelling alone
You will benefit from the host's knowledge of fishing in Northern Norway
You will not need to worry about driving the boat or locating fish
The host will help advise on setting up tackle
The host will be there to take those all-important trophy shots
Once you have decided where you would like to travel and more importantly what species you want to target then our dedicated sea fishing team will be with you through the whole journey from advising you on tackle to take, whether its advisable to hire rods and reels, what extra bags will be needed and even advising you on what food to take.
Once the date of your holiday approaches the host who is running the holiday will make contact with each individual traveller to introduce himself and work out what you want to achieve out of your fishing adventure.
The host will then arrange to meet you at the airport which sometimes can be a daunting experience for some travellers. Having the host with you will be a great help as you can simply sit back and listen to their advice on where you have got to be at what time.
Once the airports have been navigated and you have arrived at your final airport, our host will locate the transfer people and make sure that everybody has got all their bags and more importantly make sure everyone is present on the transfer vehicle.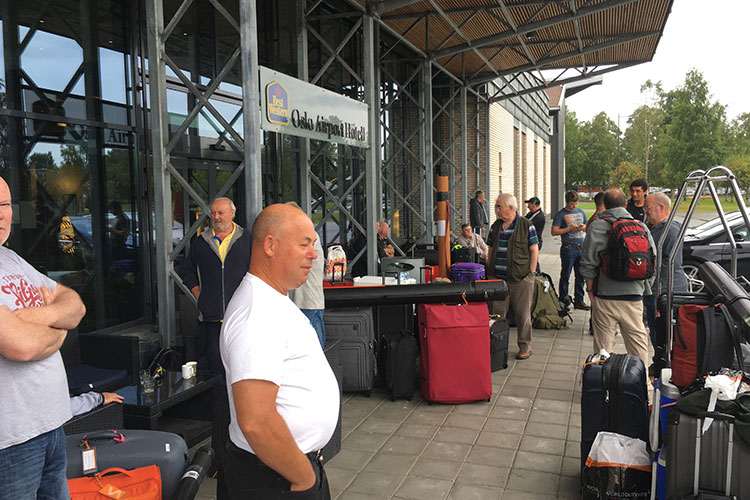 Large group of single anglers waiting for transfer
So the journey is complete and you have arrived at the cabins, this again can be a stressful part of anyone's holiday, but with our hosted holidays, our host will allocate rooms and make sure everyone settles in as they should.
Now down to the exciting part, the talk about what people will be targeting during their holiday. It is important that you inform your host of your targets for the holiday for example 'You want to catch a big Cod' or 'You want to catch a Halibut' The host will then plan each day given what the tides are doing and more importantly what the weather dictates. Fishing marks will be planned to try and accommodate every anglers wishlist, the host will try and make the right decisions on any given day. This may change depending on the weather and if the tides are right. All of our hosts have been fishing in Norway for many years and know the waters very well. They know that sometimes the weather may put a dampener on well-laid plans, however, they will always make the right decision as your safety is paramount.
The benefits of not having to drive the boat:
On the day of going out fishing the host will tell the group a time to be down by the boats to go out fishing depending on tides and weather. Once you have settled down in the boat, the host will drive to the mark and position the boat so the group can fish comfortably from both sides of the boat. This sounds like a simple thing, however he will have to take into consideration the drift and how that will affect peoples lines as they fish. If you were to just pull up and let the boat do what it wants whilst drifting you will soon realise that having 2 people on one side and 2 on the other, soon you will get tangled with each other meaning either lost tackle or lost time untangling each other.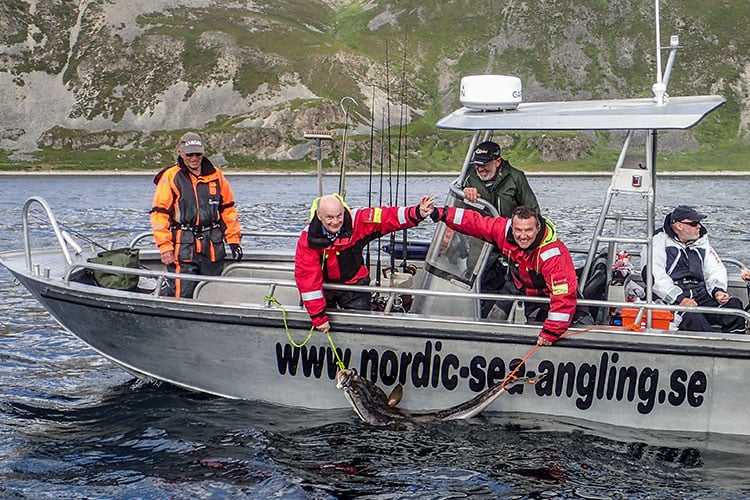 The host will then control the boat on the drift making sure you all get to fish for as long as possible over each mark. Once you have fished the mark the host will then either go back to the start of the drift or move to a different location. Having someone do this for you saves very valuable time on the water as it will maximise time spent in the water actually fishing rather than worrying about where to go next or drifting over marks that do not hold fish.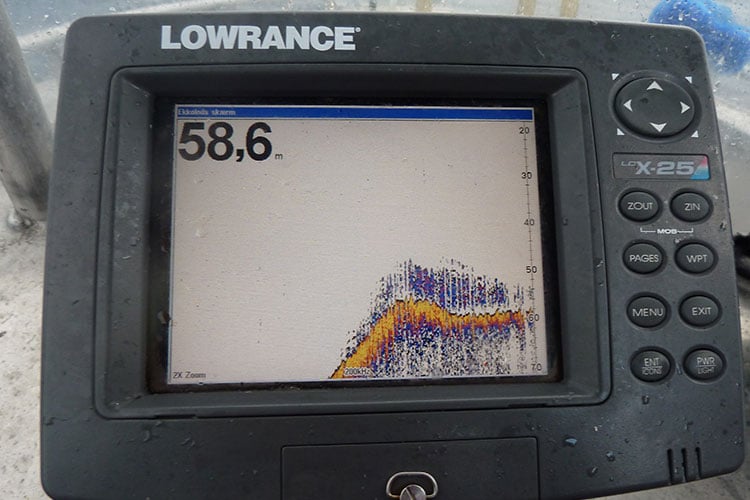 The perfect ledge to hold many Cod
Having the host / guide on the boat also is a great help once a big fish is hooked especially when Halibut fishing as the host will manoeuvre the boat to make sure that you stay in direct contact with the Halibut at all times. Sometimes the Halibut may swim under the boat to the other side making you normally have to run around the boat which sometimes causes slack line resulting in a lost fish. The host will then help land your prize catch and then it's the famous trophy shot which is what 99% of anglers dream of.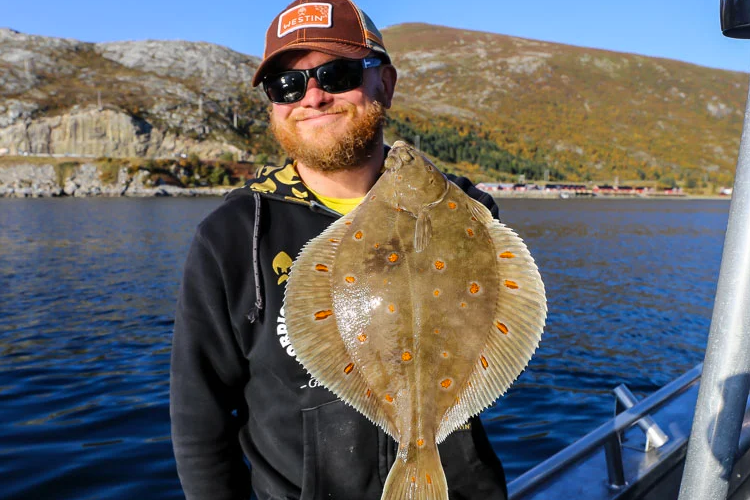 As you can see from the above, having a host/guide is sometimes a huge benefit to you and what you catch they are there to make sure that what you get from your holiday is exactly what you expected and they will go above and beyond to help you achieve your goals.
Once you come to the end of your holiday your host will pay for all the fuel for all the boats on the trip on a Sportquest credit card leaving you to simply pack all your equipment down ready for your journey home. Sportquest would have already arranged with you how this is paid meaning you don't have to carry large amounts of cash with you.
The host will go round the entire group and arrange a time that the transfer will be ready the next day on your journey home. The host will then spend some time with each person to make sure that you had a great time and get some feedback from your experience. They will then travel with you as you make your way back to the UK, being there for you at each airport taking all the worries and concerns from the journey home.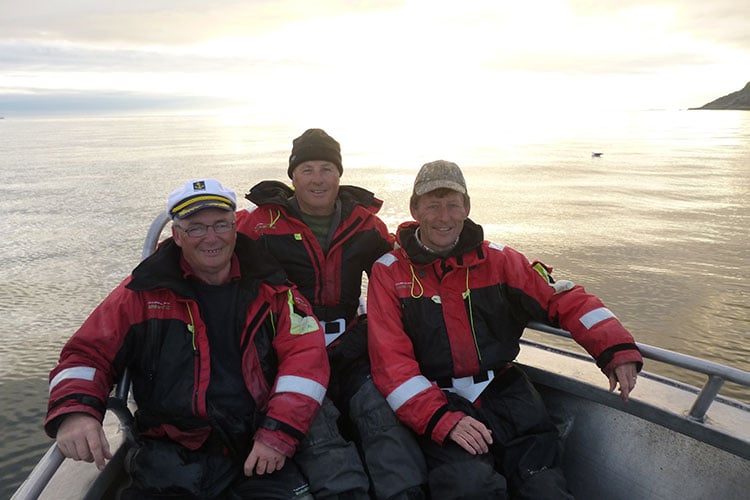 Hopefully, you can now see why we suggest booking a fully hosted sea fishing holiday. If you travel alone or in small groups the benefits are huge and remember that holidays are a big commitment. Going on any holiday without fully researching where you are going is sometimes fraught with disaster but travelling on one of our fully hosted holidays means that someone has already done the hard work meaning you just need to sit back, relax and enjoy the thrill of how excellent the fishing is in this part of the world.
Looking to learn more about our Hosted Trips?
To learn more about our dedicated Hosted Norway Sea fishing Trips, make sure you follow the links below to view the full tour pages.
Tight lines,
Paul
Contact Us
If you're looking to book onto a hosted fishing trip in Norway, feel free to take some time to browse our hosted sea fishing holidays page. If you have any questions or queries, you can call our sea fishing team leader, Paul Stevens, at 01603 407596 or by emailing him directly at paul@sportquestholidays.com.