On a recent trip to Norway to film the 2022 Halibut competition, alongside good friend Paul Stevens, our head Norway guide and destination manager, I chatted to him about his passion for saltwater fishing and his love for Norway, as well as his envious list of PB's.
Paul, who has been a key member of the Sportquest team since the very start, helped the business get off the ground some 14+ years ago and was the catalyst in developing our range of Norwegian sea fishing tours. Back in early 2009, he ran our very first exploratory trip to a camp known as Sandbakken, a destination we still offer to this day.
How did the range of Sea fishing tours start?
"I can't remember how it came around; it seems so long ago now… I think I did some research online, sent some emails, and then Kristian, the owner of Sandbakken (still operating today), came back and said he'd be interested in working with us."
"We then arranged an 'exploratory' trip with a few friends and staff members and headed out to test fish it and understand how it all worked. Looking back now, there wasn't the range of social media available at the time, and there weren't hundreds of YouTube videos or Facebook groups on the best way to fish and how to approach the fjords. So we just went over with what we were familiar with in this country, which consisted of around 100lb of chrome pirks and strings of Gummi Macs… laughing and looking back now, I can't believe we managed to get the weight of tackle over there!"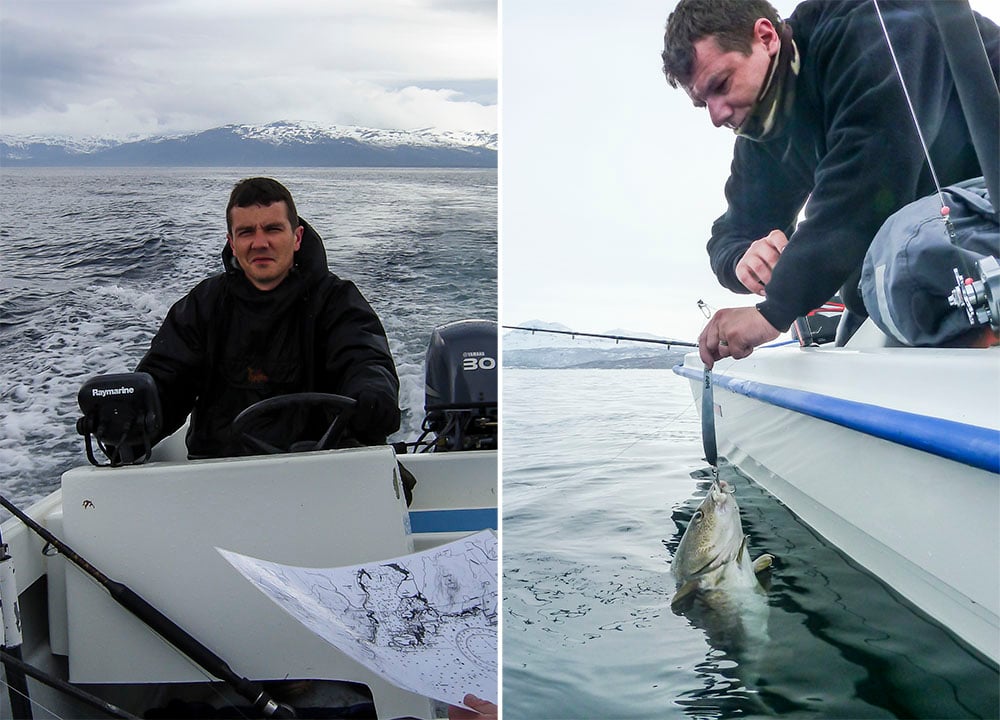 How did it go?
"It was good; it was exciting. We were very green but keen and eager to catch fish, which we did. There were no guides at the camp, and it was all self-drive boats, but the freedom was brilliant; I think we literally fished around 18 hours a day! We visited in May, and it didn't get dark, so we could."
"The only thing we had to help us was a laminated map of the fjord, and I remember we spent hours studying it, looking for potential fishing marks. We found a few, and we caught some fish, nothing massive, but some nice Cod and Coalfish. I mean, compared to what we were used to in the UK, it was amazing fishing. I think from that moment, it tainted my UK sea fishing a little bit – all I wanted to do was get back to Norway."
"Once we came back from Sandbakken, we put all the media we'd gathered together, packaged up the tour and started to market it. I think in total, I went guiding to Sandbakken for around eight years on the trot, sometimes more than once a year. After each trip and learning a little more each visit, the fish started to get bigger, and so did the numbers. We still sell the destination today, and I maintain for a first-timer visiting Norway or for anglers worried about sea sickness, it's one of the best camps we offer."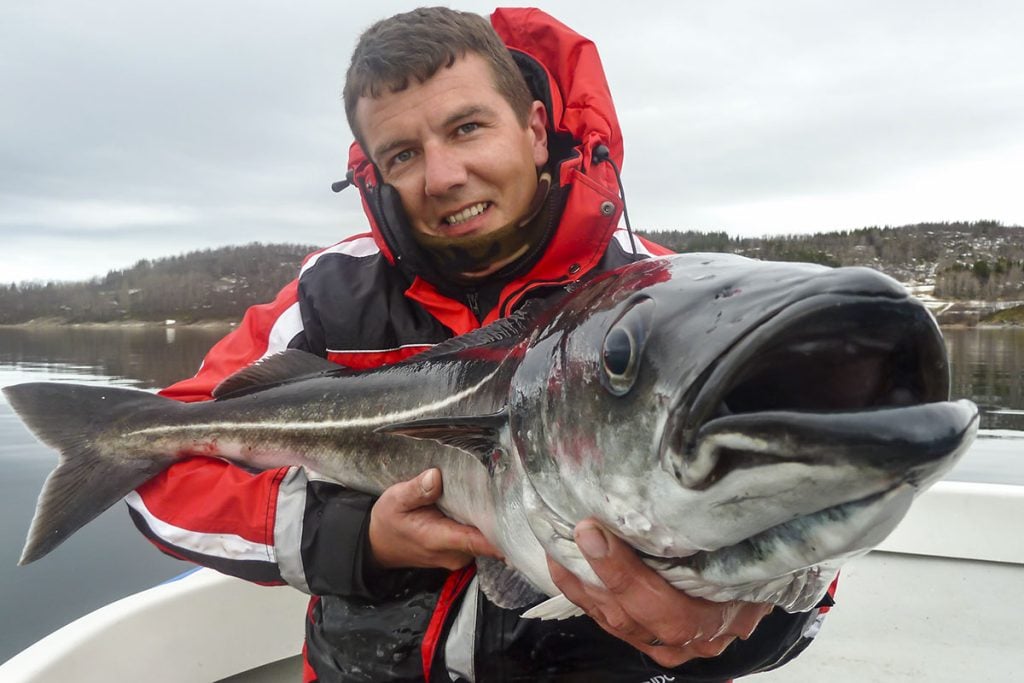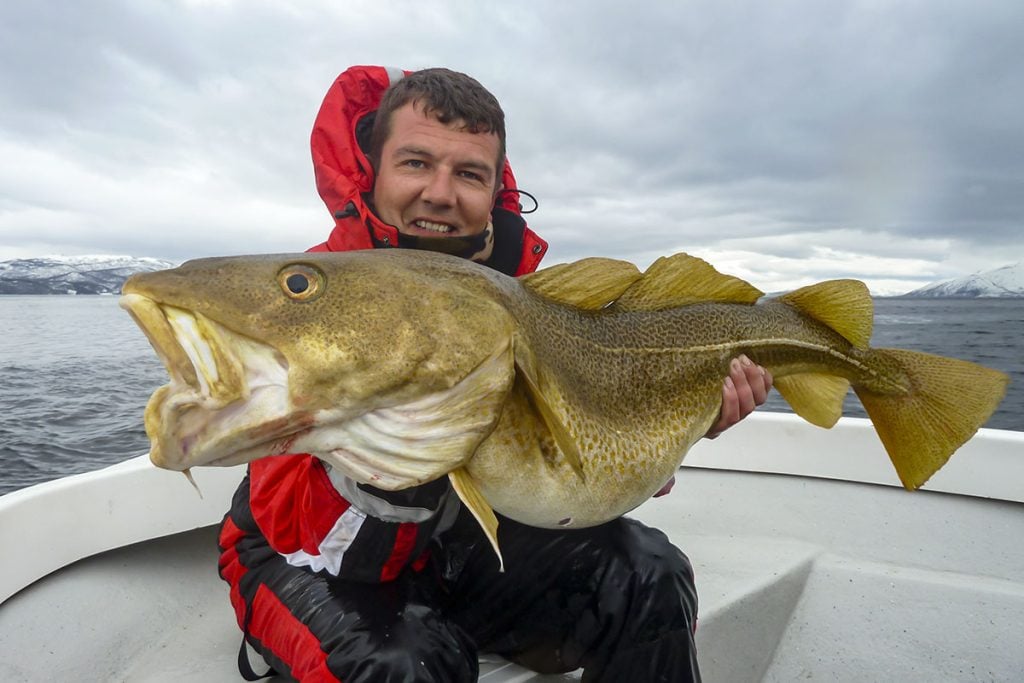 How did the range of Norway Sea fishing tours develop after that?
The camp was relatively small and could only take a certain number of anglers, and after reaching the point of our weeks selling out very quickly, we needed more in our portfolio, which is when we started to expand."
"I can't remember how the connection was made, but it was around this time we linked up with Jimmy, the owner of Nordic Sea Angling. He had a range of camps across the country which seemed an upgrade on Sandbakken; the boats were bigger, the accommodation more spacious, you fished the open ocean, and the fish were of true specimen sizes."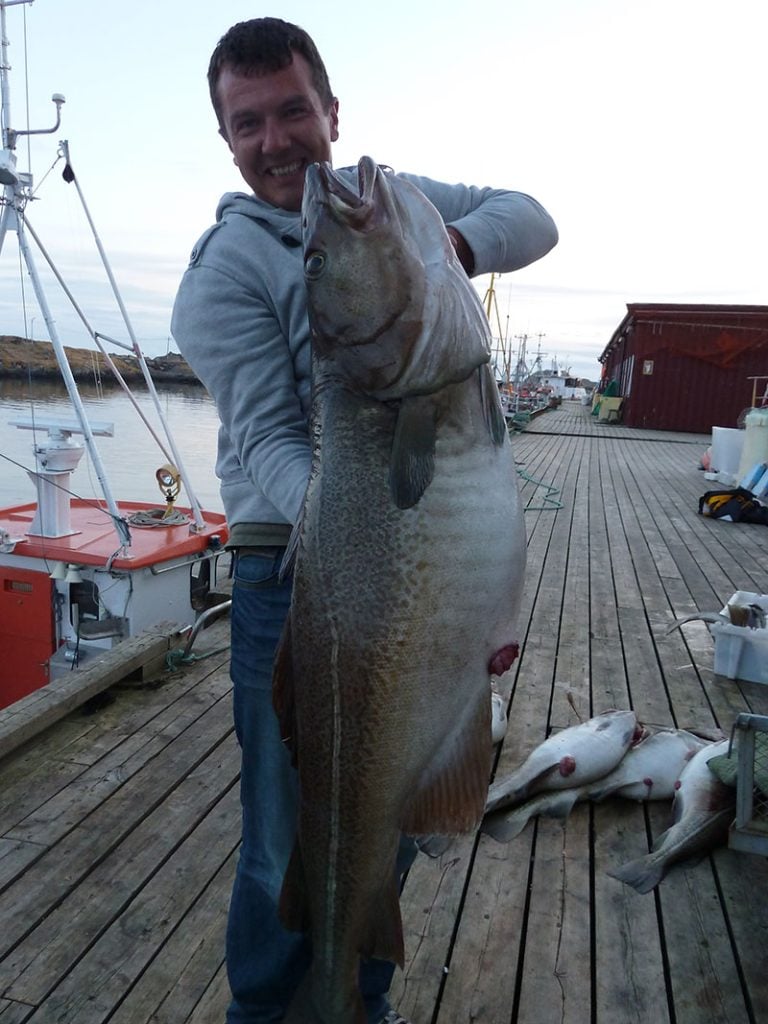 "We explained to Jimmy about the business we were doing in the UK, and he invited us over to his camps, so we went. I think we visited three in a week, the first of which was Soroya, which was incredible. I'll always remember walking to the dock as the boats were unloading and seeing my first 50lb Cod, some 30lb bigger than anything I'd seen before. Unfortunately, the weather was terrible the week we visited, so we managed very little fishing but got enough of an understanding of how everything worked."
"Like Sandbakken previously, once we returned home, we packaged up all the information and started to market all of Nordics camps. The relationship soon blossomed, so much so that ten or so years on, we are now the exclusive UK agent for all their destinations in Norway."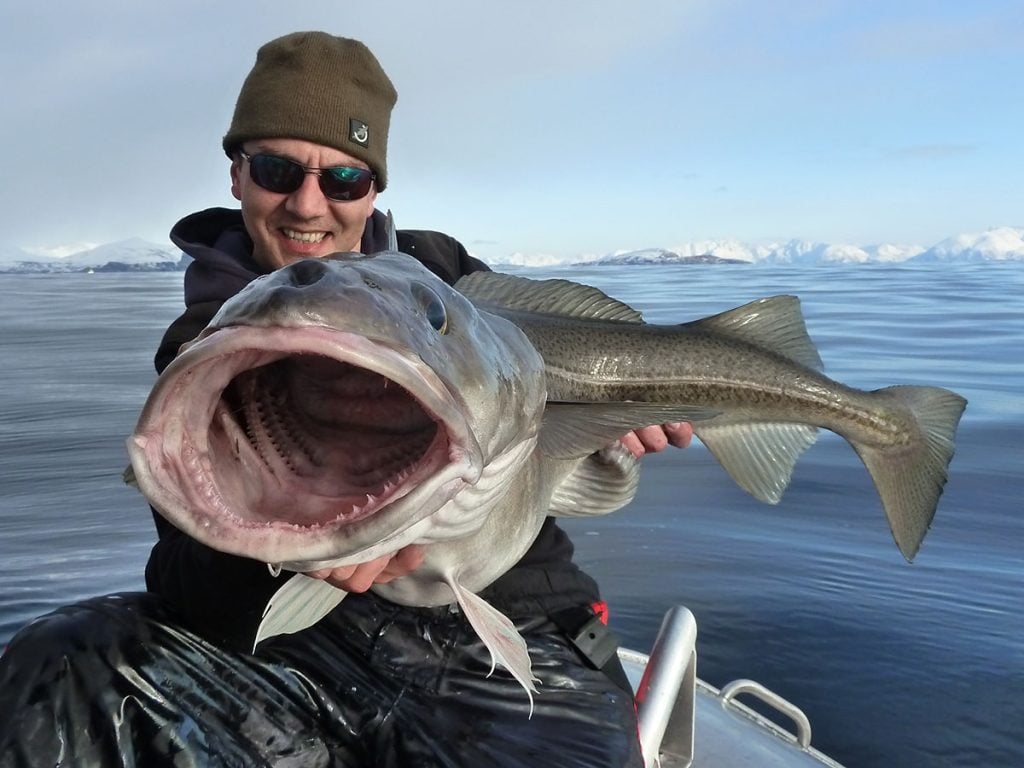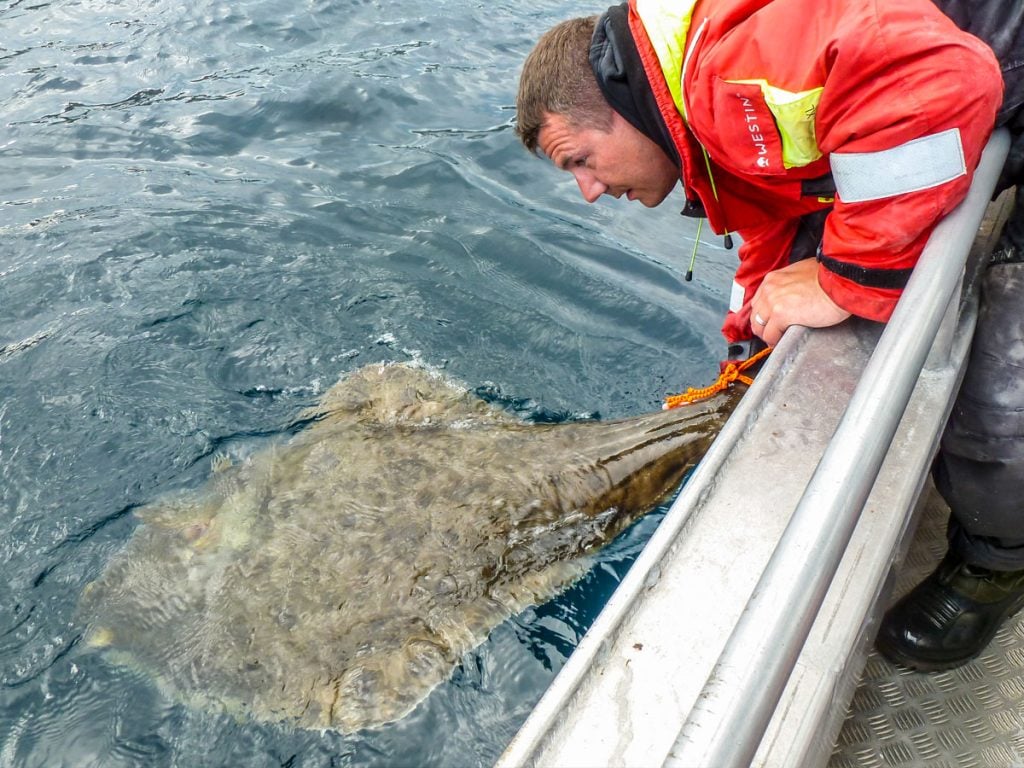 Was there any new camps added after this?
"There has been a few… I think now we currently have over 20 sea fishing tours on our website, to around 14 or 15 different camps. We've tried to work with ones across the country so that we can offer our customers a wide variety of locations. Due to soaring demand and the increase in numbers of people travelling, I think this year alone we added another four – Sieland House, Loppa, Batsfjord and Aa-gard."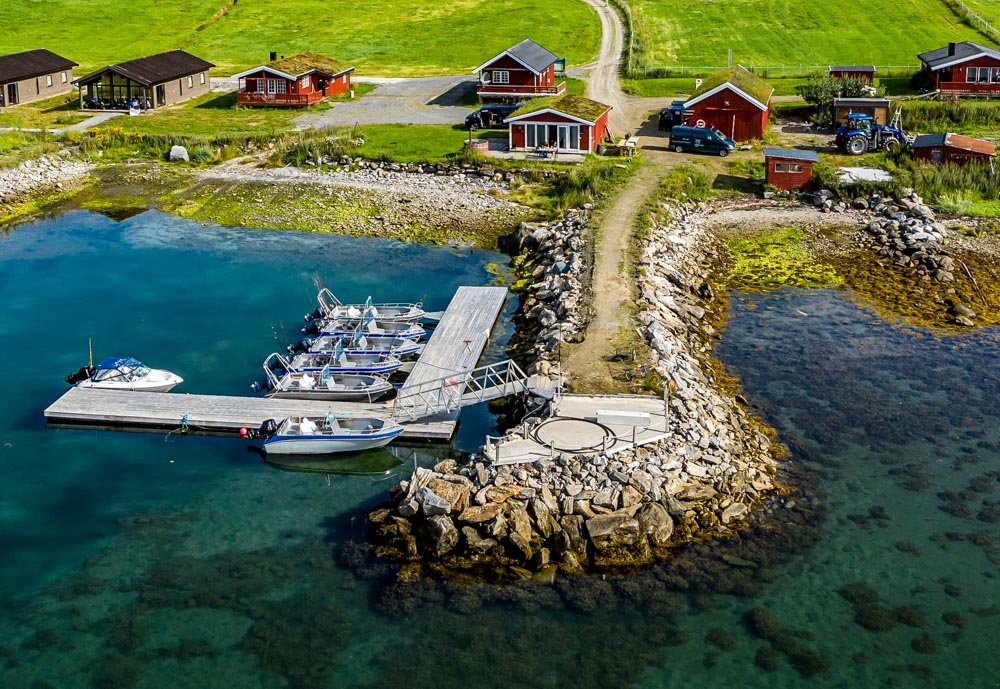 I know it's probably hard, but do you have a favourite?
That's a tricky question to answer! It depends; it depends on the time of year and species. For Skrei Cod fishing, it would probably be a toss-up between Mefjord and Soroya. For specimen Halibut, it would have to be Å on the Lofoten Islands; the numbers of big fish there are incredible, and for numbers of Halibut, it would have to be Havoysund. If it was a mixed fishing trip then hands down, Vesteralen would win from Halibut and Cod to Coalfish and Plaice – all of good sizes too."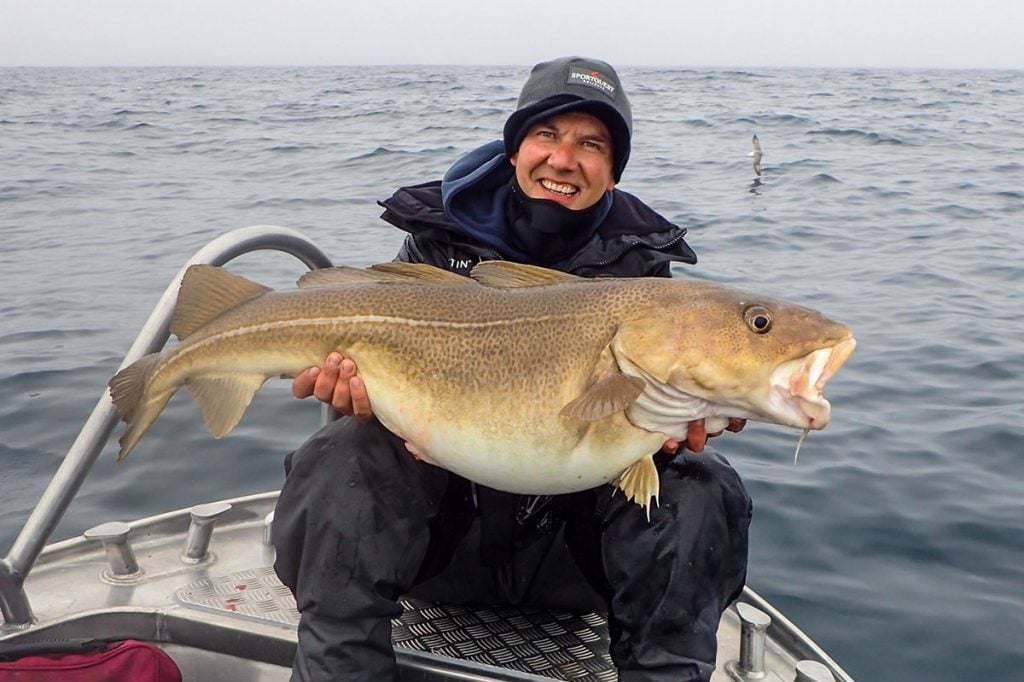 Obviously, you've fished in Norway for many years; you must have caught your fair share of fish?
"Through the years, I have… However, most of the time, I'm guiding, so my main focus is to ensure the customers have the best time and put them on the fish. There's always huge satisfaction when a customer breaks a PB on my boat, probably more so than if I'd caught the fish myself."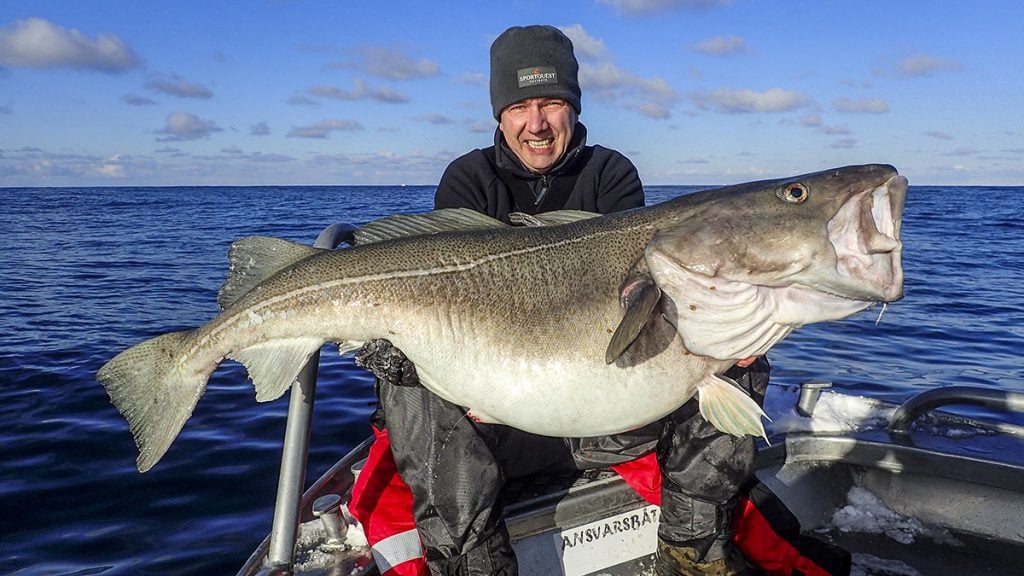 "If the customers are happy and don't mind, I will sometimes wet a line myself and on change over days, when I might get a day free in between groups. I've been lucky to land Cod to 86lb in Soroya, which was actually the biggest ever Cod landed by a British angler, which only stood for 24 hours, as the next day, one of the customers on my boat had a fish of 93lb! Which was quite funny really!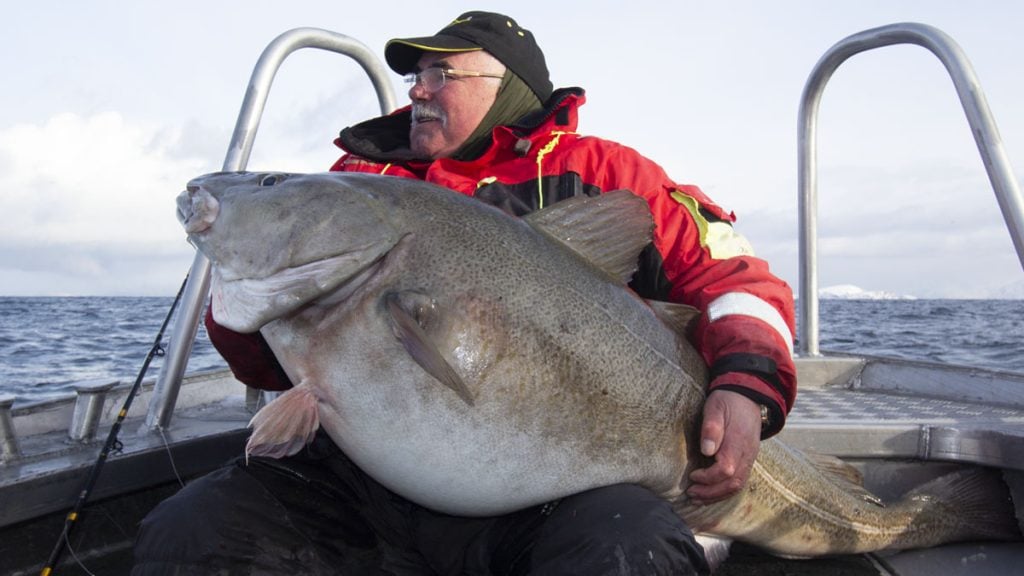 I've had Plaice to 7lb 8oz in Havoysund, Coalfish to 44lb on the Lofoten Islands and nearly broke the record for a Scorpionfish from Havoysund! One big fish that had eluded me was a Halibut; I'd landed them to 150cm, however, I'd never landed a true giant, that was until this year when I managed a fish of a lifetime at 224cm from Å. The capture was extra special as it was all caught on camera."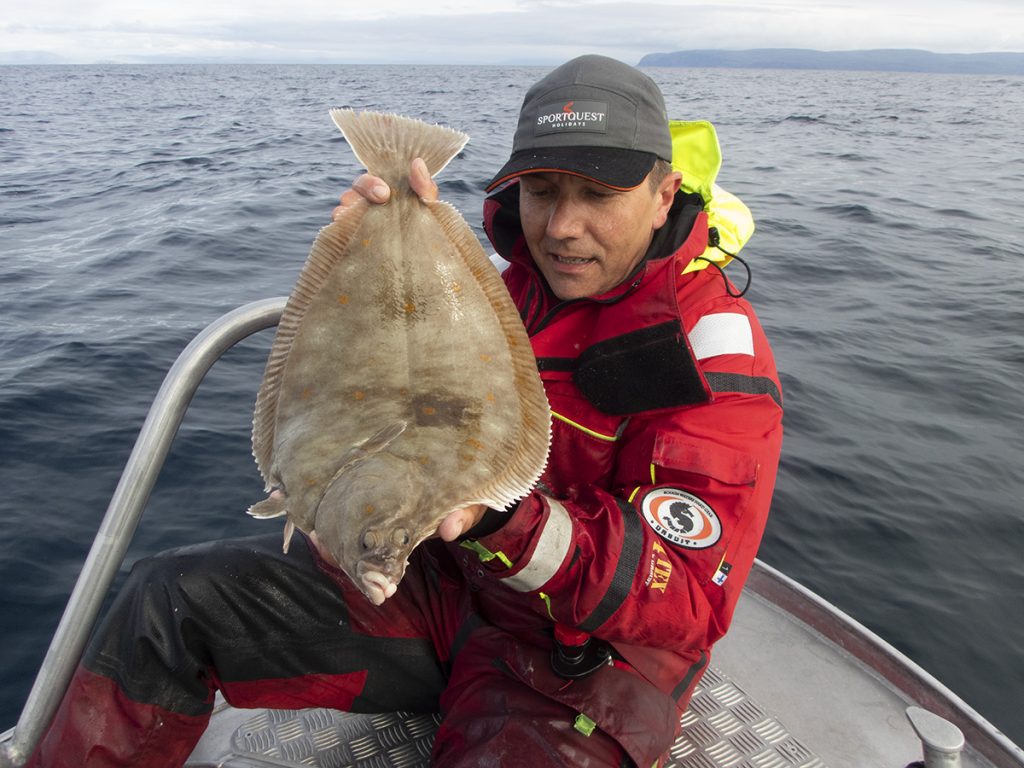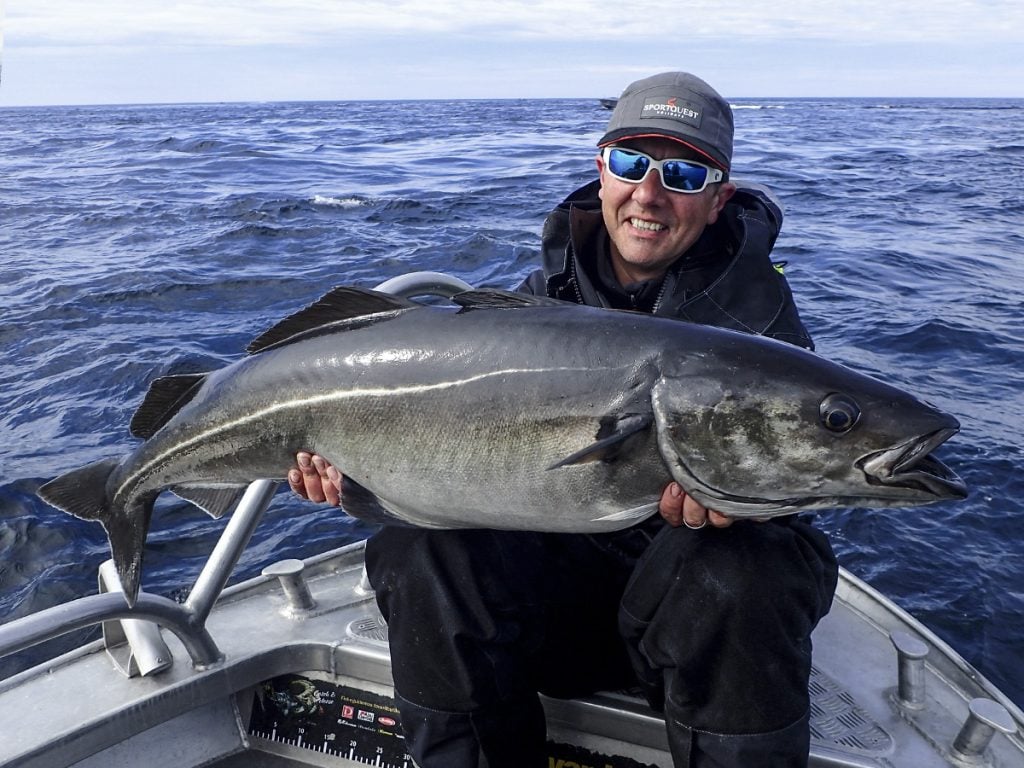 From a personal point of view, is there anything else you'd like to achieve going forward?
"I'd like to carry on guiding and introducing anglers to Norway, breaking plenty more customers 'PBs along the way! From a personal point of view, I'd like a really big Wolfish and an Anglerfish; however, they are exceptionally hard to catch as you can't really target them."

What about from the business point of view?
"I guess we just want to carry on sending customers out there to enjoy the fishing and carry on our excellent working relationships with the lodges and camps we have now."
Do you have any guided trips booked for next year?
"Yes, I think I already have 3 or 4 weeks in the calendar, including the 2023 Halibut competition. But as the business has grown, I need to be in the office more, so we have a great team of guides working for us now; Ross Johnson, Mark Thomas, Jim Cassidy, Sam Cummings and Zac Harrow-Deitz have all taken a few of my trips and are excellent at what they do."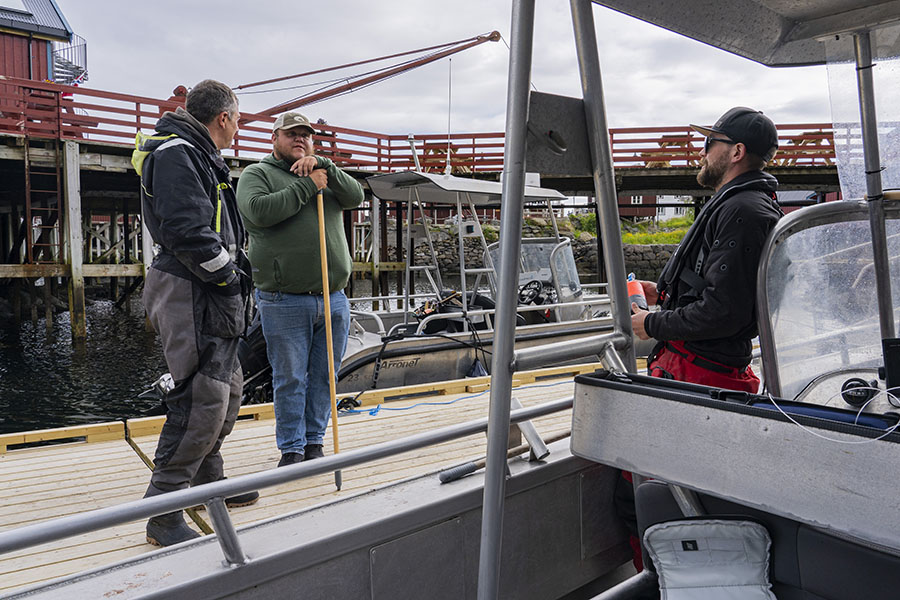 Alex Lindgren Nordic Sea Angling Guide:
Before I met Paul for the first time, I'd heard many comments about him being a really good guy, and all of them were true. I've known him for five or six years now, and it's always a pleasure to spend time with him – I'd now class him as a good friend and colleague. I actually shared one of my best moments on the water with him when we witnessed a Baskingshark in Å; it was a special evening and one which lives long in my memory.
Marcus Pettersson Nordic Sea Angling Guide:

Alex introduced me to Paul and told me he was a good angler and experienced in fishing in saltwater environments around the globe. He said we'd get on well and we certainly did – from the moment we met, we clicked. It was really nice to spend some time with him during the 2022 Halibut competition and actually fish together.
If you'd like to book a trip on one of Pauls hosted trips, click on any of the links below:
Hosted Skrei Cod fishing Mefjord Norway – Read More
Hosted Halibut & Coalfish Fishing Å – Read More
Sportquest Halibut Competition (non-guided) – Read More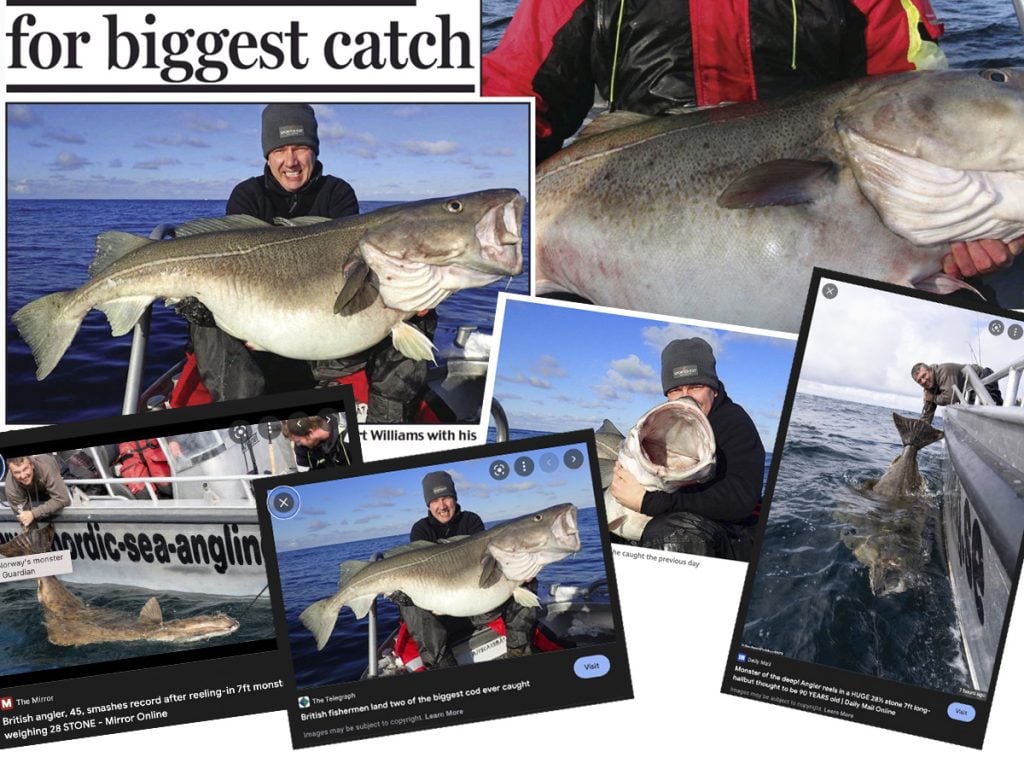 CONTACT US
If you would like to know more information about any of the amazing sea fishing trips we offer, or if you'd like to book a hosted trip with Paul, contact him on 01603 407 596 or email at paul@sportquestholidays.com.